Recommended Uganda Safari Lodges | Where to stay when visiting Uganda.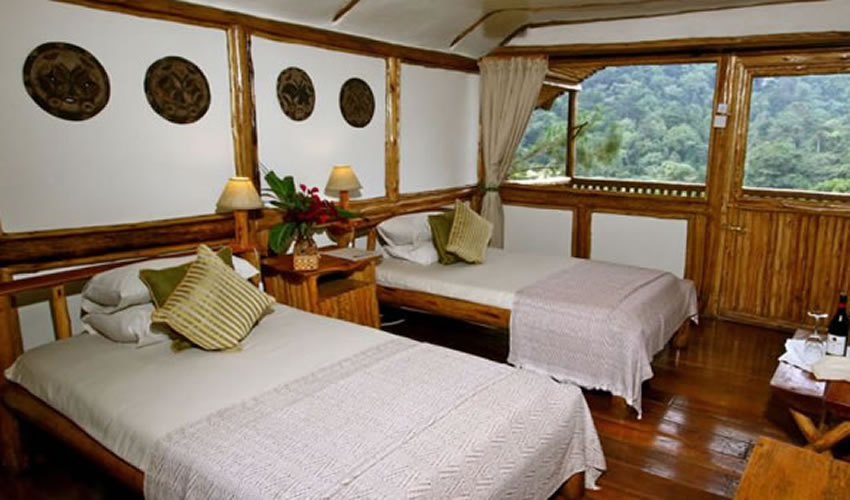 The choice to stay at a particular safari lodge in Uganda often comes down to the proximity of the lodge to a visitor's desired tourist attractions, the budget of the visitor and the availability at that safari lodge during a particular time period. These are some of the recommended Uganda safari lodges to consider when visiting Uganda National Parks.
In Bwindi Impenetrable Forest National Park:
Buhoma Lodge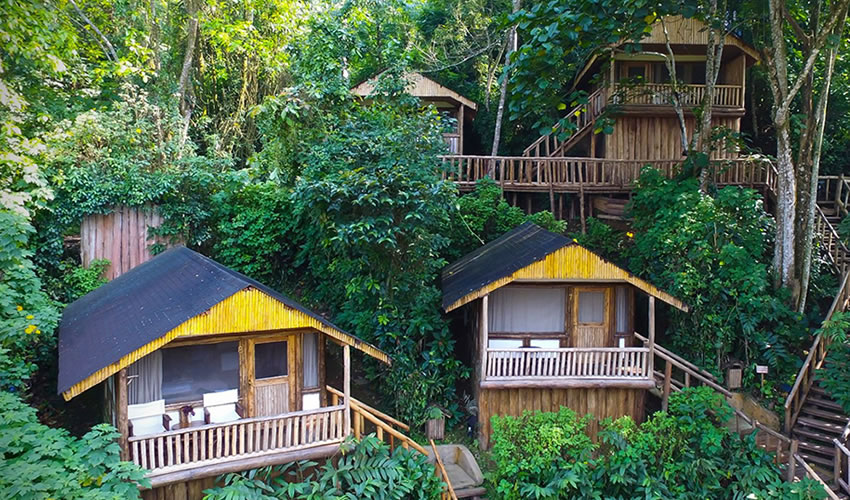 Buhoma Lodge is a top quality and intimate property commanding spectacular and uninterrupted views of the Bwindi Impenetrable Forest National Park, home to the rare and elusive Mountain Gorillas. An elevated central lounge area, complete with bar, dining and spa facilities, offers a cosy, comfortable environment to discuss the day's activities around the fireplaces which add atmosphere and warmth in the cool evenings.
Gorilla Forest Camp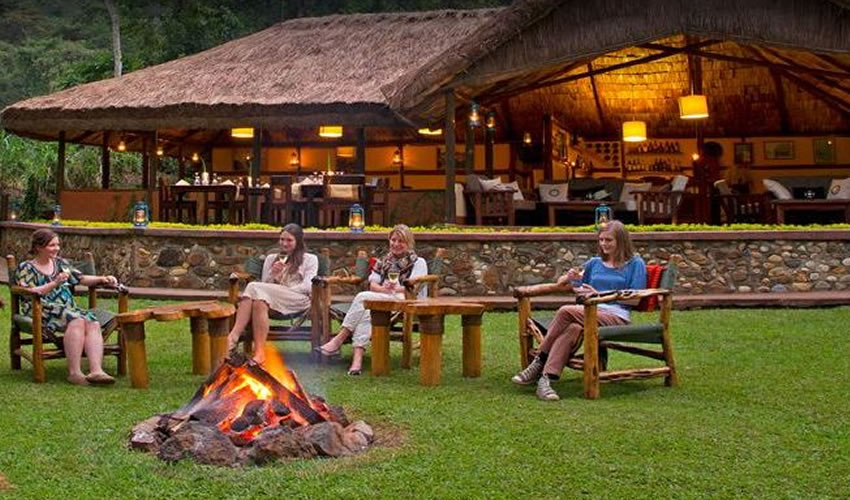 Sanctuary Gorilla Forest Camp is located deep inside Bwindi Impenetrable Forest which is very popular for gorilla trekking. Staying at Gorilla Forest Camp gives visitors an opportunity to experience tracking mountain gorillas in Bwindi, bird watching, guided cultural visits among other tour activities.
Mahogany Springs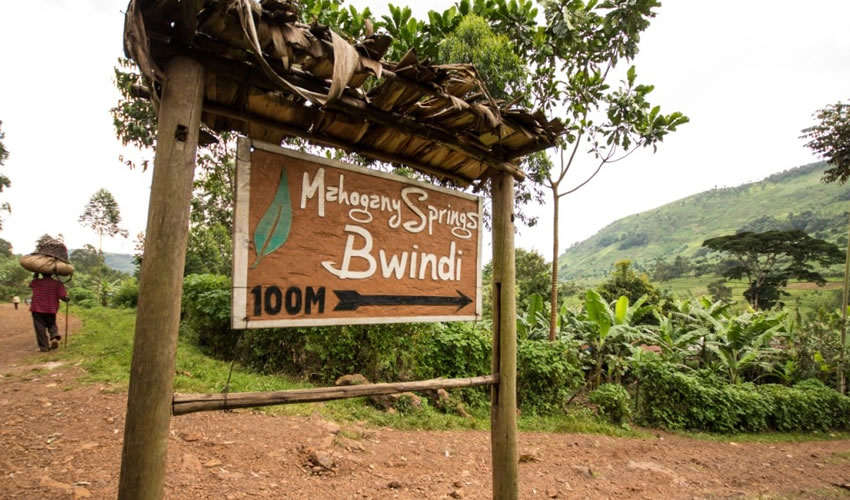 Mahogany Springs offers privacy and serenity blended with optimal comfort in a spectacular setting. With some of the most luxurious accommodation in East Africa the feeling that you will experience when staying here is beyond compare. The Gorillas have been to known to the visit the lodge and coming face to face with them is an indescribable experience.
Trackers Lodge
Trackers Lodge is located about 60 kilometers from Kihihi Airstrip and offers excellent services to guests all throughout their stay. The lodge is strategically located to enable guests track the mountain gorillas in Bwindi easily.
Clouds Mountain Gorilla Lodge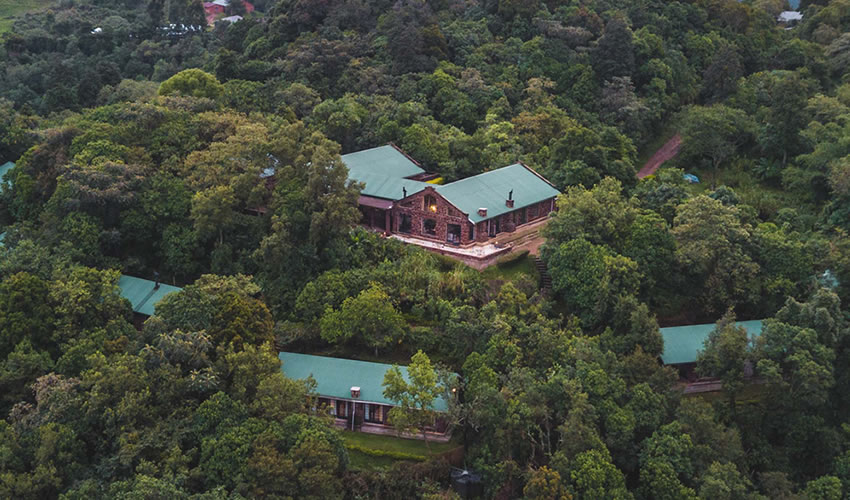 Guests at Clouds Mountain Gorilla Lodge stay in their own cottage. Built of local volcanic stone, every cottage has a large sitting room with fireplace, vast overstuffed armchairs, and hand-woven carpets. Tracking mountain gorillas in Bwindi is high on the agenda for many tourists staying at the lodge.
In Murchison Falls National Park:
Paraa Safari Lodge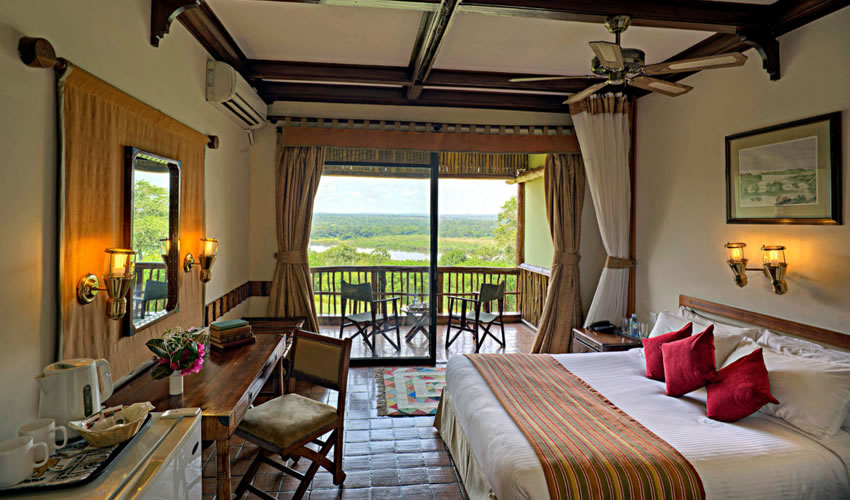 The lodge is strategically located in Murchison Falls National Park in the North Western part of Uganda and overlooks the longest river in the World, The River Nile. Paraa Safari Lodge offers a unique blend of comfort, relaxation and adventure. Staying at Paraa Safari Lodge gives visitors and opportunity to visit the mighty Murchison Falls, one of the most powerful water falls in the world where the Nile water is channeled into a narrow gorge six meters wide before plunging 43 meters below.
Chobe Safari Lodge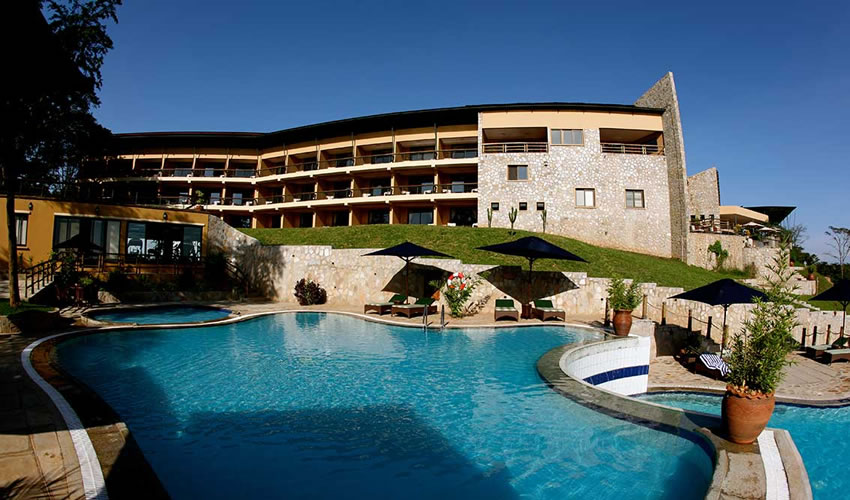 This five-star safari lodge in Murchison Falls National Park is excellent on so many levels. Chobe Safari Lodge offers an opportunity of experiencing Uganda's rich wildlife, bird species, flora and fauna. The River Nile makes the whole experience feel just right. The lodge offers panoramic views of the park and is one of the best destinations for spot fishing in Africa. Chobe Safari Lodge is one of the best Uganda Safari Lodges.
Bakers Lodge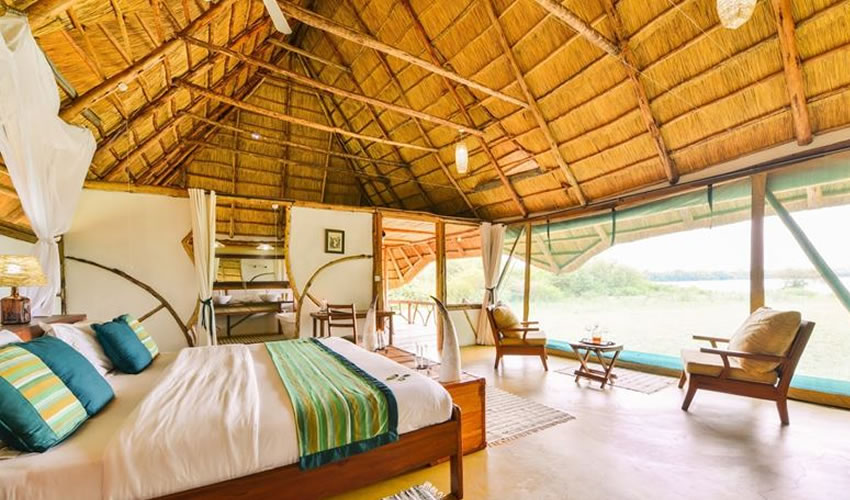 Bakers Lodge rests amongst large shady trees and has got ten suites on raised decks to take full advantage of cool breezes and spectacular river views beautifully set along the southern bank of the River Nile. With a thatched central lounge, dining and bar area, and a refreshing swimming pool, the eco-friendly lodge gives visitors a true feeling of life in the wild.
In Kibale Forest National Park:
Kyaninga Lodge
Kyaninga Lodge is set against the stunning backdrop of Lake Kyaninga and the Rwenzori Mountains beyond. The lodge has got 9 exclusive cottages made from hand carved logs, superb dining, and so much more. Staying at Kyaninga Lodge gives visitors an opportunity to undertake many tour activities including tracking chimpanzees in Kibale Forest National Park.
Ndali Lodge
Ndali Lodge provides a perfect base from which to visit some of the region's most popular attractions. Kibale Forest National Park, famous home of the largest concentration of chimpanzees in Africa, as well as a bewildering variety of other primates, birds and butterflies, can be reached within 45 minutes. Also close by is the Bigodi Wetland Sanctuary, a community-based conservation project that is home to a variety of monkeys and other mammals.
In Queen Elizabeth National Park:
Mweya Safari Lodge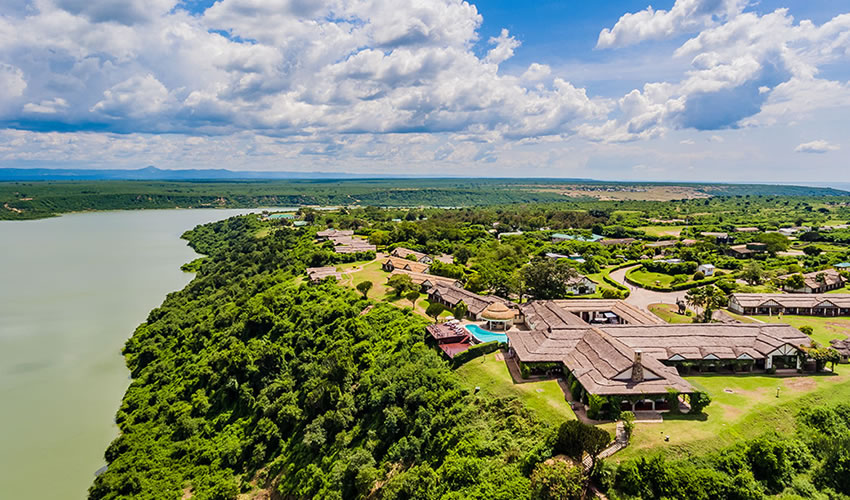 Mweya Safari Lodge is located on a peninsula within the heart of the Queen Elizabeth National Park and is surrounded by the magical Rwenzori Mountains also known as the 'Mountains of the Moon'. The lodge is a perfect place to relax as you reflect on the day's tour activities which often times include game drives through the park which is filled with so many animal and bird species.
Kyambura Gorge Lodge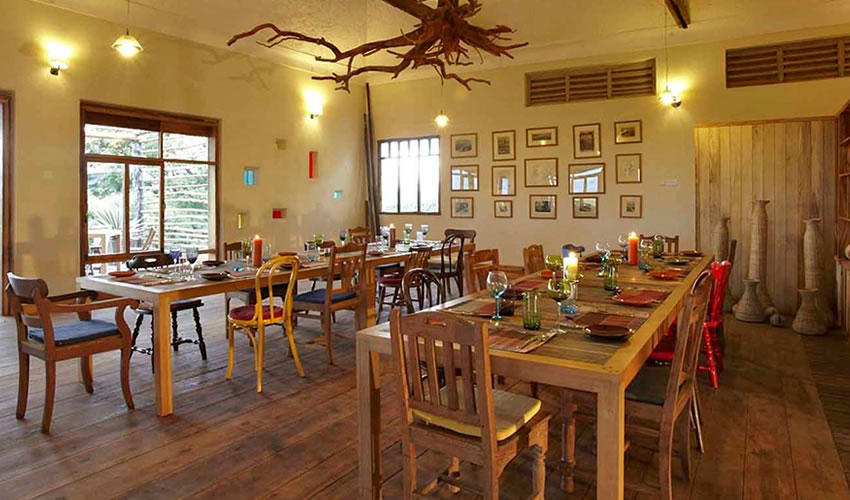 The lodge is located on the edge of Queen Elizabeth National Park. Kyambura Gorge Lodge has got stylish bandas offering unique and amazing views either across the savanna or the gorge. Visitors staying at Kyambura Gorge Lodge get an opportunity of tracking chimpanzees in Kyambura Gorge.
Ishasha Wildness Camp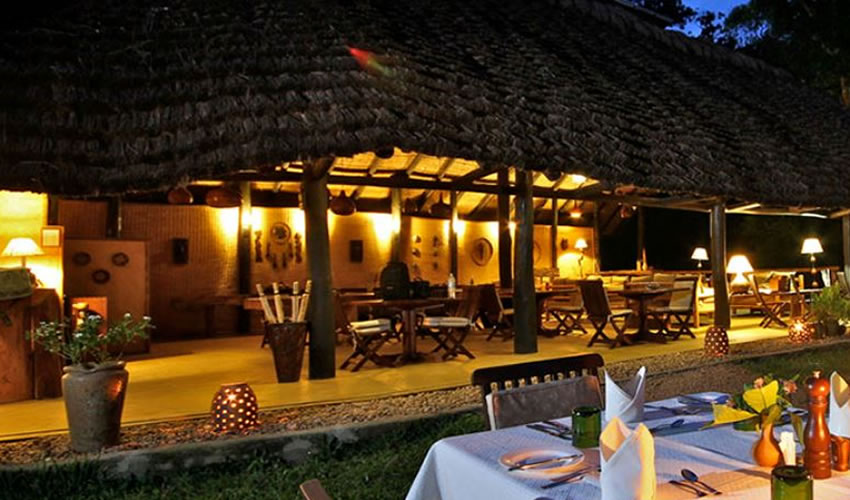 Ishasha Wilderness Camp is located within the Southern Ishasha sector of Queen Elizabeth National Park on the Ntungwe river. Ishasha Wilderness Camp offers high quality accommodation and services in this remote sector of Queen Elizabeth National Park famous for its tree climbing Lions.
In Lake Mburo National Park:
Mihingo Safari Lodge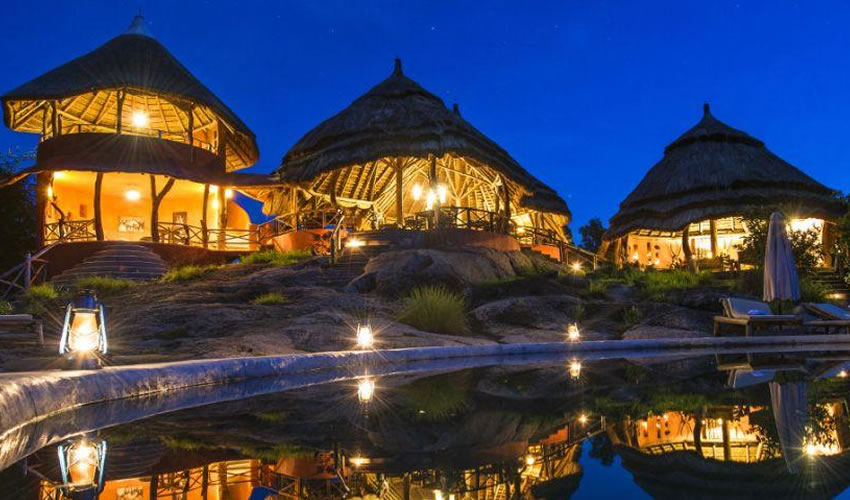 Mihingo Safari Lodge is perched high on a rocky kopje in a magical setting adjacent to Lake Mburo National Park and has spectacular views over a vast Savannah landscape.  Designed to blend in with its fragile surroundings, this environmentally friendly lodge offers comfort, relaxation and the experience of being at one with nature. An infinity pool overlooks the valley below where buffalo, eland, impala, warthogs, bush buck and zebra can be seen. Booking with a tour company in Uganda is a sure way to reserve the best accommodation when visiting the park.
African Pearl Safaris organises the best of Uganda safaris and Uganda Safari Lodges in the most popular Uganda tourist destinations.