Best 7 Things to do on a Uganda Safari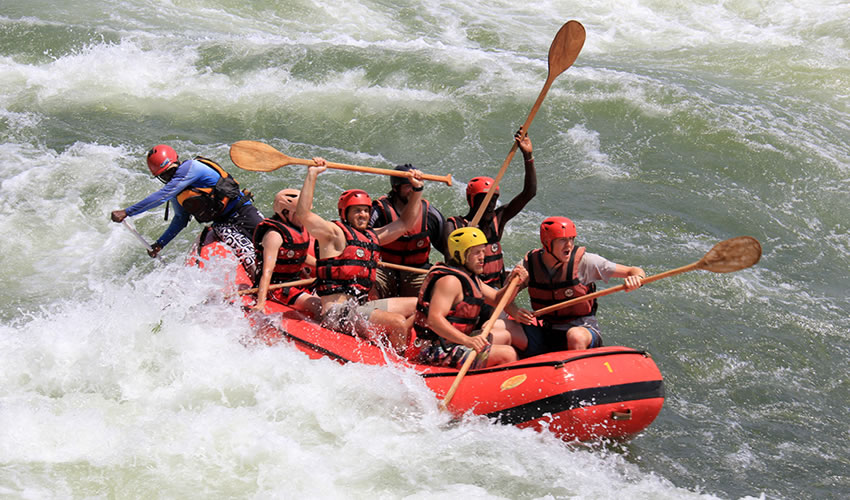 Uganda is richly blessed with stunning tourist attractions and amazing features that tourists from around the world love to explore all year round. Here are the best 7 things to do on a Uganda Safari that you should consider having on your itinerary when you visit Uganda.
Gorilla Trekking in Uganda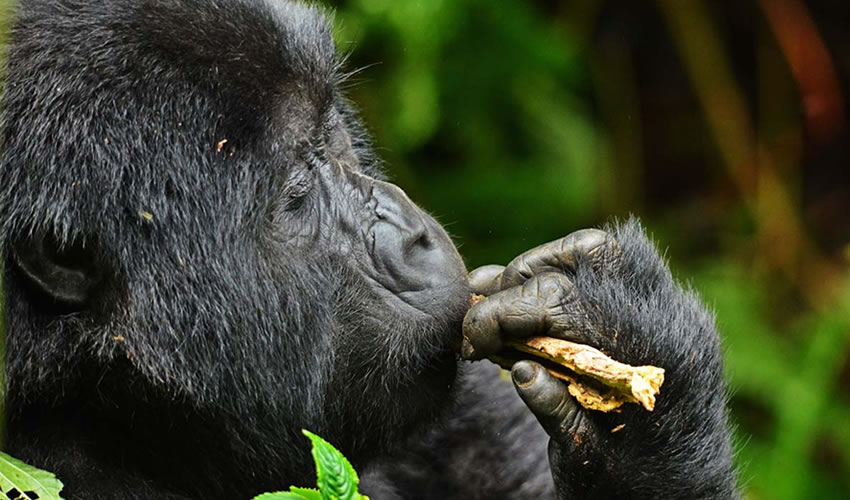 Gorilla trekking is the most popular activity done in Uganda and one of the best 7 things to do on a Uganda Safari. It is also referred to as Gorilla tracking and it is where the rangers try to find the given habituated gorilla group for the clients on their trekking date. So, the clients will be divided into a group of 8 people at 8:00am to be assigned to a specific gorilla group and escorted by ranger guides into the forest to search for the rare Mountain Gorillas. It might take you 2-6 hours while in the forest depending on the time and the place where you will find the Mountain Gorillas. Upon finding them, clients will spend only one (1) hour of interacting with these lovely primates.
Uganda alone harbors half of the world's total population currently with 459 individuals from an estimated 400 individuals in 2011 of the Mountain Gorillas as it was revealed by Uganda's Ministry of Tourism, Wildlife and Antiquities together with the Greater Virunga Transboundary Collaboration in 16th December 2019.
So, the world's total population of the Mountain Gorillas rose to over 1,063 individuals including the parks from the Virunga Massif with the total population of 603 individuals of Mountain Gorillas  i.e. Volcanoes National Park in Rwanda, Virunga National Park in DRC Congo and Mgahinga Gorilla National Park in Uganda.
Bwindi Impenetrable National Park is located in the south western of Uganda and it is the most popular National park in the world for Gorilla trekking besides Volcanoes National Park, Mgahinga Gorilla National Park and Virunga National Park. Bwindi Impenetrable National Park was started and designated as Crown Forest reserve in 1932 and it was divided into two blocks or parts where the northern part was named as Kayonza crown Forest Reserves and the Southern block designated as the "Kasatora Crown Forest Reserve.
In 1964, the Crown Forest reserve was turned into animal sanctuary to protect the rare Mountain Gorillas until 1991 when it was upgraded into Bwindi Impenetrable National Park together with Mgahinga Gorilla National Park and Rwenzori Mountain National Park. It covered 330.8square Kilometers and it was being managed by Uganda Wildlife Authority to date.
Bwindi Impenetrable National Park is composed of different sectors and they include Buhoma sector, Ruhija Sector, Rushaga sector and Nkuringo sector. They all have a variety of gorilla groups for trekking but the gorilla permit availability will determine the sector you will be allocated for gorilla trekking on the time of confirmation. There is also another gorilla family at Mgahinga Gorilla National Park called Nyakagezi.
Mgahinga Gorilla National Park is one of the national parks providing the Gorilla trekking experience in Uganda and it forms the Virunga massif region. The park encompasses three inactive volcanic mountains and they include Mount Muhabura, Mount Gahinga and Mount Sabinyo.
Game Drives in Uganda's Savannah National Parks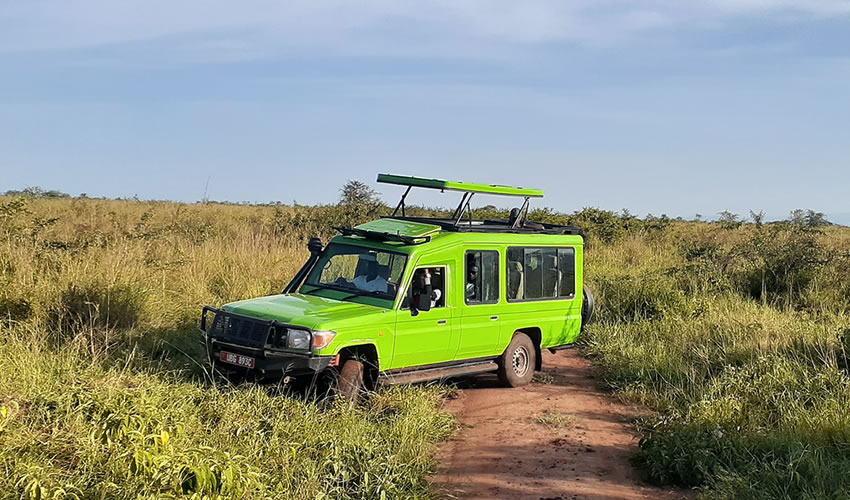 This is unusual and exciting experience which involves viewing wildlife in a comfortable Safari vehicle (4×4 Land cruisers). During this daring experience, you will be accompanied by the tour guide and armed ranger guide provided by Uganda Wildlife Authority. It takes 3-4 hours while in wild and it is also an opportunity to view various birds on the game drive. In Uganda game drives can be done in 5 different national parks with varied safari experience and they include Murchison Falls National Park, Queen Elizabeth National Park, Kidepo Valley National Park, Lake Mburo National Park, and Semuliki National Park.
Murchison Falls National Park is located near the shores of Lake Albert in the north western part of Uganda. It contains 451 species of birds and 76 species of mammals which can be spotted in your Uganda Safari for example Lions, Leopard, Elephants, Buffaloes, Hyenas, Water Buck, Bush Buck, Giraffes, Oribis, Jackson Hartebeests, Hippopotamus, Chimpanzees, crocodiles among many other animals.
Queen Elizabeth National Park is located in the Western Region of Uganda, covering the districts of Kasese, Kamwenge, Rubirizi, and Rukungiri. It contains 600 bird species and 95 mammal species among which include Lions, Elephants, Buffaloes, Leopards, Chimpanzees, Hippopotamus, Crocodiles, Water bucks, Bush Bucks, Mongoose and other many animal species.
Kidepo Valley National Park is located in the Karamoja region in northeast Uganda and it is dominated by the rugged savannah. It is the most beautiful savannah national park in Uganda with the variety of animals. It houses 475 species of birds and 86 species of mammals which include the Lions, Leopards, Elephants, black backed jackal, African hunting dog, bat eared fox, Cheetah, caracal, bush pig and 17 species of antelopes among others.
Lake Mburo National Park situated in Kiruhura District in western Uganda and it is a continuation of Tanzanian plains. It habits over 350 species of birds and over 68 species of mammals like zebra, impala, topi, eland, bush buck, buffalo, warthog, leopard, hyena and jackal among other species.
Semuliki National Park was made as national park in 1993 and it is located in Bwamba County, a remote part of the Bundibugyo District, in the Western Region of Uganda covering an area of 219 km². It contains 441 recorded bird species and 60 mammal species, including African buffalo, leopard, hippopotamus, Mona monkey, water chevrotain, bush babies, African civet, African elephant, Chimpanzees and the Pygmy scaly-tailed flying squirrel (Idiurus zenkeri)
Boat Cruise in Uganda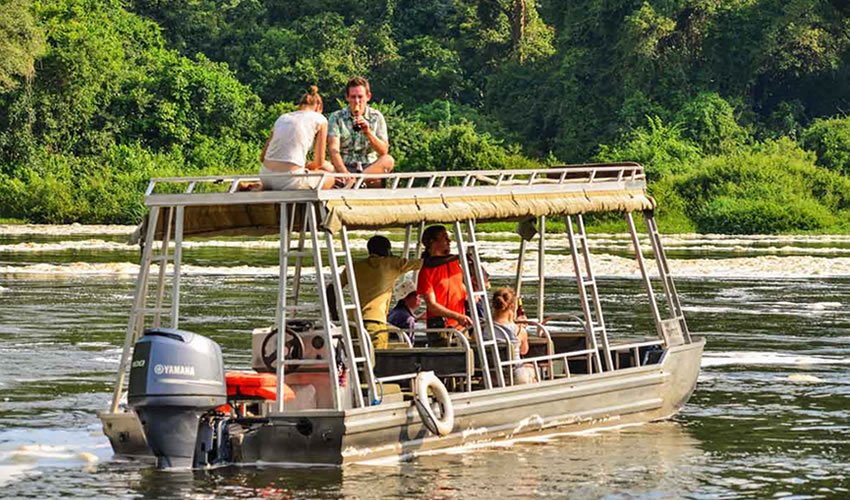 Uganda is blessed with a variety of water bodies and it has accelerated boat cruise tours in Uganda. It is one of the enjoyable, relaxing and common activities done in various places in the country. The clients will be provided with the guide, and life jacket vests but drinks can be bought by the client while in the boat cruise.
Boat cruise to the source of the Nile offers a relaxing, breathtaking sights and enjoying cool breeze of Lake Victoria. It is done from Jinja town located in the eastern region of Uganda, on the shores of Lake Victoria. It takes 2 hours or more and while on the boat, some birds will be spotted, Speke monument and Nile Bridge.
Boat cruise to the bottom of the falls is done in Murchison Falls National Park and it takes three (3) hours. It is done on the calm Victoria Nile to the base of the falls stopping just ten meters to the "Devil's Cauldron". En-route, marvel at the toothsome hippos, crocodiles and over this 17 km stretch you may see elephant, buffaloes, waterbuck and Uganda kobs.  This is also a zone of many bird species like Goliath heron, Egyptian goose, pelican bee-eater, kingfisher, hornbill, cormorant and the rare shoebill stork. See where the world's longest river explodes violently through a narrow cleft in the Rift Valley escarpment to plunge into a frothing pool 43m below.
Boat cruise to the Nile Delta is also done on the Victoria Nile at Murchison falls National Park, you will be taken to the starting point for your boat cruise to the delta where Victoria Nile Connects with Albert Nile and flows the whole way to the Mediterranean Sea, you will be able to see school of Hippos, Crocodiles and birds like the rare Shoebill stork and various animals which come to drink water on the Nile River.
Boat Cruise at Kazinga Channel in Queen Elizabeth National Park. The channel connects the water flow from Lake George to Lake Edward. A two (2) hour boat trip along the famous Kazinga channel is worthwhile an opportunity to see Hippo, Buffalo, Kobs, Elephants, warthogs etc. This trip also enables visitor to see spectacular birds.
Boat Cruise at Lake Bunyonyi. It is the second deepest Lake in Africa after Lake Tanganyika in Tanzania. The boat cruise on Lake Bunyonyi makes you feel the wonders of nature as you will see big terraced hills, big valleys, and the 29 islands which form up Lake Bunyonyi. It is a good place for relaxing after along gorilla trek at Bwindi Impenetrable National Park.
Boat cruise at Lake Mburo. It is located in Kiruhura District and having the boat cruise at this mighty lake is so exclusive and peaceful amidst hippopotamus. So, you will also be in position to see large crocodiles lurking on the shores  and above all many birds like African Wattled Lapwing, Rufous-bellied Heron, Bateleur, Brown-chested Lapwing, Pied Kingfisher, African Fish Eagle, African Jacana, Hadada Ibis, Egyptian Goose, and Water Thicknee among other birds
Chimpanzee Trekking in Uganda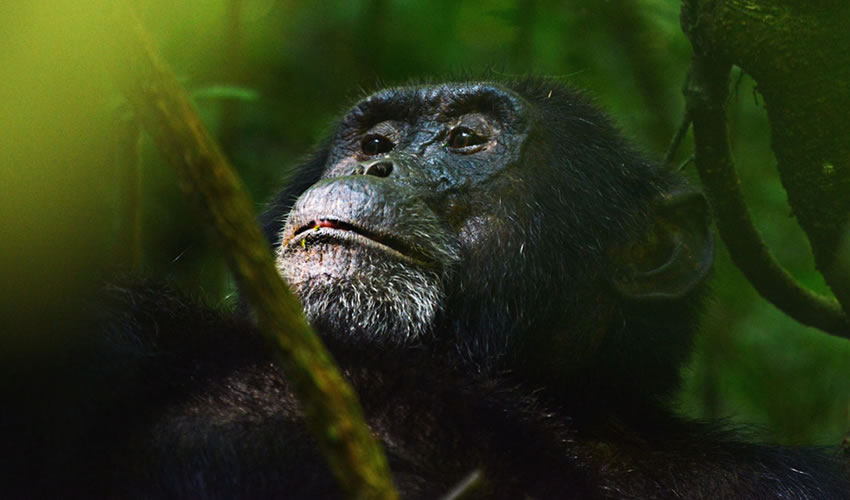 Chimpanzee trekking is one of the activities which make Uganda Safaris unique. Uganda is a home to over 5,000 chimpanzees. While in Uganda, enjoy seeing the closest creatures to human beings and they have made people discover the origin of human behaviors since we share 99% of our DNA.
Chimpanzee trekking starts at 8:00am in morning and 2:00pm in the afternoon with the briefing from Uganda Wildlife Authority ranger guides. It takes 2-3 hours depending on the time you find the chimpanzees but visitors are allowed to spend 1 hour upon find them for sustainability. During this encounter, you will see how they play, eat, breastfeed, build their nests and you will realize that this are close creatures to humans.  Uganda is blessed with many spots to track the chimpanzees for example Kibale Forest National Park which is the main chimpanzee tracking destination, Kyambura gorges at Queen Elizabeth National Park, Budongo Central Forest Reserve / Kaniyo Pabidi Forest and Kalinzu Forest Reserve.
Kibale National Park is located in western Uganda near Fort Portal town which is the entry to the most tourists' destination in Uganda. It contains 13 species of primates and mainly known for chimpanzee tracking in the whole world. It hosts over 1500 chimpanzees and in general it is a home to 70 species of mammals and 375 species of birds.
Kyambura gorge is the second main spot for Chimpanzee trekking in Uganda and it is situated in Queen Elizabeth National Park, the western region of Uganda. It is a narrow valley with steep and rocky walls located between hills or mountains. It has got a magnificent view of the river rain forest and it is located near the equator crossing line in Kasese which crosses the Kyambura. The gorge has attracted large number of birds and other primate species like red tailed monkey, white and black colobus monkey, Olive baboons, red Columbus monkey among other species.
Budongo Central Forest Reserve is located in northwest of Kampala and it is another main spot for Chimpanzee trekking in Uganda. The reserve is the continuation and part of the famous Murchison Falls National Park. The reserve is also known as Kaniyo Pabidi with its royal mile commonly for bird watching.
Kalinzu Forest Reserve is located in Bushenyi District in western Uganda between Mbarara town and Kasese. It is also near the Ishasha sector of Queen Elizabeth National Park. It is the cheapest place for chimpanzee trekking in Uganda.
White Water Rafting at the Source of the Nile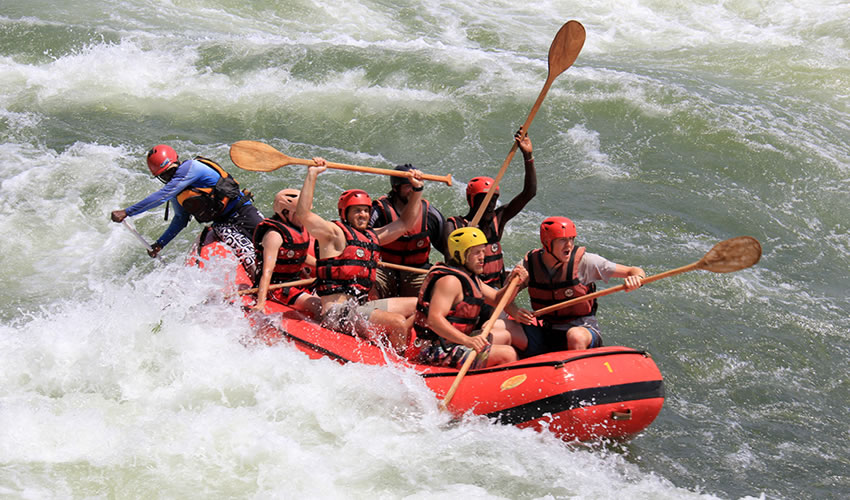 A safari to Uganda wouldn't be complete without White Water Rafting on River Nile. The source of the Nile is a dramatic and the top destination for white water rafting in world. It takes a full day between 4 -5 hours covering 25km distance and it depends on the rafting grade one chooses. Grade 3, Grade 5 and Grade 5 extreme white water rafting are the most preferred.
Grade 3 family rafting takes one day and it is good for families and school children from 8 years and above with at least 30Kg. You will be provided free photos and videos, transport to and from Kampala, free breakfast, picnic lunch, Experienced and friendly staff, drinking water all day, scenic views, tubing and floats as you relax on the Nile.
Grade 5 and extreme rafting is so adventurous and it takes 4-5 hours. You can choose to paddle as a team or choose softer option as you hit more rapids downstream. Grade 5 takes children with a minimum of 16 years on a 25km distance where you will also be provided with free breakfast and lunch, free photos, transport to and from Kampala, experience guides and staff and above all no necessary experience is required to take on this activity.
Spot Fishing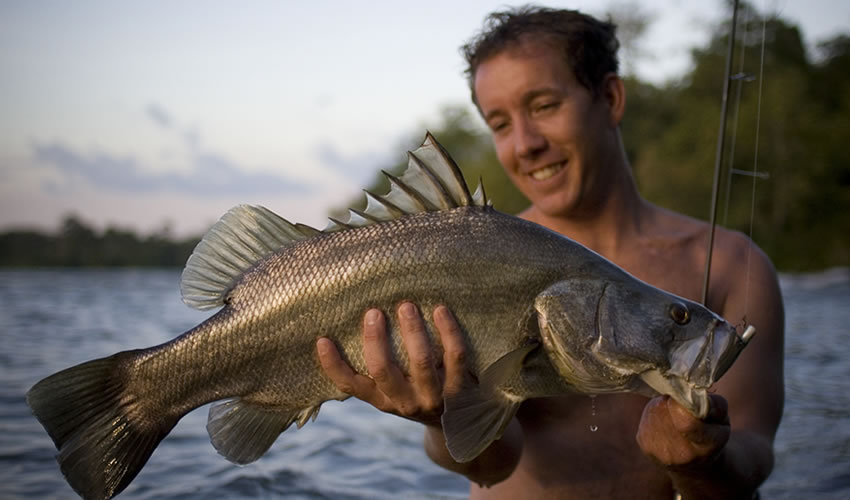 Spot Fishing is one of the major tourism activities done in Uganda. It is a very interesting game which involves catching and releasing especially Nile perch Fish.  However, other fish like Tilapia, Tiger fish, Ngara (Genus alestes), ferocious fighter and Golden barbell can be caught.  Uganda is blessed with large water bodies where every direction of the country has water, making it the ideal destination for sport fishing. Sport fishing can be done on Lake Victoria, the bottom of Murchison Falls on the Victoria Nile in Murchison Falls National Park and Lake Mburo in Lake Mburo National Park.
The clients will be provided with the boat and fishing equipment to take on their sport fishing activity but the clients can still come with their fishing gears if they want. One time at the bottom of Murchison falls, 113kg Nile perch was caught on record and you can be the next challenger.
Mountain Climbing in Uganda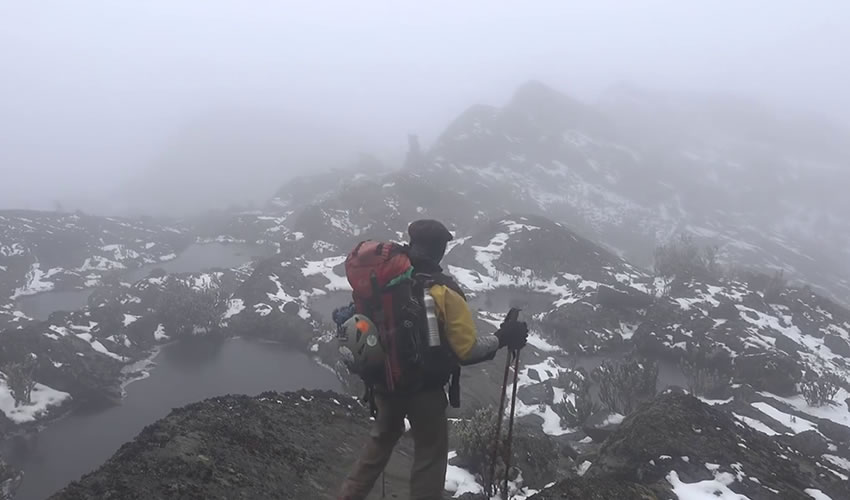 Uganda is covered with hills, vallies and volcanic mountains and over the years, Mountain Hiking in Uganda has been developing day and night. There are well developed trails on the Mountains, advanced accommodations, and well trained guides, porters, and chefs which combine into a lifetime experience. However, other hiking equipment can be hired on your hiking safari.
The mountain climbing is commonly done on Rwenzori Mountains National Park, Mountain Elgon National Park and volcanoe climbing at Mgahinga Gorilla National Park.
Rwenzori Mountain also known as Mountains of the moon with snowcapped peaks rising from the equatorial bulge of Central Africa and sought to be source of the world's longest River Nile. This was followed by series of exploration and by 1889; Henry Morton Stanley confirmed this ancient proclamation. This legendary description of Mountain Rwenzori makes it a historical landmark that should never be missed while on a Uganda safari. The area was established as a national park in 1991 extending to 996 km2 of land coverage and was designated as a world heritage site in 1994 by UNESCO. Mountain Rwenzori has the third highest peak in Africa after Kilimanjaro and Mount Kenya stretching to 5,109m above sea level named Margarita peak. Interestingly, the Rwenzori mountain peaks are covered by snow regardless of its close range to the equator.
Mount Elgon National Park is located in the east of Uganda 255km from Kampala covers a geographical surface of 1,121km2.  It contains the 4th tallest mountain in the East African region which was once the tallest in Africa higher than Kilimanjaro but as a result of denudation, it was reduced to 4,321m above sea level. Mount Elgon is the oldest and largest stand alone volcano in East Africa with the last eruption estimated to have occurred about 24 million years ago. Mount Elgon has got the largest intact mountain caldera in the whole world extending to 42 km2 and the largest volcanic base in the world stretching to 4,000 km2. The protected area has gone through series of recognition with the first occurring in 1929 when it was established as a forest reserve followed by its establishment in 1940 as a crown forest and as a Central Forest Reserve in1951. In 1993, the area eventually gained a national park status.