Kyaninga Lodge | Staying at Kyaninga Lodge in Fort Portal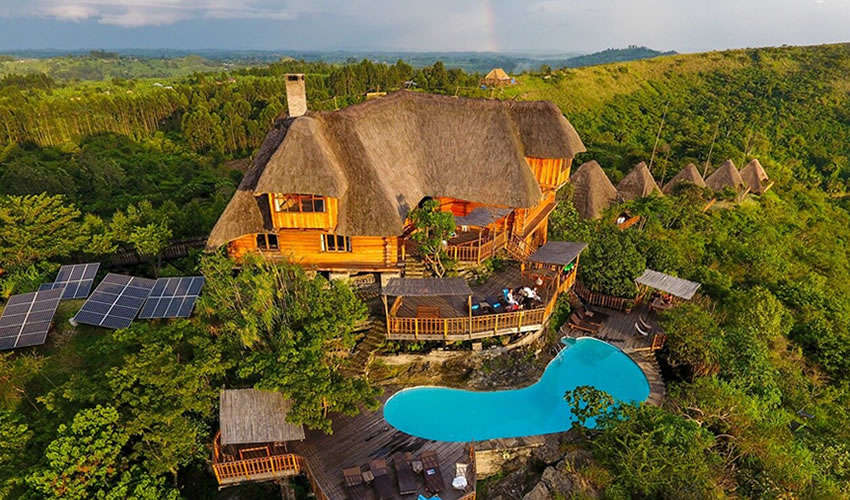 Kyaninga Lodge is set in Western Uganda's district of Fort Portal. It is set against a stunning backdrop of Lake Kyaninga and the legendary Mountains of the Moon. There are nine exclusive cottages each branching out via wooden walkways made from hand carved logs, superb dining, and in a good distance from each other thus ensuring privacy of all its guests. The cottages are very spacious, with double or twin beds fitted with mosquito nets.
Kyaninga Lodge
The view from the lodge shifts and changes constantly thanks to the combination of the Rwenzori Mountains ranges and the deep water of the lake Kyaninga. On a clear day the mountain ranges are very visible, sometimes they are covered by cloud; in the early morning, mist lies in the valleys and this gives you a wonderful and magnificent views. At times the crater is also completely covered with mist. All cottages face the Crater Lake and have en-suite bathrooms that boast of marble countertop basins set atop crafted Elgon olive pedestals, claw footed freestanding baths, and glass-walled showers.
With modern solar power, you are well equipped with hot water and power charging points in the main building and cottages. The WiFi works well in the main lodge building and each room has an umbrella that you can use when moving between your room and the main building. There are comfortable seating areas as well as raised galleries for a more private view, which are not only perfect for some outdoor games, but also to absorb the absolute magnitude of the Lake itself. On checking in, clients are provided with nifty little mobile phones to be used in case of room service. These make communication between clients and staff at the main building quick and smooth.
At the lounge and dining place mouth watering meals awaits you. The menu is based on classical European cuisines that are and tweaked to make use of local ingredients, many of which are handpicked from Kyaninga Lodge's own garden or the neighboring markets. Clients can relax at the Lounge, swimming pool, the fully stocked bar or at the balcony of their cottages. The bar also works as a crafts shop with unique high quality crafts like truck bottle holders and many more. The proceeds go to Kyaninga Child Development Centre, to change the lives of disabled children in Uganda.
While at the lodge one can do lots of activities like; chimpanzee tracking, crater rim walk, swimming in the lodge pool or Lake Kyaninga, bird watching, village and cultural walks, visit Fort Portal and its surrounding forest walk around the crater, play tennis from the only Uganda's lawn tennis court and many other games.
Kyaninga Lodge is close to 4 National Parks ie Kibale, Semliki, Rwenzori Mountain and Queen Elizabeth National Park. Kibale Forest National Park is the closest with less than an hour's drive away, visit it for chimpanzees, birding and other primates. Kyaninga Lodge is also about two hours' drive from Queen Elizabeth National Park, the best known area in Uganda for safaris and one of the most bio diverse reserves in the world. You can also visit Semuliki Game Reserve and national parks for hot springs, a boat cruise on Lake Albert and many other activities.