Mweya Safari Lodge is located in the Mweya Peninsula which is the most frequently visited part of Queen Elizabeth National Park, with better access from Kampala and a wider choice of accommodation. It is also the departure point for the Kazinga Channel launch trip.
In the midst of this medley of wonder, is Mweya Safari Lodge which offers visitors an unforgettable experience. This gem is surrounded by the famous Mountains of the Moon. The Bella Vistas of the Great Rift Valley hills and Kazinga Channel – which connects Lake George and Lake Edward.

Staying at Mweya Safari Lodge
Mweya Safari Lodge is a special place for honeymoon getaways and romantic treats. It glows and blends love with nature and the unforgettable sights of the sun as it rises above the Kazinga Channel and goes down while enjoying the Kazinga Sundowner.
The staff is trained to handle guests in the most hospitable manner. This creates a sense of belonging and home away from home feeling.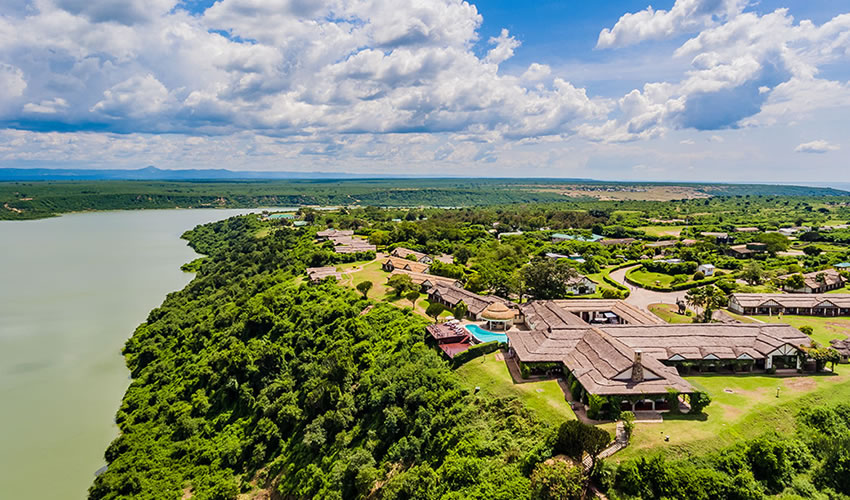 The lodge boasts of a diverse range of accommodation to make visitors comfortable and lost in the parks diverse ecosystems. The Safari Lodge has 2 Suites, 12 Deluxe Rooms with Air-conditioning and 32 Standard Rooms. For guests in need of a special treat and family cottage, there is a Presidential Cottage, a Queens Cottage, 2 Family Cottages, 2 Luxury Tents and 2 Standard Tents. Some of the amenities include; a Swimming Pool, restaurant & Cuisine, the Business Centre, Gift Shop, Conference Facilities, Mweya Information Centre and the Tembo Bar.
Mweya Safari Lodge also offers hot balloon Safaris which include a bush breakfast and and one hour experience above the beautiful park. A drive to the Pelican Point, a remote grassland, 2km beyond Katwe is organised by Mweya on request. The Point enjoys excellent views across Lake Edward and it justifies why it was proposed for the parks first lodge. The Pelican Point is great to visit with an experienced guide for a memorable time.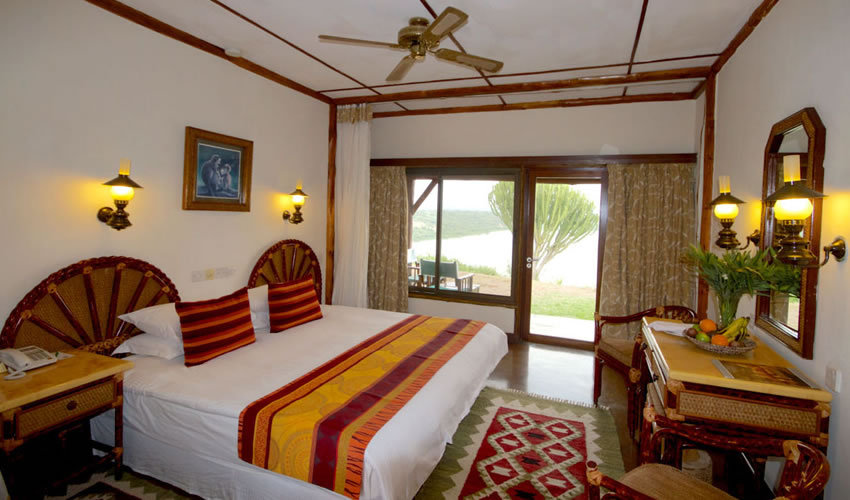 Queen Elizabeth National Park has the Katwe Explosion Craters with the most enthralling being Kyemengo Crater. Drives to these explosions and salt craters are a short drive from Mweya Safari Lodge. The Katwe Explosion and Salt Craters are a short drive from the lodge. There are two saline lakes but Lake Katwe is the better known. It is 3,265 feet deep and is highly saline.
Mweya Safari Lodge lies in the Northern section of Queen Elizabeth National Park which harbours Kazinga Channel. The Kazinga Channel is home to the world's largest concentration of hippos.