Kyambura Gorge Lodge, Queen Elizabeth National Park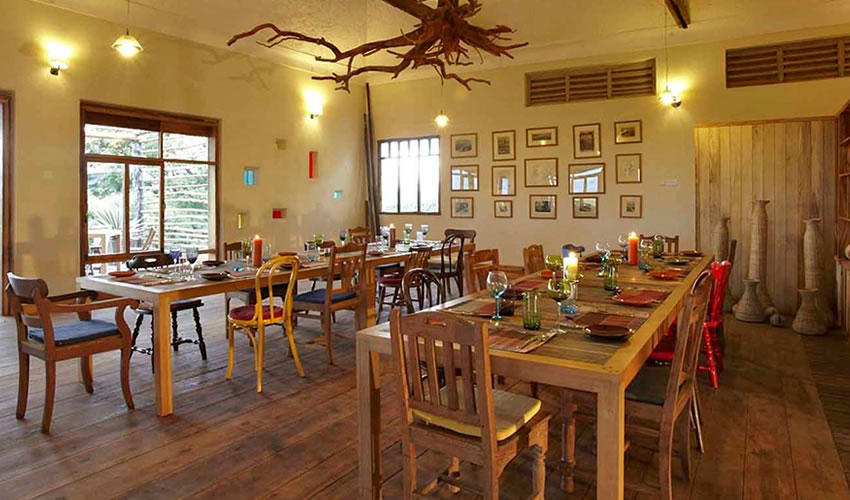 With the stunning landscape, swarmed with rich biodiversity is the Kyambura Gorge Lodge. It is nestled in Kyambura Gorge, also called the Valley of Apes situated in the far eastern corner of Queen Elizabeth National Park.
Kyambura Gorge was incorporated into Queen Elizabeth National Park. The Gorge was formed by a river that flows off the Kichwamba escarpment and into the Kazinga Channel at Katunguru. The gorge is 10Km long and supports dense forest, which is home to many different forestliving species, including Chimpanzees. Kyambura is the only area within Queen Elizabeth, where one can see the habituated Chimpanzees on any of the trekking tours.
Kyambura Gorge Lodge is about 430 Km from Uganda's capital Kampala via Mbarara. Charter flights are available from Entebbe to the Airstrip in Southwestern Uganda at Mweya which is less than 60 minutes.
Kyambura Gorge Lodge has 8 bandas built with unique timber and brick with either iron sheets or thatched roofs. There are 3 double and 5 twins which reflect the local building style. The elegant bandas were constructed to give a chic feel and equipped with all the comforts and facilities such as bathrooms with flashing toilet, shower with hot and cold running water, mosquito nets, and private balcony.
Tempt yourself with super-fast Wi-Fi available at the main lodge building or relax by the poolside. The delicious dishes at the restaurant are surprisingly good. They offer a true sensation of Kyambura that influences your taste buds.
At Kyambura Gorge Lodge, visitors are called by their names which offers a homely feel!