Lake Mburo National Park is the smallest savannah national park in Uganda and it is the nearest National Park from Kampala city or Entebbe town. It takes 4 hours drive from Kampala via Masaka road to Lake Mburo National Park.  This park is located in Kiruhura district in the western region of Uganda and takes 30km of fuel east of Mbarara city on a safari vehicle. The park covers 370km2 in size and it is a home to 68 mammal species and 350 bird species.
It is possible to walk around Lake Mburo National Park accompanied by a ranger guide, rather than having to tour in a safari vehicle.  It is quite possible to get close to Zebras, Warthogs and Impala, Rothschild giraffe, elands, topi, Buffaloes, Water bucks, Reed bucks and hippos. Leopards are present but they are rare. The landscape is of open plains, acacia grasslands and marshes. Around the lake, it is thicker riverine woodland while much of the rest of the park is acacia woodland.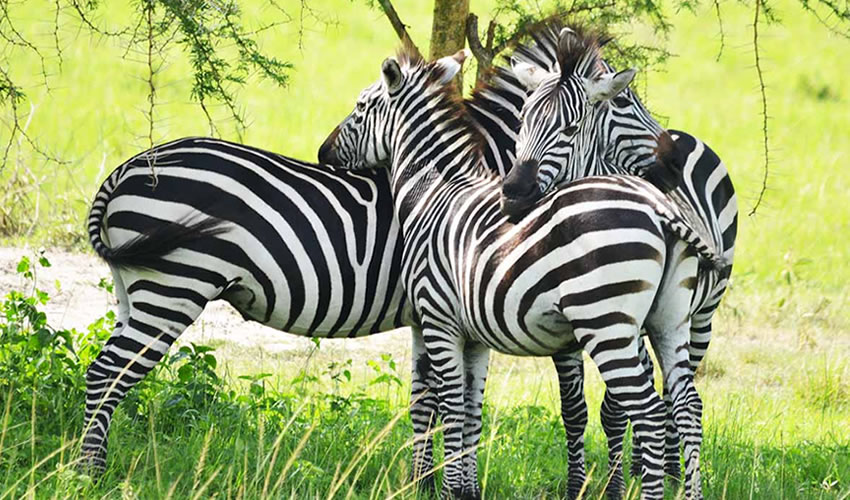 Initially, Lake Mburo National Park was gazetted as controlled hunting place in 1933 and later in 1963, it was upgraded to a game reserve. Besides it being a game reserve, the residents like Banyankole and Bahima people continued to graze their cattle's in the game reserve until in 1983 when the park was made a national park by Obote's government. The decision was made to oppress the Banyankole and Bahima people who had supported anti-Obote rebels. The pastoralists were not compensated for the lost grazing land and this made them to remain hostile to Obote's government. When it came to Bonanza operation, 300,000 people were massacred and many remained hostile to the upgrades. Rangeland outside the park was subdivided into small ranges and subsistence farming plots.
Later in 1985, Obote's government collapsed then Banyankole and Bahima residents re-occupied the park's land to the extent that the park staff were expelled, infrastructures destroyed, and they started killing wildlife in the Park. So, half of the parks land was re-gazetted again by National Resistance Movement (NRM) government in 1986 when they took over the power.
The name Lake Mburo National Park dates back on the story of two biological brothers (Mburo and Kigarama) who lived where the lake Mburo is situated today which was a low lying areas where the Bahima Pastoralists used to graze their cattle's. One night Kigarama the brother of Mburo dreamt that there was to come heavy rainfall which could drain and flood the place where they both lived for a long time to destroy their lives and properties.   When it reached in the morning, Kigarama shared with his brother Mburo what he had dreamt at night so that they can vacate to the nearest hill to save their lives and properties. Unfortunately, his brother Mburo denied it and yet during that time dreams where respected and taken seriously by the African tradition. Kigarama decided to vacate to the adjacent hill leaving his brother behind. On realizing, the dream came true and the all area flooded where brother Mburo drowned and his properties in the lake which was formed by the in the valley by the floods. All in all, the Lake was named Lake Mburo which costed Mburo's life and his properties and the opposite hill was named Kigarama for the remembrance of the two brothers. The two features can be explored on your Uganda safari to Lake Mburo National Park including many tour activities which emerged from this story like Boat cruise on Lake Mburo, Game drives, Nature walks, Horseback safari and Cultural history of the Ankole people.
So, the name Lake Mburo national park was derived from the touching story of the two legendary brothers who once lived in this mighty savannah national park.
MAIN TOURISM ACTIVITIES AT LAKE MBURO NATIONAL PARK
Game Drives at Lake Mburo Savannah
Wildlife Game Drives in Lake Mburo National Park offer tourists a chance to view several wildlife species. Game drives are best experienced in company of an experienced guide for safety purposes and to enjoy a wholesome experience. Animals in the park include: zebras, hyenas, topics, road antelopes, jackals, leopards lions, bush babies and porcupines among others.
Nature Walks
Nature walks are also encouraged at Lake Mburo National Park provided the participants are escorted by a professional ranger guide as a precautionary and educational measure. Such walks will usually cover the salt lick where visitors will experience several wild games that are licking on the salty residues. As one hikes further through the woodlands, they get to see several bird species, mammals, and the spectacular view of all flora and fauna, the many lakes and of course wild game. It's definitely an experience like no other.
Spot Fishing on Lake Mburo
At Lake Mburo National Park, fishing is carried out in all the thirteen Lakes, in and around the park but Lake Mburo, being the largest, attracts the biggest number of fishermen. Tourists are requested to acquire a fishing permit from Uganda Wild life Authority and also possess their own fishing gear if they are to enjoy the sport. Lake Mburo has six main fish types including: Tilapia, mud fish, lung fish and the haplochromes among others.
Bicycle Tours
Lake Mburo National Park authorises and encourages bicycle tours as another adventurous means to explore the park and its surrounding areas. Please note that such tours are always guided by a tour guide to answer any questions one might have and keep the tourist out of harm's way. Along the bicycle trails, one should expect to see Zebras, antelopes, buffaloes among others.
Bird Watching
Bird watching is another important activity to enjoy at in the park. This park boasts of approximately 350 species including: the African Grey Hornbill, Nubian woodpecker, the rare white winged warbler, the crested francolin and the trilling Cisticola among many others. Uganda birding tours take tourists to see the rare shoebill, harrier hawk, green pigeon, double toothed barbet, crested crane, saddle bill storks.
Boat Cruise at Lake Mburo
Boat cruises in the park are carried out in some of the five lakes located within the park. This cruise gives tourists a chance to enjoy flora and fauna as well as the several animals along the banks of the lake especially during the dry season where hippos, crocodiles, antelopes, and buffaloes can be seen trying to rehydrate. Several bird species can also be seen from this point.
Horseback Riding
Lake Mburo National Park is the pioneer park in the country to incorporate horse riding among its tourist activities where one can appreciate the park in its full beauty while riding on a horse. Horse back riding in Lake Mburo National Park is one of the major highlights of visiting this park. Take note that this is often an arrangement with some of the lodges on site that have stables, for example Mihingo lodge.
Forest Walks
The National park authorities can also arrange forest walls through Rubanhga forest. Such walks are particularly ideal for birders and nature lovers. Rubanga forest has over 40 bird species and several tree species including the fig trees, platy caluz, palm, acacia and Markhamia among others. This forest also hosts the elusive shoebill stock, green pigeon and the grey backed cameroptera among others. For one to hike in this forest, they must first acquire special authorisation from the warden.
Cultural Experience
The park authorities identified about 13 local community groups whom they trained in eco-tourism and biodiversity and were empowered to make a living out of the different projects they are involved in. Cultural Tourism in Uganda is quite exciting. Visitors to this park often have an opportunity to interact with the local communities and learn their cultural practices. Such communities include the Rwenjeru campsite, Ankole cultural community group, the Igongo cultural centre, the Rwabarata drama group, which entertains through local dance and drama and entertainment, the Rwamuhukajans craft makers who sell their products to tourists, the Shara community tourism group, the Rubale fishing community that offers fishing adventures and the Masha community wildlife forum.
ACESS / HOW TO GET THERE
BY ROAD
Lake Mburo National Park can be accessed from the Main Kampala – Mbarara road. There are 2 (two) entrances. Nshara gate; Coming from Kampala, then turn off 10Km past the Lyantonde trading center to the park. The park is 8 Km along an unsealed track. Sanga gate; coming from Kampala, turn off left at the Sanga trading center, about 35 km before Mbarara town. It takes 4 hours drive on a safari vehicle from Kampala city or Entebbe town with over 230km from Kampala city.
BY AIR
Flights are available on request from Entebbe International Airport to Nyakisharara airstrip in Mbarara town and they take one (1) hour in the air to disembark at Mbarara town. Our driver guide will be your arrival and thereafter be transferred to your accommodation in Lake Mburo National Park
WHERE TO STAY
HIGH END AND LUXURY LODGES
Kigambira Safari Lodge
Hotel Triangle Mbarara
Emburara Farm lodge
Mantana Tented Camp – (Luxury Tented Accommodation
MID RANGE LODGES
Rwakobo Rock Lodge
Mburo Safari Lodge
Arcadia Cottages Lake Mburo
BUDGET FACILITIES
Leopard rest lodge
Rwonyo Rest Camp