Mihingo Lodge in Lake Mburo National Park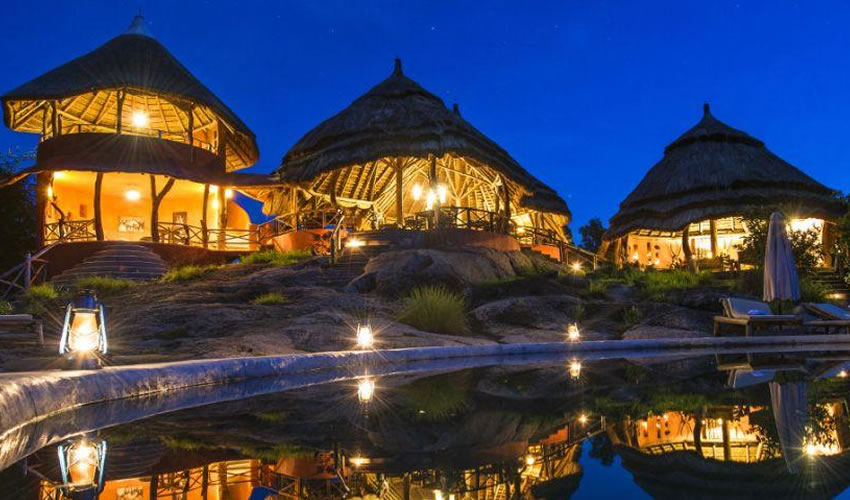 Mihingo Lodge in Lake Mburo National Park is the only place in Uganda where visitors are granted an opportunity to enjoy horseback riding safaris in Lake Mburo National Park. Besides the horses, visitors also hire a top of the range bike for an adventurous view of the wild.
Adjacent to Lake Mburo National Park is a luxurious, family owned lodge on a rocky edge. A unique park-view and extensive facilities await visitors to the unique facility. The lodge has a swimming pool overlooking the valley where residents get a chance to admire the zebra, warthogs and Impala. At the waterhole, the Oribi, topi are commonly sighted while at Mihingo Lodge.
Mihingo Lodge was designed to blend into the environment with a touch of class, comfort and sensation. Mihingo has 12 luxury, tented camps with each room filled with its special charm. The rooms has special views with some placed in the forest, others overlooking the lake and others providing views of the waterhole. Each tent has an en suite bathroom with hot and cold water, showers and flush toilets. The doorways are framed by stunning pieces of dead olive wood found in the area. The lodge uses solar energy.
Warm and friendly staff waits to welcome you to the magnificent jewel of the tropical setting. The staff makes sure you enjoy your breakfast, or early morning tea before you set out for a game drive.
Mihingo Lodge's dining area enjoys a cool breeze from Lake Kacheera. It overlooks a waterhole hence offering stunning views of the wildlife. The bar boasts a wine list from South Africa, Australia. It is a must visit while at the lodge.
Mihingo Lodge complements Lake Mburo National Park, a very special place with sculptured landscape, rolling hills and idyllic lake shores, forest galleries ,seasonal and permanent swamps.