Queen Elizabeth National Park is one of the most popular and oldest savannah national parks located in the western region of Uganda. It covers 1,978 km² piece of land with 95 species of mammals and over 600 species of birds. Queen Elizabeth National Park is also situated astride the Equator in the Western Rift valley of South West Uganda, close to the Southernmost tip of the fabled, mist covered Mountains of the Moon – Rwenzori Mountains and is contiguous with Virunga National Park in the Democratic Republic of Congo. It is a region of varied habitats including open grassland with thickets, thick bush, forest, swamps and lake shore. Queen Elizabeth National Park together with Virunga encircles Lake Edward which is connected to Lake George by the Kazinga Channel.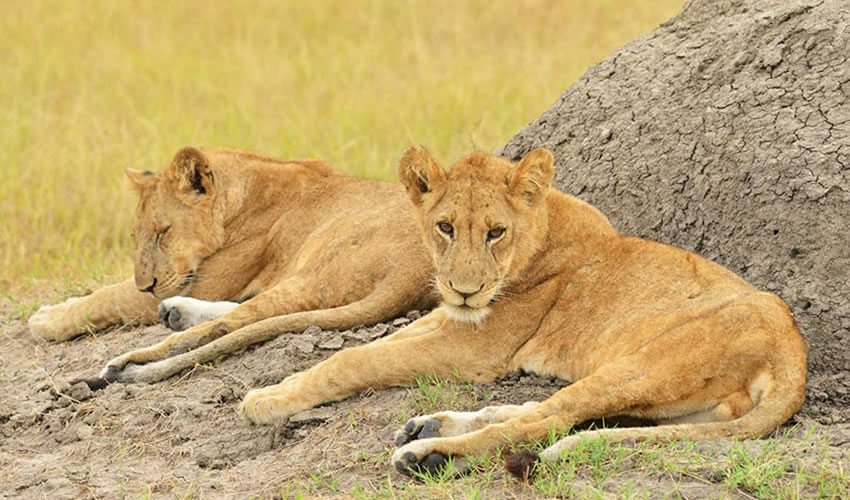 The Park is a world bio-sphere reserve (UNESCO 1979) includes a RAMSAR wetland site and is classified Important Bird Area (IBA) by Bird life International. Queen Elizabeth National Park has over 600 of Uganda's 1027 species of birds (over a quarter of Africa's bird species) more than any other park in Africa.
There is potential to view lions relaxing and elephants ambling and giant forest hog snuffing. Any visitor to this park cannot fail to be amazed by the enormous diversity in each kingdom of creation. It is simply a visual feast. Take a boat trip, a game drive, crater walk, a woodland walk or simply enjoy any of the myriad stunning views. Queen Elizabeth National Park provides unforgettable and unique experience.
In the Southern part of the park is the Ishasha sector where tree climbing lions may be found perched on Savannah fig trees. There is a high concentration of game in this Savannah setting that includes Lake Edward and the Ishasha River flats, and the Ishasha riverine forest. The hippo pools in the Ishasha River and Congo escarpment provides splendid scenery.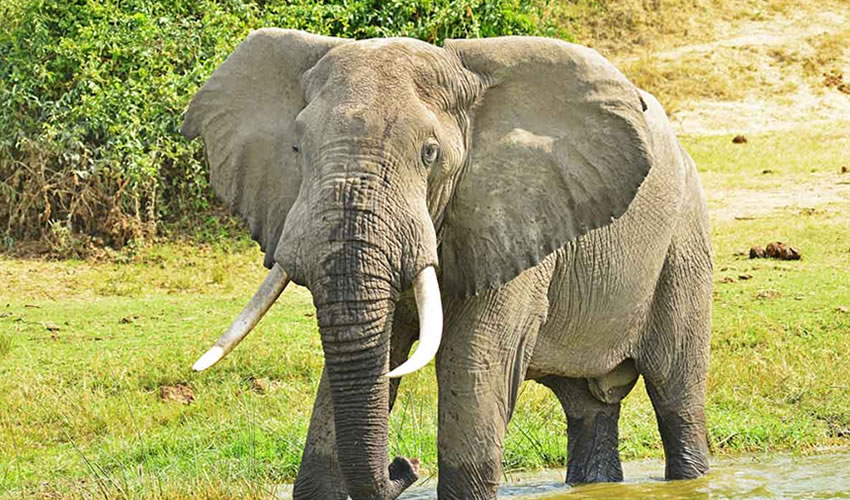 Maramagambo Forest is one of the largest forests in Uganda forming part of Queen Elizabeth National Park. It is a medium altitude moist, semi-deciduous forest. Characteristics of such forest are increasingly becoming rare in Africa. It has very spectacular lakes and craters. It is the only place in the park where one could find Blue Lakes. Other features of attraction in the forest include; primate's e.g. L'hoest's monkeys, Chimpanzees, bush baby, baboons, vervet monkeys, red-tailed monkeys, etc. Due to its location, Maramagambo Forest has a high diversity of butterflies. The bat and the hunters cave are other pleasant experiences that the forest offers, and of course some forest birds.
The Northern Crater Area comprises a scenic area of explosion craters, some containing salt lakes, formed by volcanic activity some 8-10,000 years ago. Some of these craters are dry. These unique scenic vantage points are important as dry season watering points for animals.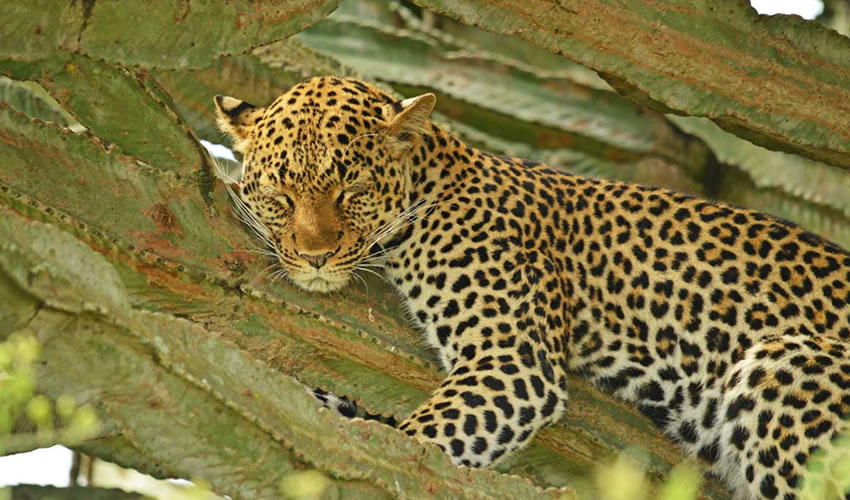 It was in 1906 when the northern part of Lake George was declared as a game reserve to prevent and protect the unregulated hunting by Africans, Europeans and also the necessary growing of cotton and wheat in these parts. Then in 1912, the whole parts of Lake George and Ishasha areas where restricted which forced the affected people who were practicing agriculture and fishing to migrate to safer areas. So the area was abandoned for a long time which promoted the increase of wildlife hence the emergence of Lake George game reserve. Later, the existence of the game reserve was also facilitated by the long spell of sleeping sickness until 1930,s which forced people to abandon the game reserve areas for a long time. In 1952, the game reserve was upgraded to National Park status hence Kazinga National Park together with Murchison Falls National Park but after two (2) years (1954),  the name was changed from Kazinga National Park to Queen Elizabeth National Park commemorate a visit by Queen Elizabeth II of England.
MAIN TOURISM ACTIVITIES AT QUEEN ELIZABETH NATIONAL PARK
Game Drive at Kasenyi plains, Mweya Peninsula and Ishasha Sector
Early morning, evening and night game drives along Kasenyi and Queens Mile makes visitors encounter elephants, buffalo, water bucks, warthogs, lions, leopards, Uganda Kobs, lakes and a variety of birds. Visitors will be accompanied by the ranger guide on a safari vehicle with pop up roof which enables clients to sight animals while in the safari vehicle. With very many trucks designated for game drives at Queen Elizabeth National Park, visitors are able to view most of the animals in this park.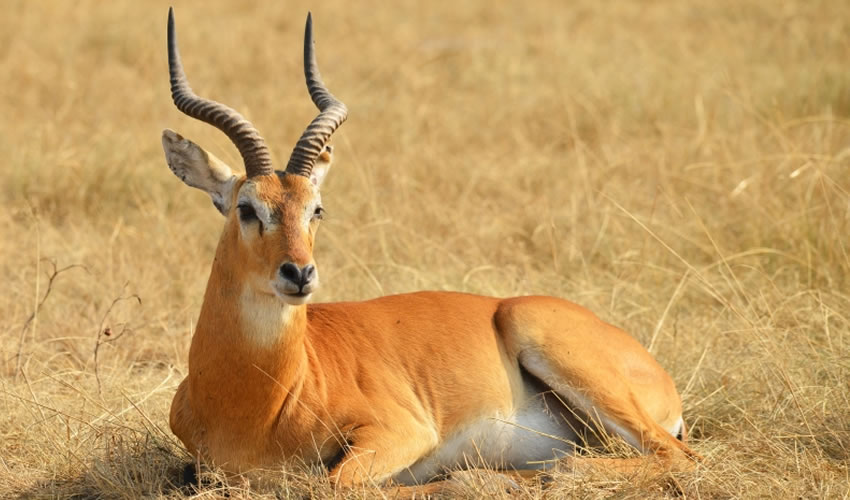 Game drives take 3-4 hours in search and viewing of the animals and early morning game drive start at exactly 6:00am, evening game drives between 3:00pm and 4:00pm and Night game drives start at 7:30pm or 8:00pm depending on how you have organized with your driver guide. The main reason why game drives are done in the morning, evening and night hours is that most of the animals will be out of their hiding places to search for food and this now gives our visitors a variety to see in open and designated places. Please note that night game drives enables visitors to view animals in a closer distance than day game drives.
Ishasha sector enables visitors to see the tree climbing lions. The drive takes you through the unique western rift valley escarpment and the southern part of Queen Elizabeth National Park. Viewing of Lions and predators at Queen Elizabeth National Park can be guaranteed by taking up an activity known as Lion tracking organized by Uganda Carnivores Project (UCP).
Boat cruise at Kazinga Channel
Boat cruise / Launch trips on Kazinga Channel down the shore of Lake Edward provides a unique vantage of viewing Savannah wildlife. A launch trip starts at Mweya the park headquarters along the Kazinga Channel, which joins the water flow from Lake George to Lake Edward for a distance of 32km. Truly, this is among the most exciting and memorable experience offered by the park. While on the trip expect to be thrilled by yawning hippos and closer views of water birds along the shores. Two hour Boat cruise along the famous Kazinga channel is worthwhile an opportunity to see Hippo, Bufallo, Kobs, Elephants, warthogs etc. This trip also enables visitor chance to see spectacular birds like Great White and Pink-Backed Pelicans, African Shoebill, Yellow Billed Stork, Great and Long Tailed Cormorants, Open-Billed Stork, Saddle Bill Stork, Darters, Black Crake, African Jacana among other bird species. The boat trips are scheduled and they start mostly at 2:00pm and 4:00pm. There is also one for 9:00am operating with the minimum of 4 (four) people on board.
Chimpanzee Tracking at Kyambura Gorge
Kyambura Gorge or canyon is one of the forests located in the heart of Queen Elizabeth National Park and it is a habitat to a variety of wildlife including the chimpanzees. The canyon or gorge was formed as a result of weathering and erosive activity of the river over a given time forming a deep cleft between escarpments. Most especially, rivers have a tendency of cutting the underlying surfaces hence wearing away rock sediments downstream. The forest developed in this escarpment and it has supported the existence of Chimpanzees in this forest. There are over 27 individual of chimpanzees at Kyambura Gorge which has enhanced the chimpanzee tracking activity in Queen Elizabeth National Park. The chimpanzee tracking experience is accompanied with a variety of primate species like red-tailed monkey, black-and-white colobus, baboons and vervet monkeys. The gorge is also known for its variety of bird species including various African skimmer, Ovampo sparrow hawk, Papyrus Gonolek, white winged warbler, martial eagle among other species.
The habituated chimpanzee tracking takes 2-4 hours with both morning and afternoon session. The morning session starts from 8:00am with the briefing from the ranger guide and there after you will be escorted to the forest to search for the closest creatures to human beings known as the chimpanzees. The afternoon session starts from 2:00pm and it ends in the evening. The activity costs USD$ 50 per person for both foreign residents and Non Foreign residents and UGX 30,000 for East African residents.
Bird Watching / Birding at Queen Elizabeth National Park
With over 600 bird species more than any other park in East Africa, Queen Elizabeth National Park offers a great experience for bird watching. The park has been classified as the Important Birding Area (IBA) by Birding International. The bird watching spots at Queen Elizabeth National Park includes Kazinga Channel, Kasenyi Area, Mweya Peninsula, Maramagambo Forest, Ishasha Sector, Lake Kikorongo, Katunguru Bridge area and Katwe Area.
The experience birding guide will be organized and provided for the bird watchers to Queen Elizabeth National Park and the guide will spot most of bird species you need to discover in this park. Please if you did not see your favorite, tell it to your birding guide and he/she will sight it for you.  Some of the birding species at Queen Elizabeth National Park include Martial Eagle, Black-rumped Buttonquail, African Skimmer, Chapin's Flycatcher, Pink-backed Pelican, African Broadbill, Verreaux's Eagle Owl, Black Bee-eater, White-tailed Lark, White-winged Warbler, Papyrus Gonolek, Papyrus Canary, Corncrake, Lesser and Greater Flamingo, Shoebill, Bar-tailed Godwit among other species.
Guide Nature Walks at Queen Elizabeth National Park
Nature walks involve walking in designated points in the Park. The clients will be escorted by the armed ranger guide to protect visitors, describe and spot both fauna and flora. Also, it is an opportunity for clients to view animals in a closer range and stretch the muscles as part of the exercise. The Nature walk points at Queen Elizabeth National park include the Maramagambo forest, Mweya peninsula, and Ishasha River. Nature walks at Maramagambo forest will expose visitors to the bat cave where thousands of bats rest. So, during the nature walks various animals will be spotted, birds and useful tree species and their uses will be spotted and described.
ACCESS / HOW TO GET THERE
BY ROAD
Clients can be picked up either from Kampala city or Entebbe town then driven through Kampala, Mityana, Mubende, Fort portal road then to Queen Elizabeth National Park.   It takes over 420km on a safari vehicle to reach the Mweya Peninsular and almost 7 hours will be spent on your way to Queen Elizabeth National Park via this particular route.
Alternatively, clients can be driven through Kampala, Masaka, Mbarara and Bushenyi road to Queen Elizabeth National Park. It will cost over 400km and 7 hours drive to reach the Mweya Peninsular which is the central activity point. In this route, clients will be able to visit and take photos at Equator in Kayabwe and Mbarara town will be the next stopover as you experience the cultures of the Ankole people at Igongo Cultural Museum.
BY AIR
Domestic flight can be arranged to Queen Elizabeth National Park. Clients can fly from Entebbe International airport to Mweya airstrip or Kasese airstrip and on the client's arrival, they will be transferred to their place of stay while at Queen Elizabeth National Park.
WHERE TO STAY
HIGH END AND LUXURY LODGES
MID RANGE LODGES
Buffalo Safari Lodge
Elephant Plains lodge
Enganzi Game Lodge
Kikorongo safari lodge
Jacana Safari Lodge
Parkview Safari Lodge
Kyangabi Crater Resort
Ihamba Lakeside Safari Lodge
 BUDGET FACILITIES
Tembo Safari Lodge
Bush Lodge
Simba Safari Camp
Engiri Game Lodge
Pumba Safari Cottages