Gorilla Forest Camp, Sanctuary Gorilla Forest Camp Bwindi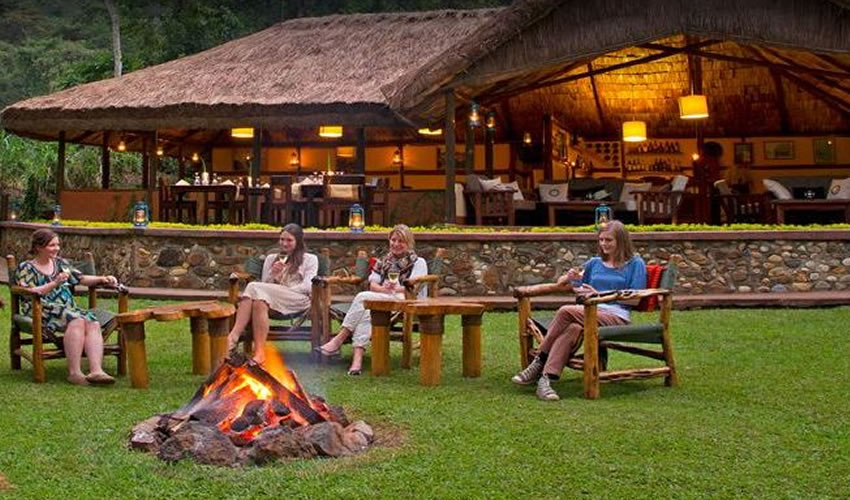 Sanctuary Gorilla Forest Camp is nestled in the Impenetrable Bwindi Forest in Southwestern Uganda. Sanctuary Gorilla Forest Camp is Uganda's leading tented camp in the just concluded World Travel Awards 2016.
Sanctuary Gorilla Forest Camp is the only luxury spot in Bwindi and is the perfect place to kick-start a gorilla tracking activity. The lodge is a host to the great Apes which visit at any given hour. Visitors to the lodge stand a higher chance of hanging out with the famous mountain gorillas.
Sanctuary Gorilla Forest Camp comprises of eight stylish and spacious tents which have two Queen sized beds. Each unit has a huge bathtub with vistas of the forest cover. At your private deck, do not hesitate to grab a cocktail in the serene environment.
The main area has a stress buster lounge, dining area and well stocked bar. The mini spa is also situated in the area providing luxury treatments in a relaxed atmosphere. How best can u describe a culinary experience at the bar and dining cottage facing the rain forest or an open-dining a la' carte as the moon dances with the African stars at a wild camp fire? You can be rest assured that the service is always personalised and dietary requests are put in special consideration. Dinner is served with four to five courses.
Welcome to Sanctuary Gorilla Forest Camp, a 10 hour drive from Kampala, a 1 hour and 45 minutes scheduled flight from Entebbe to Kihihi airstrip and 8 hours from Kigali to Bwindi.
Do not hesitate to be part of the Forest camp projects with the Bwindi Community Hospital and Victory School in the area!