We are not only the best Tour Company in Uganda we are also one of the most professional, reliable and efficient Uganda Safari Companies. Here is African Pearl Safaris Company Profile.
Incorporation:
African Pearl Safaris (APS) is a private limited liability Ugandan owned company. It was incorporated in September 1992. It started by providing car hire services but later incorporated tours in 1993.
In 1992, the company established a camp inside Bwindi Impenetrable National Park solely to accommodate tourists who invade this thick forest to track its rare inhabitants – the Gorillas. The camp with a trade name of Buhoma Lodge has expanded into an executive facility. It is a high-end property situated within Bwindi Impenetrable Forest and is a five minutes walk from the Uganda Wildlife Authority Park offices in Buhoma.
It offers accommodation in six, en suite spacious twin / double cottage units with individual verandas allowing excellent views towards the pristine tropical rain forests of the area. The emphasis is on providing an intimate, homely atmosphere whilst at the same time ensuring that facilities and services expected by international travellers are available.
We were the first company to take tourists to Bwindi for gorilla tracking in 1993.
Mission:
Uganda has been described as "One beautiful Garden" our mission is to deliver excellent services to a visitor to this garden that will make the experience unforgettable.
Vision:
To contribute to making Uganda the number one tourist destination in Africa.
Personnel:
The company employs a good number of consultants. Our policy is to team up experienced, dynamic and young tourism, transport and accounting personnel to become good managers. We also keep a roster of Geographers, Environmentalists, Zoologists, Social workers and Linguists. These are readily available at short notice should the need arise.
African Pearl Safaris team is made up of;
1) Mr. Azarias Baryaruha – Chairman / Managing Director
2) Ms. Evelyn Matovu – Accountant.
3) Mr. Stephen Olakasi – Tour Manager.
4) Mr. Edward Nankunda – IT Personnel / Web Master.
We also have a good number of Experienced Drivers / Guides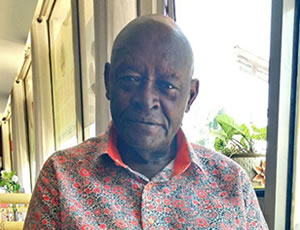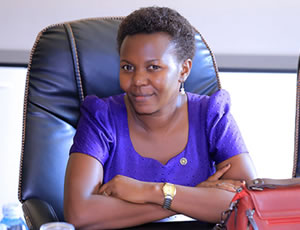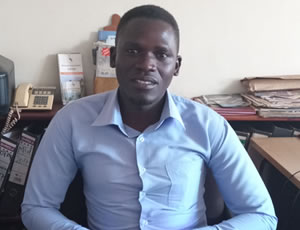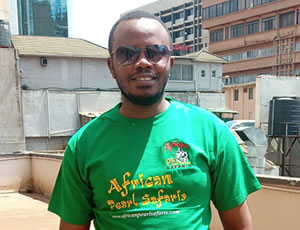 Operations Model
We are a diversified, single source provider of tour, transport and tourism services. We undertake adventure, study, business, religious and leisure tours. Our reason for success is the wealth of experience of our personnel and commitment to quality work.
We meet company – staffing needs through experienced field forces and proven subcontractor relationships.
APS' experience is eventful. It is the oldest indigenous company in tours business in Uganda. It spearheaded the revival of tourism in Uganda after the dark days of Amin's regime (1970s- 80s).
APS operations experience and record is revered in the tourist fraternity. Tour companies (individuals) in U.S.A, Mexico, UK, Holland, Italy and Spain with whom APS has worked with as ground handlers have shown immense happiness with the quality of service.
Directors and Key Service Providers
African Pearl Safaris works under the guidance of its Directors who over time have attained a lot of experience in strategic management of large-scale business operations. They also form core share holding portfolios of the company.
These are;
a) Mr. Azarias Baryaruha M.A. Economics U.S.A trained – Chairman & Managing Director
b) Ms. Gloria Kempaka Mugambe M.A. Economics UK trained. Practising Economist – Member
c) Mr. Marvin Baryaruha LLM U.S.A trained.  Practising Lawyer – Member
d) Ms. Rhoda Rutahweire Farmer. Practising peasantry farming –Member
e) Ibanda – Nahamya & Co Advocates Secretaries.
Mr. Azarias Baryaruha is the lead investor in APS. His record as a development activist is well established. He was an Executive Director in the defunct Uganda Development Corporation (UDC) which was run down by the misrule of Idi Amin. He established the first Export promotion council of Uganda and with other leading industrialists they revived the Association of Uganda Manufacturers in 1994. When he took over ownership of APS Buhoma Homestead was providing modest accommodation to tourists but has been able to upgrade and expand the facility to its current executive status.
Key Service Providers
Bankers: Barclays Bank of Uganda Limited
Kampala Road Branch
P.O.Box 7101
Kampala-Uganda
Auditors: ANRANK & COMPANY: Certified Public Accountants.
Octagon Consulting Limited.
P.O.Box 26267, Kampala – Uganda.
Lawyers: Ibanda – Nahamya & Co. Advocates
Musana House, Plot 45, Nkrumah Road
P.O.Box 1277, Kampala- Uganda
Contact us for any more information about African Pearl Safaris Company Profile.