Northwest of the Capital Kampala en route Murchison Falls National Park is 793 Km Sq Budongo Central Forest Reserve, a natural cover in East Africa that boasts of Mahogany trees in abundance. Budongo Central Forest Reserve is also home to a sizable population of mans closest relatives, the Chimpanzees.
The trees in Budongo Central Forest Reserve are moist, medium-altitude, semi-deciduous forest, with patches of savanna and woodland. They cover a gently rolling landscape, sloping down to four streams, Waisoke, Sonso, Kamirambwa and Siba, drain the forest and flow into Lake Albert.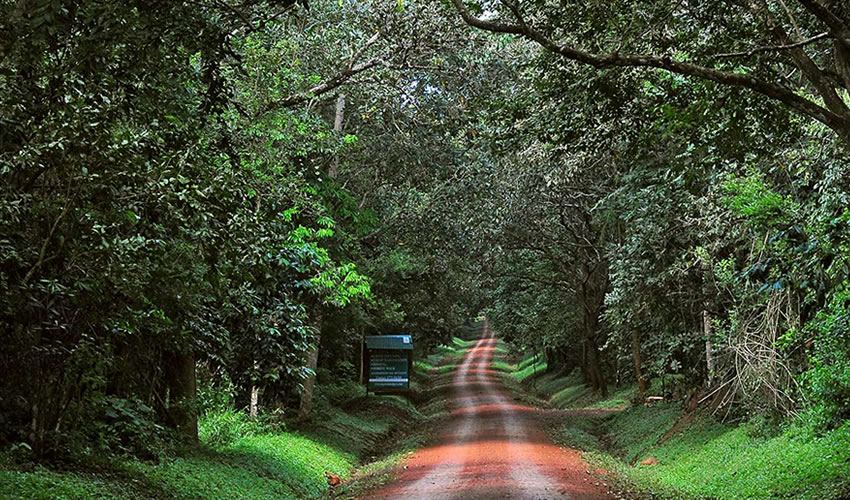 The Forest Reserve has more than 360 bird species, 300 butterflies, about 450 tree species and 9 primates. As you walk quietly in Budongo, fancy birds such as Blue-breasted, Chocolate-backed, and African Dwarf Kingfishers are some perchers to look out for. At the entrance of the gate, is a Murram stretch called the Royal Mile.
The Royal Mile is one of the best of Uganda's bird watching spots. It is historically known as a leisure spot for the traditional Kings, hence the name Royal Mile. The stretch has been cut back a few meters along the sides of the main trail, which makes it a particularly good bird viewing area in the excellent forest. Chimpanzee tracking has become an activity popular with eco-tourists, necessitating behavioral guidelines for visitors in order to avoid undue disturbance of both animals and forest.