Mgahinga Gorilla National Park is the smallest National Park in Uganda at just 33.7km2. It is located in the corner of south western Uganda in Kisoro District, 12.5km south of Kisoro town council. It makes up the northeastern part of the Virunga Volcano ranges which extends into DR Congo and Rwanda. This comprises of Mount Muhavura, Gahinga and Sabinyo.
The summit of Mount Muhavura is the highest point of the park at 4,127 m and has a small crater lake that tourists may want to visit. The view from the summit is frequently obscured by the cloud. The vegetation in the park includes montane, alpine and sub-alpine flora at each of the different levels up the volcano, varying the altitude. It is possible to climb to the peaks of Gahinga, Sabinyo, and Muhavura, although the pace set by the ranger and armed escort may be exhausting unless you are fit. Climbs can be organised at the Mgahinga Gorilla National Park office in Kisoro.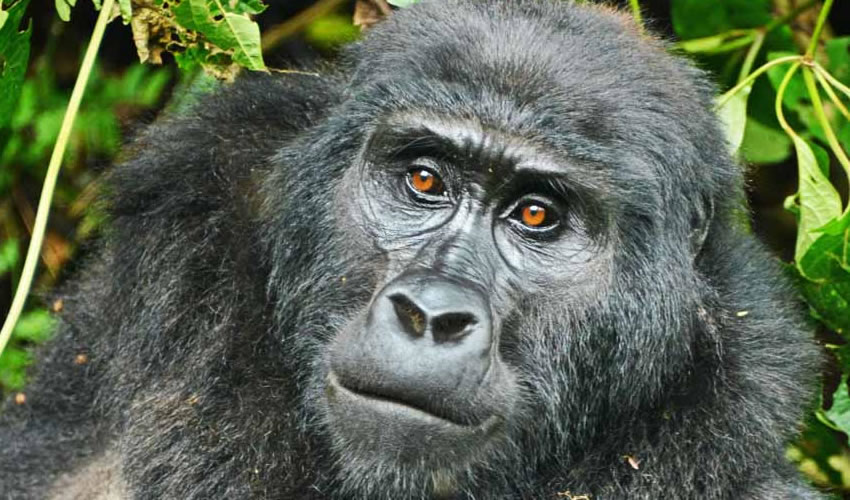 Mount Sabinyo (3,669 m) offers the opportunity of straddling Uganda, Rwanda and RD Congo simultaneously. There are three peaks to climb: peak one is reached along a ridge on the eastern side. Reaching peak two involves a traverse along the ridge with Rwanda on one side and Uganda on the other. Trekking to peak three involves the use of a series of ladders to help cover the terrain. The mount Gahinga (3,474 m) climb includes a pleasant walk through bamboo forest, known locally as rugano, before the gradient increases up the summit. There was a small crater lake at the summit but it has turned into a swamp over time. The round trip takes six hours.
Alternatively, shorter walks include a visit to the enormous Garama cave, which is over 340 m in length and 14 m deep. This was where the Batwa (Pygmies) warriors used to live during their long-running conflict with their neighbors, the Bantu almost 1000 years ago.
Initially in 1930, the current Mgahinga Gorilla National Park was made a game reserve by the British administration until 1950. Most parts were turned into crop fields in the lower altitude areas and biological surveys were initiated in 1989. In the process wire traps were destroyed, rangers trained and trees planted. Settlers (Batwa people) were relocated to areas outside the national park's borders in the early 1990s. Lastly, in 1991, it was upgraded to a national park status hence Mgahinga Gorilla National Park and this was made at the same time with Bwindi Impenetrable National Park and Rwenzori Mountains National Park.
Mgahinga Gorilla National Park is a continuation of Volcanoes National Park in Rwanda and Virunga National Park in DR Congo forming up Greater Virunga Transboundary Collaboration. All the three national parks have a total population of over 603 Mountain Gorillas individual as per the count carried out on 16th December 2019.
The park harbors 76 species of mammals and 115 bird species excluding the 250 bird species recorded in the entire Virunga conservation area (VCA). Most common spotted mammals include the rare Mountain Gorillas and Golden Monkeys during gorilla tracking and Golden Monkey tracking respectively but the rest is difficult to spot on your visit to this park especially the giant forest hogs, bush pigs, forest buffaloes, elephants, bushbucks, golden cats, side striped jackals, black fronted duikers and South African porcupines.
MAIN TOURISM ACTIVITIES AT MGAHINGA GORILLA NATIONAL PARK
Mountain Gorilla Tracking
The Mountain Gorillas (Gorilla beringei beringei) are the most awe-inspiring animals to be found in Africa. Unfortunately regional human population growth and poaching activities within the park have destroyed much of their natural habitat and the population size. Having faced extinction, today sound Conservation policies have slowed down their decline. In the Mgahinga Gorilla National Park the authorities have been successful in establishing community tourism projects that have lead to a harmonious environment now existing between man and wildlife in the reserve.
Here on the slopes of the Virunga Mountains, in South Western Uganda, the Mgahinga Gorilla National Park (33.7km2) has been established to provide a secure habitat for these massive, but gentle creatures.
Access to the resident family at Mgahinga is strictly controlled. Only small groups of visitors (8 persons) always accompanied by a ranger/guide are able to observe the habituated Gorilla family here for a period of up to 1 hour. The time restriction and visitor numbers is maintained to keep the disturbance to the animals to a minimum. Remember these animals are in their natural environment, they are wild and unpredictable in their movements.
The Gorilla tracking starts at 8:00am in the morning with briefing from Uganda Wildlife Authority office at Mgahinga and it takes 2-6 hours depending on the time you have found the Mountain gorillas on where they had spent the night in the previous day.
Mgahinga forms a portion of the Virunga Volcano conservation area, gorilla movements are affected by the distribution of plant species on which they feed. The availability of bamboo shoots, the seasonally preferred gorilla food item, affects the movements of the gorilla group across and into the Uganda-Congo border area. This is a biological behavior of a wild species, and cannot be controlled or predicted.
Golden Monkey Tracking
Tracking Golden Monkeys in Mgahinga Gorilla National Park is one of the main tourist activities in the park. Golden monkeys are only found in the Virunga Volcano range and two other forests in central Africa. This rare primate derives its name from the colour of its fur, which unfortunately puts it under threat from poachers. The golden monkeys are 3000 to 5000 in number. Uganda Wildlife Authority completed the process of habituating a family of Golden monkeys for experiential tourism as a strategy to diversify tourism activities within Mgahinga Gorilla National Park.
This habituation experience takes place in the mornings and afternoon and lasts for about 2-4 hours for each session but visitors are subjected to 1 hour of interacting with golden monkeys upon meeting them.
During golden monkey tracking, you will be escorted by the ranger guides so that clients can have a unique opportunity to get in close proximity with the primates as you learn a lot about these beautiful primates.
Batwa Trail Experience
The Batwa people were the inhabitants of Mgahinga Gorilla National park since their origin until when they were evicted from the forest. It is believed that they stayed in the Virunga Mountains for over 500,000 years including the Bwindi Impenetrable National Park. The Batwa people also known as the pygmies depended on the forest especially for shelter, hunting wild animals, gathering fruits and collecting medicinal plants for their treatment. The Batwa were evicted from the forest to preserve the mountain gorillas and since then, they only access their ancestral forest as guides. The Batwa trail was launched on 7th June 2011 so that they can preserve their tradition culture. While on the Batwa trail experience, the Batwa guide will show you the hunting techniques, different trees and their uses as medicinal plants, how they used to gather fruits, lighting fire naturally from the forest trees, also how they can make handcraft from wood for example using bamboo to make cups.  Above all you will be taken to visit Garama cave, which is over 340m in length and 14m deep. This was where the Batwa (Pygmies) warriors used to live during their long-running conflict with their neighbors, the Bantu almost 1000 years ago. At this point women will perform local tradition music and dance which will make your day to believe that really the Batwa culture is fading.
Mountain / Volcano Hiking at Mgahinga Gorilla National Park
Mountain climbing is one of the common activities done at Mgahinga Gorilla National park. The three volcanic mountains form Virunga ranges found in Uganda, Rwanda and DR Congo and they include Mountain Muhavura, Mountain Sabinyo and Mountain Gahinga. Each of these names has different meanings attached on them. Sabinyo means old man's teeth, Gahinga means Pile of stones and Muhavura means a guide.
Mountain Muhavura is the highest mountain with 4,127m and you can see the other Virunga Mountains when you are at its peak and also seen when at Kisoro town. It is a 12km hike and takes 8 hours to and from the peak. When also at the top of the peak, visitors can clearly see Lake Edward, Bwindi Impenetrable National Park and the peaks of Ruwenzori Mountains.
Mountain Sabinyo (3,669m) also takes 8 hours on a 14km walk to the peak through steep ridges and climbing a series of ladders and when at the peak you will be standing in Uganda, Rwanda and DR Congo at the same time.
Mountain Gahinga with its peak at 3,474m includes a pleasant walk through bamboo forest before reaching the peak. There is a small crater lake at the peak together with giant lobelia but it has turned into a swamp over time. The round trip takes (6) six hours. If visitors are lucky, they can spot golden monkeys which on their way to the peak.
ACCESS / HOW TO GET THERE
BY ROAD
The park can be reached by road through Kabale and Kisoro 510 km from Kampala with 10 hours drive on a safari vehicle.
BY AIR
There are domestic flights from Entebbe International Airport to Kisoro airstrips and they are subjected to prevailing weather conditions and strictly morning flights only. They take off at 0700 hours in the morning from Entebbe International Airport to Kisoro airstrip.  The flights return at exactly 0810 hours in the morning from Kisoro airstrip to Entebbe International airport. So, the driver guides will be ready to pick you up from airstrip to your place of stay.
WHERE TO STAY
HIGH END LODGES / LUXURY FACILITIES
MID RANGE LODGE FACILITIES
Mucha Hotel Kisoro
Travelers rest hotel Kisoro
Lake Mulehe Safari lodge
Lake Mulehe Gorilla Lodge
Chameleon Hill lodge
BUDGET FACILITIES
Amajambere Iwacu Community camp.