Our Lake Bunyonyi Uganda Safari is a birdwatcher's and nature lover's delight. "Lake of the Little birds" (Lake Bunyonyi) is located in the hills above Kabale in the South Western corner of Uganda, aptly named "The Switzerland of Africa".
Lake Bunyonyi situated at approximately 6,500 feet ASL is the deepest Crater Lake in the country, and one of the few bilharzia free lakes in Uganda.
Although the hills surrounding are heavily cultivated, a combination of forest groves, gardens, farm fields, open water and extensive marshes attract a wide diversity of bird life (over 200 species). The resident spot necked otters are readily seen fishing the lake shore.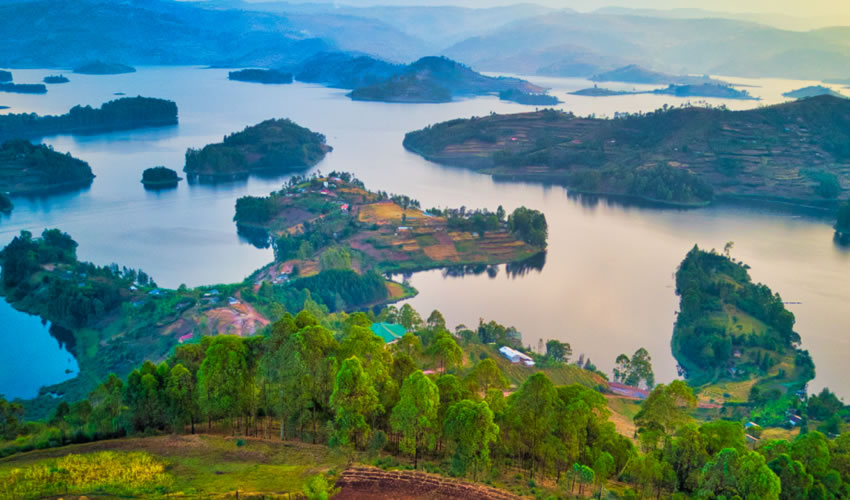 Bushara Island is probably the most central location to begin a bird watching Uganda Safari. More than 50 species can be regularly spotted in leisurely two-hour stroll over the 16-hectare island, and over 100 species have been reported.
Commonly sighted birds include the White tailed Blue Monard, African Harrier Hawk, Levillant cuckoo, Cardinal Woodpecker, Rufous-breasted wryneck. Weavers nesting on the Island include large golden, slender-billed, baglafetch, yellow-backed and spectacled weavers.
A night-time dugout canoe will reward the visitor with flashing fireflies, a loud chorus of crickets and frogs, swooping bats, and nocturnal birds.
African Pearl Safaris takes you on this Lake Bunyonyi Uganda Safari, to experience the birders paradise.
We have capacity to rescue a safari, that's why we have maintained our reputation over the years.