What You Need For a Memorable Gorilla Experience in Uganda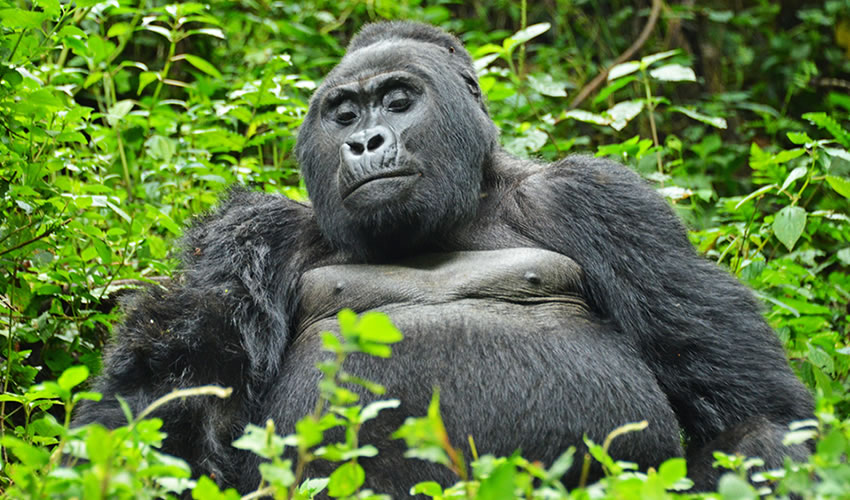 Gorilla tracking in Uganda is one of the most memorable experiences that tourists want to enjoy in their life time.  And for you to enjoy having a memorable gorilla experience in Uganda, you must master the following. Here is What You Need For a Memorable Gorilla Experience in Uganda. These are simple basic steps to be followed by tourists.
What You Need For a Memorable Gorilla Experience in Uganda.
Gorilla Permit:
This is a special pass that allows you access or entry into the forest to view these gentle giant animals. The gorilla permits are sold by Uganda Wildlife Authority. The cost of a gorilla permit is USD 600 for a high season and USD 450 for the low season. A Gorilla Trekking Permit is valid for a particular location (family or group), day/ date. Gorilla permits are sold/ bought in advance on a 1st come 1st serve basis.
Tourism Seasons in Uganda
High seasons are in the months of June to October (Main dry season), December to March (secondary dry season) while the Low season which is usually wet or rainy covers the months of April, May and November.
Most tourists prefer to travel in the dry seasons although it's on record that seasons are changing constantly in the whole world and they are no longer predictable. It can rain at any time in Bwindi and this makes the seasons get mixed up into each other.
Bwindi is chilly in the morning and at night with average temperatures ranging from 7⁰C – 20⁰C. The coldest period in Bwindi is June and July, while wet seasons are March-May and September-November with total annual rainfall of up to 2390mm. Rains in March-May are short. They are heavier in September-November but can just be long hours of soft drizzle. There are also other factors clients consider like the overall weather back in their home countries.
The discounted gorilla permits were introduced to encourage tourists travel in all year through even in the rainy months mainly for conservation purposes. Best Times of the Year to track Mountain Gorillas would be the dry seasons but you can save a lot of Money on Gorilla Permits in April, May and November. In addition, most of the lodges around Bwindi also give discounted rates during the low season to clients.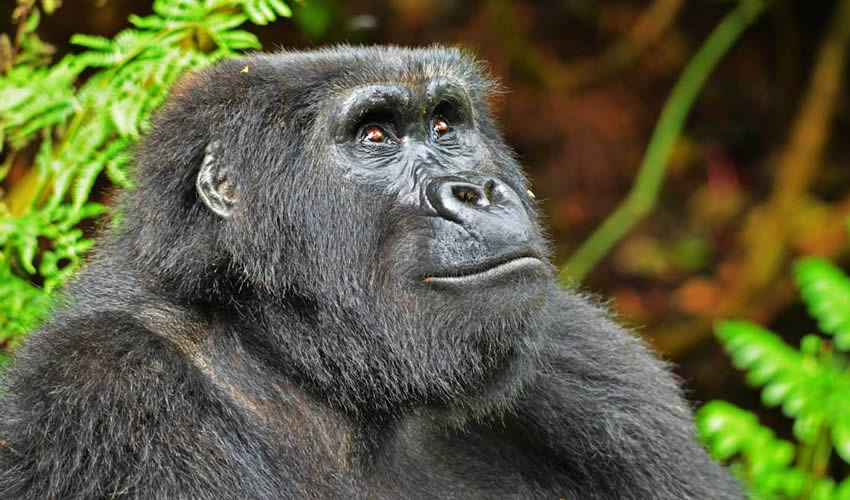 Location:
In Uganda gorillas are tracked in two National Parks and that is Mgahinga National Park and Bwindi Impenetrable Forest National Park.
Mgahinga National Park has only one habituated gorilla called Nyakagezi and it is a trans-boundary group. It has 10 family members led by led by Mark who is the dominant Silverback,. In the past this family used to cross borders between Uganda, Rwanda and Democratic Republic of Congo.  However, of recent (like three years ago) the group has been stable without crossing different boarders and they are trying to settle on the Ugandan side.
Whereas Bwindi Impenetrable Forest National Park has a number of groups that are habituated for tourists.
These groups are found in different locations of the park and these are Buhoma, Ruhija, Nkuringo and Rushaga. While Uganda Wildlife Authority is issuing out gorilla permits it bases itself on groups. These groups are further split into families of gorilla groups:
Buhoma which is centrally located and is the busiest area in the whole of Bwindi National Park has 3 main gorilla habituated families namely:
-Mubare which was the very first family to be habituated in 1998. It has 9 family members. The name Mubare refers to the area where the group was first discovered Mubare Hills.
– Rushegura with 16 family members and is believed to be the easiest to trek as clients that follow it usually spend few hours to locate them.
– Habiyanja family was first discovered near a swamp in Bwindi Impenetrable thus the name Habinyanja which comes from the local name for water "Nyanja". This group  is believed to be the largest in Buhoma area with 18 family members which includes 2 silverbacks. The challenge with this family is that it moves a lot and many clients that have tracked it say it's the toughest in this area. Visitors who go for this family must be energetic and very fit because they can spend the whole day walking.
Ruhija located west of Bwindi has three gorilla families namely; Bitukura, Oruzogo and Kyagurilo
– Oruzogo Group– This group is very exciting with 22 members
– Bitukura Group with 15 members to be tracked.
– Kyaguliro Group. This was basically a research group studied by German Max Planck Institute of Evolutionary Anthropology and it was not visited by tourists but only used by conservationists to learn more about mountain gorillas. At first this group was one under the supervision of one silverback Kukina. However Rukina was struck dead by lightning in 2015 and this prompted the inexperienced Mukiza silverback to takeover leadership of this group. His stay was not long as he was later ambushed by an immigrating adult Silverback (Rukara) from the Bitukura family. This brought about a fight which resulted into a split of the family into two. The two groups that emerged are (Kyaguliro A -Rukara and Kyaguliro B -Mukiza) in 2016.
The Kyaguliro A – Rukara group is composed of 10 individuals; 1 silverback, 2 black backs, 3 adult females, 2 juveniles and 2 infants, while the second group,  Kyaguliro B -Mukiza is made up of 10 individuals who include; 1 silverback, 4 adult females, 1 sub-adult and 4 infants.
Rushaga. This is found in the South of Bwindi and is a habitat for the Nshongi, Mishaya, Kahunge, Busingye, and Bweza Gorilla families. This area is regarded as the best part of Bwindi with gorilla groups in big numbers. And it is only area where Gorilla Habituation Experience takes place in the whole Bwindi National Park.
-Nshongi family The Nshongi gorilla family group is named at the Nshongi River where they were first found  and discovered some years back. When this group had just been opened to tourists after habituation it had 25 members which is believed to be the biggest ever. However, this did not last long as 10 members of this lovely family separated to form another group known as Mishaya.
– Mishaya group – This group is led by a silverback called Mishaya. In the beginning the gropu had 10 members but there was a fight and as of now the family only has 7 members. When a gorilla group fights it can either loose or gain new members.
– Kahungye Group: This is also in the area of Rushaga it is sizeable in number even after a recent split in the Family creating the new Busingye Gorilla Group. The name Kahungye is derived from one of the hills in Rushaga area. Thisgroup had a fight in 2012 and split thus giving birth to a new group called Busingye.
– Busingye group: The group consisted of 9 members and among them were three infants. Busingye is a local language word for 'peace' which is quite surprising since this ambitious Silverback is known as a fighter with other gorilla groups. He likes showing his power and whenever encountering a wild family he mercilessly grabs a female to add to his own family.
– Bweza Group: This group is also on Nshongi side with a family size of 7 members including 1 Silverback. These were part of the biggest ever habituated group of Nshongi. When Mishaya decided to leave Nshongi group he left along with Bweza who was not strong enough by then. At the end of 2012 Bweza chose to be independent by walking away with 6 other members from the Mishaya Gorilla Group. This group was opened to tourists in 2014 to be tracked.  in Rushaga area of Bwindi Park.
– Gorilla Habituation Experience Groups: There are two Gorilla Groups that are being habituated in the Rushaga Area of Bwindi Impenetrable Forest.  Both groups can be tracked and you can spend 4 hours viewing a Gorilla Family instead of 1hour. The fact that you spend longer hours viewing the gorillas the price is also higher than the ordinary gorilla permit. Gorilla Habituation experience costs 1500 USD per permit instead of 600 USD for a normal permit. This is a pilot Program that is being closely monitored and up to date has been a complete success.  It is usually done by researcher tourists, photographers and an ordinary tourist who wants a more memorable gorilla adventure. This is the only area in Bwindi where Gorilla Habituation takes place.
Nkuringo Group. This is still found in the Southern part of Bwindi Impenetrable Forest National Park. The word Nkuringo is a local word meaning a round hills (and this could explain why many have said this is a tough trek and that must be fit and energetic to ask for permits from this area). And it was at this place of round hills that the group was first sighted thus the name Nkuringo. This was habituated for 2 years and later opened to tourists. The group has 19 family members including 2 silverbacks. It led by one Silverback called Nkuringo who died in April 2008, leaving behind 2 Silverbacks in charge ie Safari and Rafiki. Safari took over the leadership and in the same year, the group was rewarded with twin gorillas Katungi and Muhozi arrived and expanded the family further. Unfortunately, Katungi died at the age of 1½ years due to illness. Tracking the Nkuringo Group takes a bit more energy and stamina. This is probably the toughest trek in Uganda.
NOTE:
The numbers in all these gorilla families can change from time to time but not constant
At the point of purchasing the gorilla permits you can request for the area where you want to track gorillas but the group will be determined on the morning of the actual date to track gorillas.
Your accommodation should be chosen based on the location of your gorilla permits. All locations of Bwindi have a variety of accommodations near them ranging from Luxury, Up market, mid range and budget.

Rules and regulations
Gorilla Trekking rules and regulations are definitely among What You Need For a Memorable Gorilla Experience in Uganda. It is very important for you to learn about the rules and regulations of gorilla tracking and knowing them will also add something to your experience. By following these rules and through the purchase of the permit, YOU too are contributing to the Mountain Gorillas conservation. They are set by Uganda Wildlife Authority:
– No one with a communicable disease (e.g. flu, diarrhea is allowed to enter the park).
– Do not stand over Gorillas, stay together in a tight group while with the Gorillas, don not surround them.
– Do not use flashes while photographing.
– Do not smoke, drink or eat when you are near the gorillas. Eating or drinking inevitably will increase the risk of food/drink morsels/droplets falling, which could increase the risk of transmission of diseases.
– Turn away from the gorillas if you have to sneeze or cough, cover your mouth and nose in the process.
– Bury all human feces a minimum 30cm deep and ensure that the hole is properly covered.
– Do not litter. All litter must be carried out of the park and disposed off properly.
– No person under 15 years is allowed to trek gorillas.
– Do not make loud noise or move suddenly. Ask in a whisper if u must.
– The maximum time you can spend with the gorillas is one hour. However, if the gorillas become agitated or nervous, the guide will finish the visit early.
– Do not spit on vegetation or soil while in the park. Use your hankie of other garment.
– A 7 meter (21 feet) distance should be observed at all times from the gorillas. The far back you are, the more relaxed the Gorillas will be.
– Sometimes the gorillas charge. Follow the guides example (crouch down slowly, do not look gorillas directly in the eyes and wait for the animals to pass). Do not attempt to run away because that will increase the risk.
– Do not touch the gorillas. They are wild animals.
– Do not look at them straight in the face rather give a sideways glance.
– After the visit keep your voices down until you are 200 metres away from the gorillas.
Adult males range, 1.65–1.75 metres in height (5 ft 5 in–5 ft 9 in), and 140–200 kg (310–440 lb) in weight.  Adult females are often half the size of a Silver back, averaging about 1.4 metres (4 ft 7 in) tall and 100 kg (220 lb). Mountain Gorillas have a facial structure which is described as Mandibular Prognathism. Almost all gorillas share the same blood type (B) and, like humans, have individual finger prints.
NOTE:
*A visitor shall be declared unfit for Gorilla Trekking due to illness, by a warden-in-charge in the park, 50% of the tracking fee will be refunded. Illness is determined at the discretion of the warden-in-charge. The cancellation policy will apply to visitors who fall sick prior to their travel to the park.
*Permits are non-refundable but visitors who track the whole day and fail to see them for whatever reason will be refunded 50% of the tracking fee.
*The gorilla permit is not a guarantee that the gorillas will be clearly viewed.
* Chances of seeing Mountain Gorillas are 98%.
*The minimum age limit for visiting the Mountain Gorillas is 15 years.
What to wear when gorilla tracking:
Not putting on the right clothes for gorilla tracking can ruin your experience. We have therefore outlined for you the right clothes that you must wear on your gorilla trek.
(a) Hiking boots- ankle level boots are fine ok but make sure it is something handy.
(b) Video- filming is allowed in the parks though not outside the park
(c) A Rain Coat
(d) Gloves
(e) A pair of binoculars if you are a keen bird watcher.
(f) A warm cardigan
(g) Thick trousers and a long sleeved top are ideal for tracking.
(h) Water proof container for their cameras
(i) If you prefer wearing a hat, a baseball cap is recommended.
(j) A bag to carry your packed lunch and drinking water.
How to get to Bwindi
Bwindi and Mgahinga National Parks are in a remote location, and reaching the park involves a long difficult journey. Both parks can either be accessed by either road or air. African Pearl Safaris can help you in organizing a memorable gorilla tour from booking a gorilla permit for you, booking your accommodation and arranging transport for you. Contact us for any further clarification about what You Need For a Memorable Gorilla Experience in Uganda.