Maramagambo Forest Bat Caves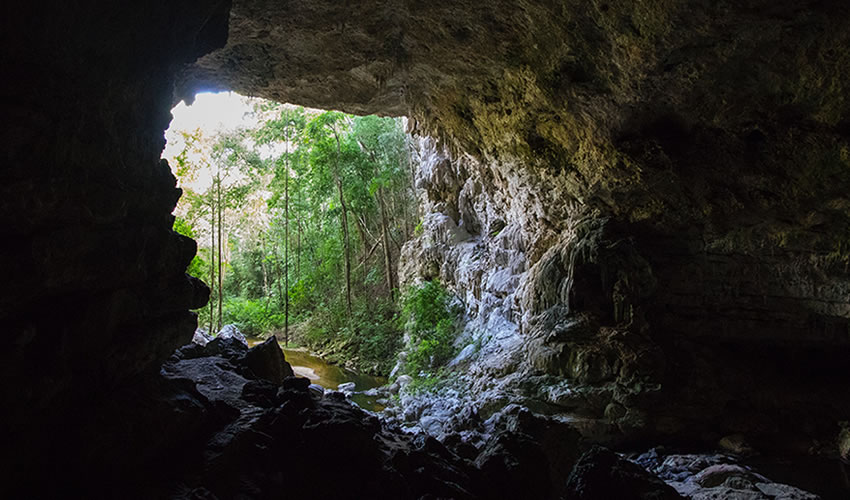 Maramagambo Forest is an extensive rain forest which lies in the southern part of Queen Elizabeth National Park in the far west of Uganda. Maramagambo Forest is perfect for hiking and nature walks as one gets clear views of beautiful crater lakes. The mostly shaded trails through this magnificent forest give you a great experience.
Maramagambo Forest Bat Caves in Uganda
Maramagambo Forest is rich in animal and plant biodiversity and is bordered by two beautiful crater lakes Kyasanduka crater and Nyamasingiri. This is one of the largest forests in Uganda, with different walking trails traced out, yet little is known about it.
The forest is a home of a large population of chimpanzees, baboons, red-tailed monkeys, blue monkeys and vervet monkeys.
Predators and Prey co-exist in the Maramagambo Forest Bat Caves in Uganda. Snakes live with bats, a rare sight in any ecosystem. Nevertheless, the forest is ideal for hikes, nature walks that extend from 90 minutes to half a day. During this moment, visitors can explore the scenic beauty of Crater lakes.
Located in Bushenyi, Uganda, Maramagambo is in the southern part of the medley of wonders – Queen Elizabeth National Park. The tree canopy trails through this amazing forest offer our visitors a unique experience greater than our imaginations.
A visit to Maramagambo Forest without sighting a Bat cave is not an experience enough! The Bat cave is where a Dutch woman contracted the Marburg virus found in the bats. Following the incident, the cave was closed until the American Centre for Disease Control invested in a viewing platform.
The Maramagambo has a cultural perspective from the natives of the area.They believe the name was derived from a legend of young people who wandered off in the forest, and never returned after a number of days. It is believed that when they came back, they were worn out and could hardly speak, hence the name Maramagambo which is literally translated as end of words.
Another cultural encounter is brought to life by the historic cave at Nyanziibiri community. This place is believed to have been a sacrificial and cleansing ground for misfortunes which was also used as a hideout during the dictatorial regime of past Ugandan Presidents. The area has a perfectly preserved Banyaruguru hut, filled with valued local artifacts that were once the tools of everyday life.
Maramagambo Forest which is bordered by two crater lakes: Kyadanduka and Nyamasingiri is a habitat for primates such as Chimpanzees, Black and white Colobus Monkeys, LHoests monkeys, Baboons, Red-tailed monkeys, Blue monkeys and Vervets. Other mammals include the Pygmy antelopes, Pottos and Bushbabies. This area is home to uncommon species of birds like the Forest Flycatcher, Rwenzori Turaco and White -Naped Pigeons.
The closest route to Maramagambo is the Kampala to Mbarara and Bushenyi. Meanwhile, Charter flights can be privately arranged from Entebbe International Airport.
Nature Walks And Birds
The nature walk in the forest is ideal for hikers and it can take from one-and-a half hours to half a day. Walking though the canopy-shaded trails offers you a rather unique experience.
As you proceed, it is common to see different birds, such as the dark caped yellow warbler, the fawn-breasted waxbill, black-headed batis, sulphur-breasted bush shrike, bat hawk, red-tailed bristle bill, African green pigeon and Ross's turaco. Other uncommon species among the birds are the Rwenzori turaco, the white-naped pigeons plus the forest flycatchers among many others.
How To Get There
The best access to the forest is through the Queen Elizabeth National Park gate, close to Jakana Lodge. It is 12 km off the main road from Katunguru to Mbarara.