Igongo Cultural Centre & Country Hotel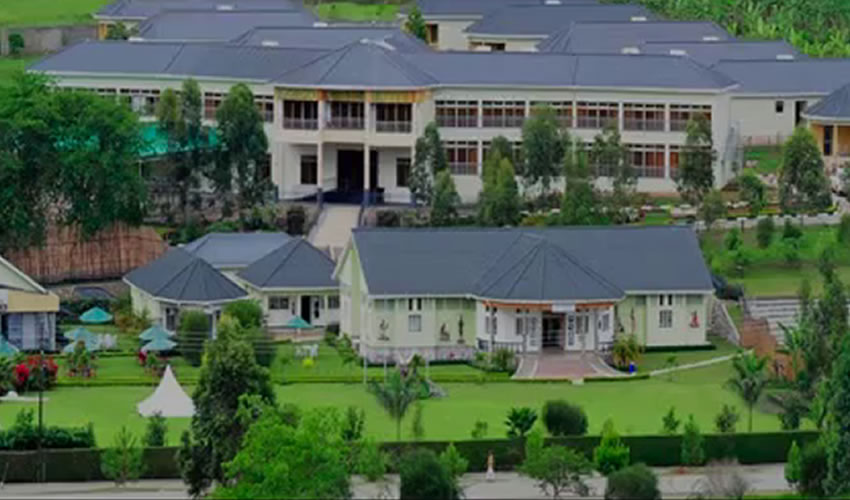 Igongo Cultural Centre & Country Hotel is located in Mbarara, which is the most popular district in the Ankole Sub-region. From Uganda's Capital Kampala, the countryside becomes flatter towards Mbarara with more and more banana plantations. There are lots of Ankole cattle grazing. Mbarara is a busy and rapidly developing town. It is a lively town that received many visitors and is a crossroads for travellers heading towards the Queen Elizabeth National Park, Lake Mburo, Rwenzori Mountains and Kabale in the southwest.
Just before you enter the town, there is a choice to stay and appreciate the culture of the area. In Biharwe, is a 4-star hotel which had set a new standard of accommodation in Mbarara for leisure and business travelers. Boasting of a stunning scenery and Biharwe- eclipse facing guest rooms, the hotels unique variety of room configurations will satisfy every guest. When it comes to entertainment, the Igongo troupe is ready to take you down the cultural lane with traditional performances, skits and folklore. All rooms have high definition flat screens to have your entertainment enhanced in the modern era.
Igongo Cultural Centre & Country Hotel has everything to offer visitors, conference organisers and delegates. All these elements include a bar, restaurant, craftshop, lawns. Nearby Lake Mburo National Park offers unlimited adventures including; game drives to spot the newly introduced giraffes and zebras, sport fishing and scenic viewing.
On a distant hill across the road facing the Igongo Cultural Centre & Country Hotel, is a monument called the Biharwe eclipse. It spells the ancient history of Ankore sighting the relationship between the Kingdom and other neighbouring monarchies. The hike uphill is a test of fitness and offers captivating panoramic views of the area.
Igongo Cultural Centre & Country Hotel's food, reliable staff, ambience and cultural values are truly attractive to a traveller with an appreciation of the countryside and culture in Uganda.