Visiting Sipi Falls in Uganda | Sipi Falls Hike on Mount Elgon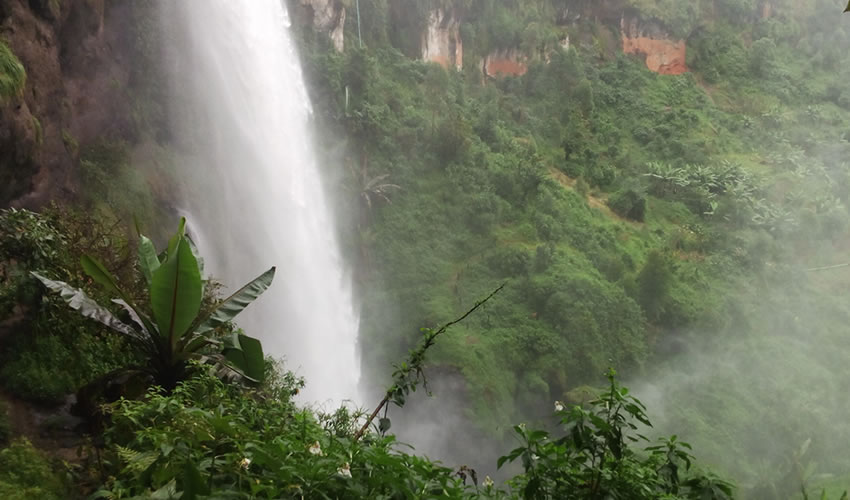 Sipi Falls is found on the foothills of Mount Elgon in Eastern Uganda, at approximately 277 km from Kampala, Uganda's Capital. The name "Sipi" was derived from the word "Sep" which is a name of a wild plant that the locals use as medicine for treating fevers and measles. Visiting Sipi Falls in Uganda is a thrilling experience that gives visitors a chance to marvel at the three waterfalls flowing from different altitudes creating one of the most spectacular sightings in Uganda.
Visitors hiking Mount Elgon usually start from Sipi Falls and enjoy scenic views of Coffee plantations, Lake Kyoga as well as the verdant surrounding areas. The Sipi area is mainly inhabited by the Sabiny and Bagisu and these mostly do farming, especially growing Arabica Coffee.
Tourist Activities to do when visiting Sipi Falls in Uganda.
A number of tourist activities take place in the area around Sipi Falls and most Uganda Safaris to this part of the country include some of these tourist activities. In addition to the thrilling Sipi Falls hike, visitors have a variety of other activities that they can take part in and these include;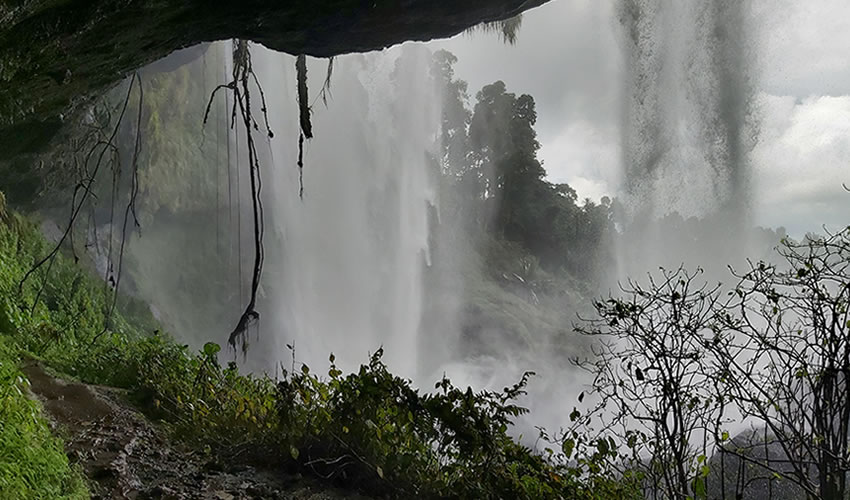 Climbing Mount Elgon: Mount Elgon Hiking Safaris are quite popular in Eastern Uganda and they usually start form the Sipi Falls. Uganda's Mount Elgon is an extinct volcano and has got the fourth highest peak in Africa.
Bird Watching: With over 274 bird species, Mount Elgon National Park offers a complete bird watching experience to visitors visiting Sipi Falls in Uganda. Much species of birds can be found in Uganda's several national parks. Uganda's year-round conducive climate, vegetation cover and abundant water bodies are partly why Uganda is one of the best birding destinations in the world.
Visiting Sisiyi Falls: The Sisiyi Falls are found in Bulambuli District in Eastern Uganda. They are a wonderful encounter in this region and they can be viewed as one proceeds to Kidepo National Park. The Sisiyi falls have got a serene environment which is perfect for camping and picnics.
Arabica Coffee Tour:  Growing Arabica Coffee is the major economic activity of the Bagisu who are the dominant tribe living in the area. Arabica Coffee thrives on the high altitude slopes of Mount Elgon. While on this Arabica Coffee Tour, visitors get to learn how the locals grow and process coffee as well as the entire coffee supply chain.
Abseiling and Rock Climbing: The Sipi Falls are a great place for abseiling which is the skill of climbing down steep rocks or slopes with a firm device fastened to your harness. In Sipi, abseiling and rock climbing are done at the Chebonet Falls with the help of well trained guides. Abseiling and Rock Climbing require special equipment.
Cultural Visits: Visitors may opt to go for a cultural visit to experience the local culture of the two local tribes in the area around Sipi. These are the Bagisu, and the Sabiny. Visitors may witness cultural practices such as circumcision, where young boys are "initiated into adulthood".
Nyero Rock Paintings Visit: The famous Nyero Rock Paintings are located in Kumi District, about 2 hours drive from the Sipi area. These historical paintings attract tourists from around the world who come to catch a glimpse of how ancestors lived thousands of years ago. The locals consider the place sacred and believe that the local gods still live there.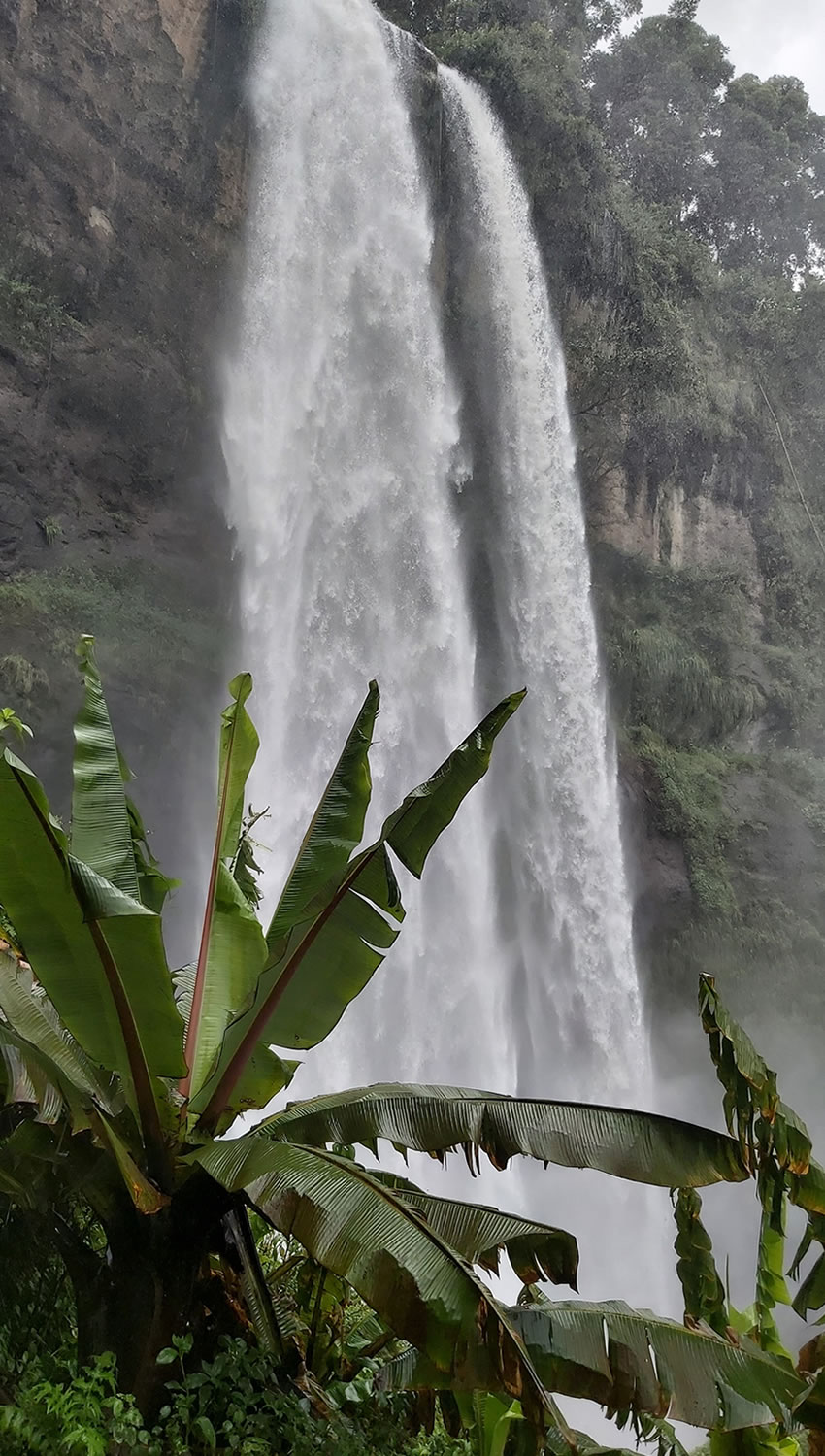 Where to stay when Visiting Sipi Falls in Uganda.
A number of state-of-the-art accommodation facilities are readily available around the Sipi area and they range from high end luxurious lodges, to mid-range facilities and to budget hotels. There are also a number of camping facilities.  Safari lodges near Sipi Falls include; Sipi Falls Resort, Sipi River Lodge, Lacam Lodge, Mount Elgon Resort among others.
Best time to visit Sipi Falls
Visiting Sipi Falls in Uganda is best done all year round. Uganda's year-round tropical climate favours tourism in all parts of the country all throughout the year and the Sipi Falls area in particular has got a breathtaking scenery that visitors love to experience anytime of the year.
How to get to Sipi Falls
Sipi Falls lie about 5 hours from Uganda's capital Kampala along the Kampala – Jinja highway. Along the way, visitors get to see fascinating places like the thick Mabira Forest, River Nile, Jinja Town among others. After Jinja, the journey continues to Iganga town and then turns off to join the Tinyiri Highway that proceeds to Mbale.
Visiting Sipi Falls in Uganda is made easier when visitors book their Uganda Safari with a reliable Uganda tour company.