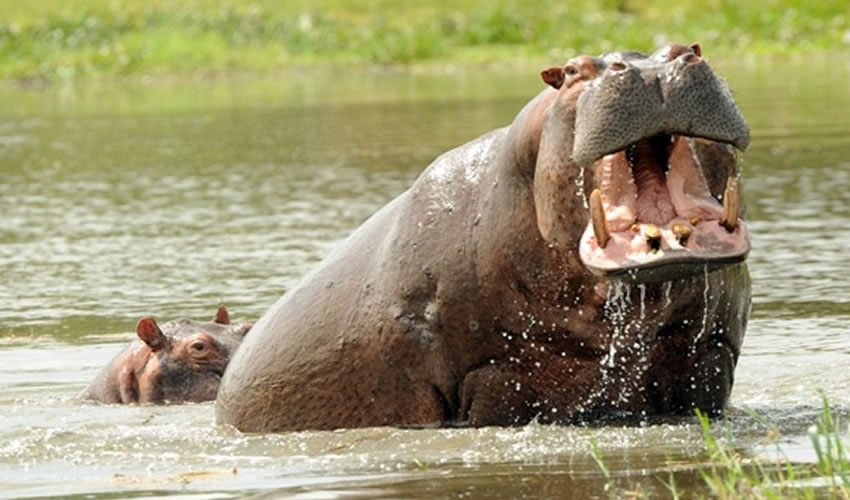 In 1964, Katonga Wildlife Reserve was gazetted as a game reserve. The 207-sq-km was a corridor for migrating wildlife in search of water prior to the civil unrest of the 1970s. The area is mixed savannah with acacia woodlands, and a few pockets of tropical and riverine forest.
A large proportion of Katonga Wildlife Reserve is wetlands-either permanent or seasonal. Katonga is one of the few places in Africa to have a large population of the extremely shy and reclusive Sitatunga antelope, whose favoured habitat is payrus swamps. Other mammals in life elephant, hippo, black and white Colobus monkeys, olive baboon, Uganda Kob, waterbuck, duiker and reedbuck.
The wetlands support a population of river otter, along with various reptiles and amphibians. In addition there are over 150 species of birds recorded. Katonga Wildlife Reserve has three trails developed to allow visitors the opportunity to see various ecosystems within Katonga. The early-morning walk along the Sitatunga trail offers the best opportunity to spot the timid antelope. Other mmamals are frequently seen as you walk through the Savannah and later alongside the Katonga river.
The Kyeibale trail is a circular trek through the scrubland into the forests, passing interesting rock formations and caves used for shelter by the animals. The Kisharara trail traverses the Savannah to the wetland canal, follows the Katonga river and continues up one of the tributaries through a variety of eco-systems, offering the visitor an opportunity to see the Sitatunga antelope and various primates as well as other mammals and bird life. Uniquely, it is possible to explore Katonga Wildlife Reserve by canal.
The Wetland Canal Trail is a 2km ride through the reed and papyrus swamp, guided by a local boat operator and accompanied by a ranger, allowing the best opportunity to spot wetland mammals such as the otter, and an abundance of birds including Kingfishers and storks. It is also possible to organise an overnight trip into the undeveloped interior of the reserve, but not during the rainy season.
African Pearl Safaris organises tours to Katonga Wildlife Reserve and all Uganda Wildlife Reserves and tourist attractions in Uganda on the most memorable Uganda Safaris.