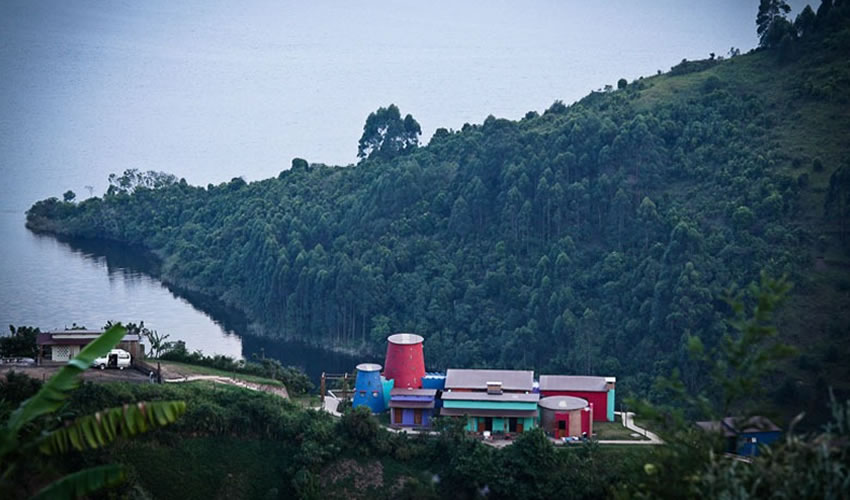 Conveniently located in the extreme southwestern corner of Uganda, about 550Km from Kampala is the luxurious Chameleon Hill Lodge, where guests stay in colored chalets and surroundings that cater for their every need.
Offering all the comforts while overlooking Lake Mutanda, the 10 Chalets offer scenic views of the Virunga Mountains. The chalets are spacious, styled and fitted with all the modern conveniences. Each chalet flaunts its own identity and color scheme along with dcor and furnishing that boast a unique Euro-Afro style. The lovely walks on Chameleon Hill Lodge offer superb views and appreciation of a setting worth the journey.
Mouth-watering dishes are served in the restaurant while the warm ambience of the bar with its paintings is the perfect setting to unwind on a chilled beer or glass of wine after a days Gorilla trek. At the main building, you will find the wellness center offering a wide range of treatments and massages. These services are paid for separately.
Chameleon Hill Lodge is a magnet to nature lovers. The staff at the elegantly and eco-friendly chalets offer personalized services. In the evenings, guests are treated to traditional entertainment from the local dance and music troupe.
There is nothing that beats Chameleon Hill Lodge's spectacular outlook across the 900 Metres Mutanda Lake towards faraway mountains and the trips on the engine powered, hand built boats for various excursions.