Cheetah Experience at the Uganda Wildlife Education Centre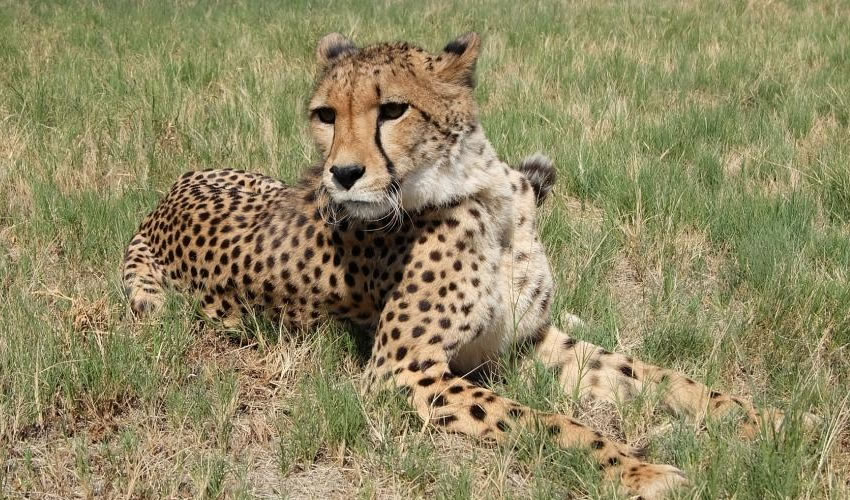 A Cheetah Experience at the Uganda Wildlife Education Centre often times attracts multitudes of people who wish to get up close with these cats. There is ex-situ conservation and conservation education passed on to the masses about the plight of the elusive cats. The Cheetah experience is fulfilling and unforgettable.
The guides at the Uganda Wildlife Education Centre will always caution the visitors about the Cheetahs reaction to colours and request the visitors not to touch their tails, stomachs and feet. There are two big cats; Pian and Upe which are brought in the open field with collars for photo moments and on request their collars are removed for a sprint.
Cheetahs are popular cats in Kidepo Valley National Park. The Award winning park is a wilderness haven; dry, hot and isolated, yet spectacular, magnificent and virgin, waiting to be discovered.
The 1,442 square Km located in the Karamoja region is the only area habouring Cheetahs in the wild. The population is presently estimated at 20. Cheetahs are categorized among the endangered species listed under the Appendix 1 of the Convention on International Trade in Endangered Species of Wild Flora and Fauna (CITES).
A race with the fastest animal on land is not a simple task. The Cheetahs are elegant and gracefully fast at a speed of 120Km/hr and can accelerate from 0 to 110km/hr in three seconds, faster than most super cars. The pair of the big cats at UWEC will bring a fresh experience of Kidepo out of the wilderness.
Uganda Wildlife Education Centre (UWEC) was opened in 1952 by the colonial government as a reception centre for wild animals that were found as casualties. UWEC is under the umbrella of the Ministry of Tourism, Wildlife and Antiquities and is recognised as a true success story. It is an attractive venue for education and tourism for leisure.
Contact us to take part in the Cheetah Experience at the Uganda Wildlife Education Centre.