Airport Guest House Entebbe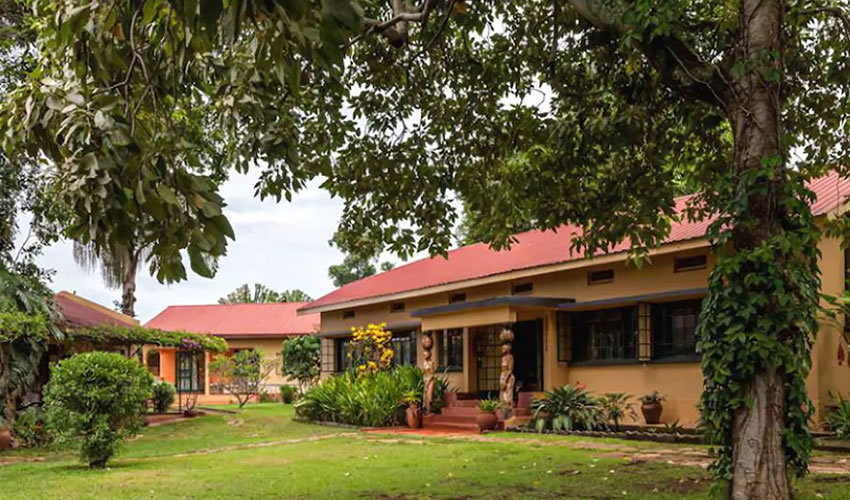 Situated five minutes away from Entebbe International Airport and on the doorstep of breathtaking Lake Victoria vistas lies Airport Guest House Entebbe. The 10 large and airy rooms are nestled in a beautiful garden setting. The rooms are furnished with private bathroom facilities. Guests are welcomed into a haven which, offers restaurant, social area and bar. There is a family house  that comprises of a living and dining room. This house is designed to accommodate 5 persons.
Airport Guest House Entebbe offers decent accommodation, wireless internet and the opportunity to escape to the tranquility of nature. Guests at the guesthouse enjoy the sights and sounds of Entebbe; a visit to Uganda Wildlife Education Centre, the Botanical gardens, Ngamba Island Chimpanzee Sanctuary and Mabamba swamp, home of the rare Shoebill. Leisurely visits to the suburb of Kitoro and Entebbe  for the market day every tuesday and Saturday respectively.
The accommodation facility arranges laundry services, for its guests. Nothing on earth is quite like staying on the shores of lake Victoria. Staying at the guesthouse allows guests the pleasure of experiencing the beauty of the largest lake in Africa. There is an astonishing range of activities from boat cruises on the lake, nature walks and birding.
Airport Guest House Entebbe is managed in Western style. It has a very hospitable staff trained to give visitors the comfort they need from a long flight into the Pearl of Africa.