Discover The Beauty of Lake Bunyonyi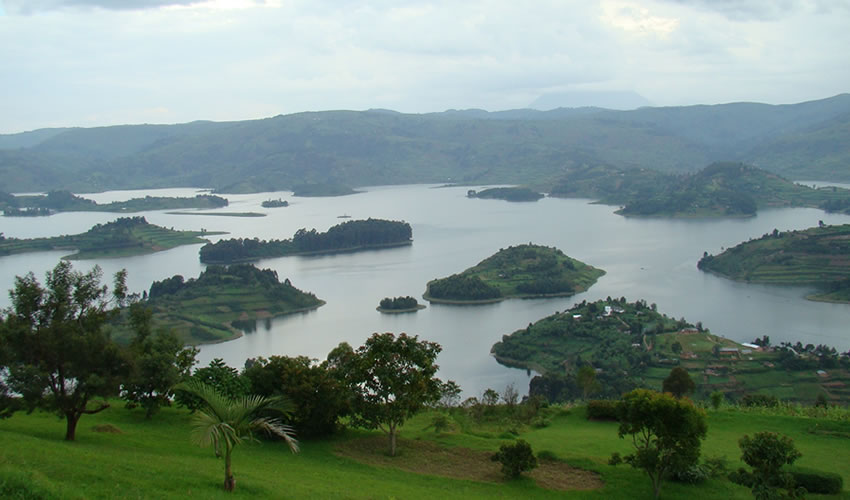 Lake Bunyonyi is found in south-western Uganda in the Kigezi Highlands between Kabale and Kisoro districts. Lake Bunyonyi is also called "Place of many little birds". It is at 1,962 m (6,437 ft) above sea level, it is about 25 km (15.5 mi) long and 7 km (1.35 mi) wide. This is the second deepest Lake in Africa after Lake Tanganyika. It is also free from bilharzia and safe for swimming. Discover the beauty of Lake Bunyonyi and all the things to do and see around this beautiful lake while visiting Uganda.
The lake has 29 islands and is ringed by terraced rolling farms in the highlands of Kigezi with very little settlement and from viewpoints up the highlands one can access breathtaking views of lake and the lush
Islands. The lake appears on the 2,000 Ugandan shilling note under the title "Lake Bunyonyi and terraces".
Lake Bunyonyi is a popular location for water sports and is known for the surrounding terraced hillsides. It is also known as a popular destination for tourists from all over the world (local and international tourists). If you have not been here then you should consider it as your top next destination.
It is a very beautiful Lake with very good sceneries, quiet, peaceful place and good for relaxation, rest and reflection. Actually many tourists choose this place to relax at the end of their safaris and people on honey moon enjoy it too. Around the lake and on the lake there are many activities that can be done by tourists and these include the following:
The Kahunye Island
This is the 1st Island from the mainland and it is the only Island on Lake Bunyonyi with wild animals. These wild animals include the Impalas, Zebra, Water bucks, the Kobs and the only Debrasa Monkey which is referred to as the "President of this Island". It also housed Lake Bunyonyi Eco Resort. You can also watch birds on this island. You can also go hiking through the ancient Echuya Forest with our experienced tour guides.
Birdwatching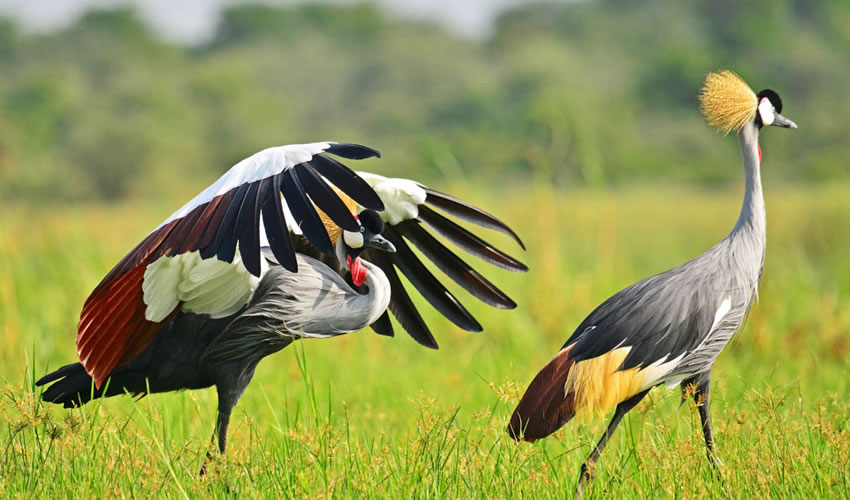 As we already know the name Bunyonyi means many little birds. This makes this lake a perfect place for bird watchers. There are over 200 species of birds that have been recorded on this lake which make it the perfect place for bird watching tours in Uganda. Sail through the Nyombi swamp to see a collection of assorted bird species. These comprise of the home based species as well as those that have crossed over from International borders particularly during winter seasons in those countries. Some of the birds you get to see include; the herons, weaver birds, the grey crowned cranes, egrets, levaillant's cuckoo and the slender-billed baglafetch among countless others.
Boat Cruises:
These can be done with either a motorized boat or a canoe boat. The canoe ride is interesting for the adventurous tourists as they get the chance to participate in rowing their boats with the specialized guides. These rides can take you to different islands depending of your interests as you learn what takes place on each of those islands, know about the people, culture and their history.
Black Smith Sites:
Visit the skillful Abaheesi people who practice black smith by melting metals into beautiful and useful items for example hoes, knives and machetes and souvenirs. As you place your order for the gift you want to buy as a souvenir, they mill make it there and then in your presence and this is very amazing and educative. The people here do this as a job and its how they earn a living.
While at the Island you can also visit the Bakiga Cultural Museum, a replica of a complete Bakiga homestead built in 2002 by Festo Karwemera a known elder of Kabale and a famous fighter for the language and culture of the Bakiga. There is also a village called Bufuka where tourists are welcome to experience the cultures of the Bakiga and the Batwa. While there, they can get to join in on the proceedings of the locals like weaving, dancing and singing. There are also some shrines and local medicine men on the hills of Kagalama that will further reveal to detail more about the historical beliefs of the local people. All these are done to promote community tourism in the region.
Akampene Island or the Punishment Island.
This island was being used to punish unmarried women who got pregnant. They would throw girls here as their exile without food. Many died of hunger or would drown while attempting to swim back to the mainland. They used to do this to educate the rest of the young girls and also show them practical example of what would happen to anyone who could become pregnant before marriage. As you discover the beauty of Lake Bunyonyi, you will get to learn about the history of this lake.
Young men who were poor to pay bride price would sometimes go to the Island and pick a wife. However the back ward practice was abandoned in the first half of the 20th century and to date we have women who were picked up from Punishment Island as wives and can tell the authentic stories of what happened on this Island.
Community Walks
There are two tribes around Lake Bunyonyi. The Bakigas and Batwa (pygmies) people. The Batwa people were introduced to the area following their eviction from the forests of Bwindi, Echuya and Mgahinga. These now survive on inviting tourists into their community and perform for them(entertaining guests), teach them how they used to live in forests, what they used to eat and how they would treat themselves. Their performances are usually outstanding. The Bakiga are part of the Bantu group that have tilled the hills of Kigezi for centuries past. They are popularly known for their strength and unmatchable hard work when it comes to cultivation. They have rich traditions too which are worth exploring. They also have a lot to offer like their energetic dance, and stories of their history can help you learn more about them.
The Sceneries.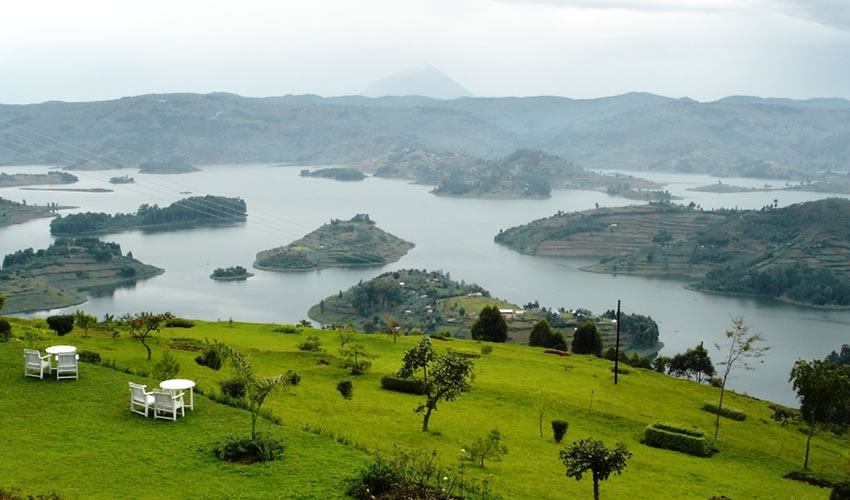 Lake Bunyonyi is enclosed by magnificent green hills of Kigezi with terraces rising to a height of 2,200 – 2,478m. The range of 29 Islands straddle across the waters of this beautiful lake form one of the great sightseeing admirations that one can ever encounter. The beautiful sight appears fresh for the great part of the day due to abrupt weather changes and along with the direction of the sun. The mornings usually present beautiful mist covering the myriad of Islands while the afternoon is marked by the warm tropical sun cover. The dim sky appears as the evening draws close. At times, layers of clouds can cover the entire Islands out of sight but usually it takes a little while and the return and this is very magnificent. You can take so many photos with breathtaking views.
Swimming
As you have read Lake Bunyonyi is safe for experienced swimmers because it does not have crocodiles, hippopotamus and it is bilhazia free but you should bear in mind that it is very deep, actually it's the 2nd deepest lake in Africa. You can have a swim as you discover the beauty of Lake Bunyonyi.
Biking, Jogging and Mountain Hiking
This is one way you can explore this area and to view more sceneries as you also exercise your body. The weather is very conducive for all these.
Bushara Island.
This Island is the home of Lake Bunyonyi Development Company an organization of the Church of Uganda. They use tourism to generate funds for several development projects around Bunyonyi. The striking feature of the island is its forest, a demonstration of the most appealing attribute of the eucalyptus tree characterized with an exceptionally fast growth rate. The hills around Bunyonyi used to feature many forests but overpopulation led to them being cut down to create land for agriculture needs. Eucalypti have been imported to improve the situation. But eucalyptus plants may also have a negative effect such as soaking everything useful in the soil, leaving it more or less barren.
Bwama and Njuyeera (Sharp's Island).
In 1921, an English missionary called Dr Leonard Sharp came for safaris in this part of Uganda and in 1931 established a leprosy treatment Centre on the Island then uninhabited Bwama Island. A church, patient quarters (model villages) and a medical facility were built, while Sharp settled on Njuyeera Island (probably meaning 'white cottage', after the similarity of the doctor's small white house to Sharp's father's house in Shanklin, now The White House Hotel). The rationale of the leprosy colony was that of 'voluntary segregation', where the provision of a happy community to live in would attract leprosy sufferers, so removing them from the communities where they might infect others. The buildings of the hospital are now used by a boarding secondary school which attracts students from the entire region. There is also a primary school but no village on the island.
GETTING THERE
Lake Bunyonyi is in the neighborhoods of Kabale town in South Western Uganda. On the road, it is 7 hours from Kampala (410 km) to Kabale town and 8 km marrum road from Kabale town to Lake Bunyonyi on your way to Bwindi Impenetrable Forest National Park in Kabale or Mgahinga Gorilla National Park home Kisoro district. Lake Bunyonyi is tangled between the hills of Kabale. African Pearl Safaris can take you there, book accommodation for you and also arrange activities for you to discover the beauty of Lake Bunyonyi.