Mutanda Lake Resort, Mgahinga Gorilla National Park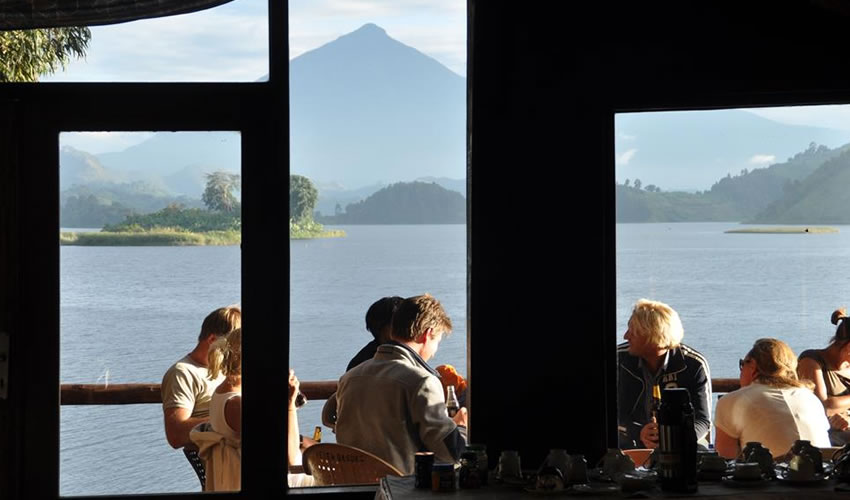 With a postcard-like view of the Lake Mutanda, nestled in the shadow of the Virunga Mountain near Mgahinga Gorilla National Park and Bwindi National Park, is the picturesque Mutanda Lake Resort. The resort offers comfortable accommodation for gorilla trackers, bird watchers and hikers of the nearby Mufumbiro Mountains.
On one of the private peninsulas lives the jewel of the crown. The breathtaking space of 3.5 acres accommodates a sensation wooden platform on which 13 cottages stand. These cottages comprise of private veranda, en-suite bathroom and offer single, double/twin and family or triple rooms.
The main building harbors the restaurant which serves breakfast and dinner daily complete with a spectacular view of otters visiting the shores, a sundowner and a romantic moment to cuddle. Every evening, a 3 course menu is served with herbs and vegetables from the Mutanda garden. At the restaurant, there is a provision of free Wireless internet that will enable you share your adventurous photo moments to the rest of the world and folks back at home. If you are here for 2 or more nights, then laundry services should not be a worry.
The Lake Mutanda, north of Kisoro is a natural setting. The lake is about 900 meters deer and is one of the few lakes in Uganda that is bilharzia-free. One can enjoy canoeing, take a swim or cruise in the boat at sunset.
Nothing on earth is quite like Lake Mutanda. Staying at Mutanda Lake Resort allows you the pleasure of experiencing her beauty and power first-hand. There is an astonishing range of activities from the bird sundowner while listening to the traditional guitar, Mukozi village road trip on foot, Lake Mulehe trip to Kyangushu Island where in former days the ancestors were buried, Batwa trail And Garama cave among others.
Mutanda Lake Resort offers a spectrum of activities for every one!