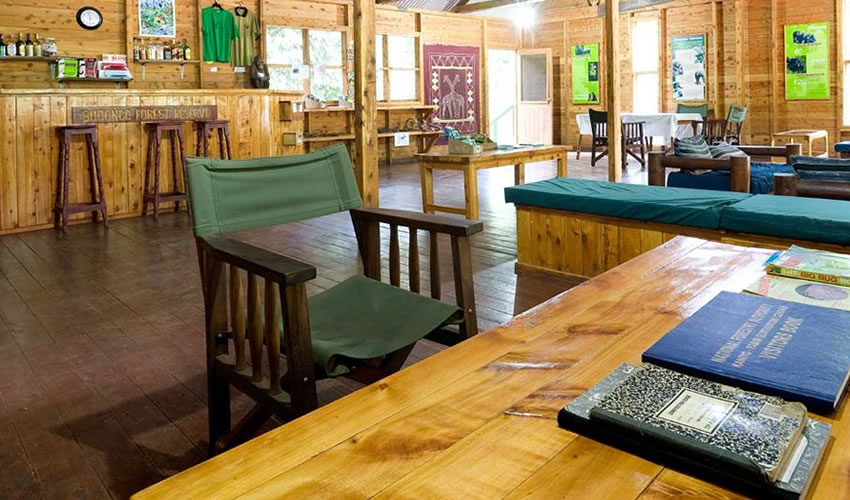 Budongo Eco Lodge is part of Uganda lodges Collection. The Budongo Eco lodge is set in Kaniyo Pabidi which forms the north-eastern part of the extensive Budongo Forest Reserve. Location is everything and Budongo Eco lodge is perfectly situated to take full advantage of what Murchison Falls conservation area has to offer and in close proximity to thunderous and powerful falls.
Boasting 5 eco-cabins with private veranda, four spacious dorm rooms, each with two double-decker, a visitors center and restaurant, Budongo Eco Lodge's unique variety of accommodation will satisfy every visitors need.
When it comes to activities, there is no doubt that primate and Chimp Tracking as a core activity. Budongo is a habitat of more than 600 chimpanzees and 8 other species of primates. The rare forest bird species, such as the puvels illadopses, which is endemic to this region has a huge presence in the forest.
The fine dining at the restaurant amidst beautiful natural setting with a blend of the forest sounds is an African stress buster. The candle light dinner and Ugandan coffee will enable visitors to unwind after a long day. The visitor Centre is stocked with fossils and detailed information about Budongo Forest Reserve and the communities living within and around. The Centre offers an insight into the largest mahogany forest in East Africa.
Budongo Eco Lodge is powered by solar electricity through the solar energy cannot charge as expected because the current is low. Power is used in an eco-responsible way. On your departure, kindly carry some Ugandas craft and gifts from Budongo's craft shop and support local womens efforts.
Budongo Eco Lodge is about 30 Km from Masindi town and 244 Km from Uganda's capital Kampala.