Murchison Falls Launch Cruise and Top of The Falls Tour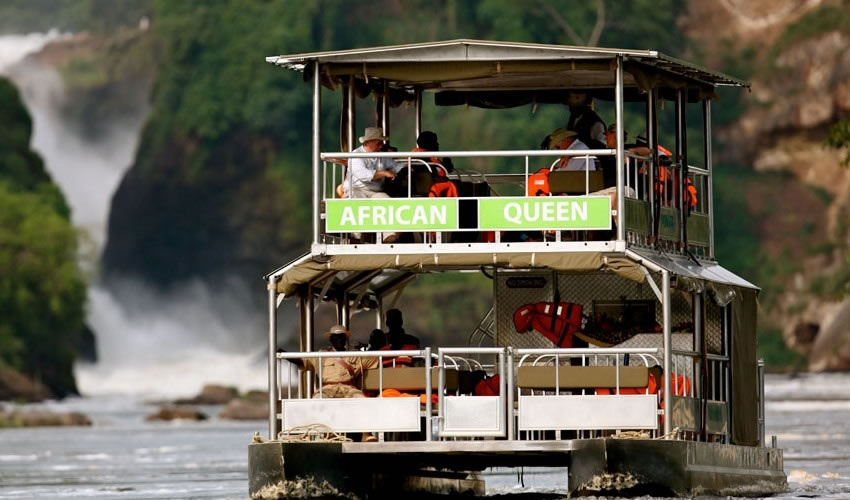 The sensational sprawl across enormous chunks of semi arid Savannah grasslands is the largest National Park in Uganda whose existence is meticulously defined by the famous waterfalls. Enjoy a Murchison Falls Launch Cruise and Top of The Falls tour of Murchison Falls National Park.
Murchison Falls is Uganda's oldest and largest park playing host to over 451 bird species and 76 species of Mammals. The park lies at the northern end of the Albertine Rift Valley. The amazing scenery and view of the waterfall often referred to as the "Top of the Falls" is where you catch sight and listen to sound of the Nile as it crashes through a 6m wide gorge making an unforgettable beautiful muzzle of the water at its bed.
Tourists to Murchison Falls are recommended to go on a launch cruise south of the river, to the falls themselves. During the boat or launch trip, you are guaranteed to see hippos along the stretch of the river, huge Nile crocodiles, African elephants, Red-tailed monkeys, black& white colobus monkeys as well as different species of birds. Other game at Murchison Falls includes Buffalo, Rothschild giraffe and a range of antelopes. The round trip of the launch cruise takes about 3 hours.
On arrival at the base of the falls, tourists are encouraged to walk up the steep footpath to the top. The footpaths are only accessible by road from the south bank of the river Nile. A visit here should form an integral part any trip to the park. It is a unique and breathtaking natural spectacle, the most powerful rush of water anywhere in the world. There is a small ranger post at the falls, and this is the starting point for a short walk down the hill to the water's edge. On top of the fall, care is required as the surrounding area can be slippery underfoot.
African Pearl Safaris recommends that you are on the tip of the falls at sunset, when hundreds of bats fly over the falls chased by birds of prey.