Visiting the Batwa in Uganda, the Batwa cultural trail to Garama caves.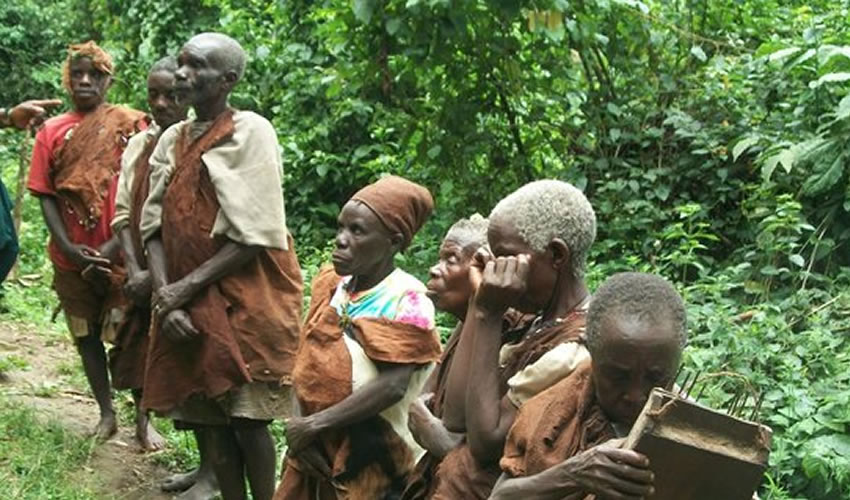 Visiting the Batwa in Uganda on a cultural trail to Garama caves is an exciting adventure you should take part on your safari in Uganda.
14 km southwards from Kisoro is a steady hike towards the base of the great bulk of Mt. Muhabura. On the road head are Batwa and a ranger from Uganda Wildlife Authority. The briefing is done in a small shelter before the walk along the trail is kick-started. The trail leads uphill, through a scrubby forest until it reaches the hagenia zone. It then follows through the thickets of bamboo and open areas favoured by the Mountain Gorillas.
At intervals, the guide pauses to allow the group to rest when he explained on one of the several themes describing life and survival in the forest. The visitors are offered the Bow and arrow to aim just like the Batwa on the trees.
The Batwa also take turns to show guests there shelters made of four saplings tied together and dressed with branches. The shelter would be expected to accommodate a family of four or more. Inside the house are items that are of significance to the Batwa.
Among them are Bamboo made-pipe; that the Batwa fill with water whilst smoking. They stuff with a foul smelling tobacco and ignite with every sign of apparent enjoyment and embark on a legend relating to the origins of the Twa and two other local tribes. The origin is based on how careful they were with pots of milk given to them by the creator.
The Batwa further discuss funeral practices and seem surprised that the Bazungu die. To them the house of the deceased is not destroyed and abandoned.
They have rituals that must be carried out to appease the ancestors before the house is collapsed. Along the trail, a Mutwa explains how they prolong their lives using an imaginative medicine cabinet of curative plants. Most of them are taken orally.
Mgahinga forest has trees that are smaller and more gnarled and relatively light. The mountain forest has plenty of food and drugs to sustain the Batwa livelihood. The landscape becomes more open as the trail descends back into the area previously encroached by farmers. It is the area that the GARAMA CAVE is reached. Visiting the Batwa in Uganda is one of the most fascinating safari experiences.