Gorilla Trekking Rules and Guidelines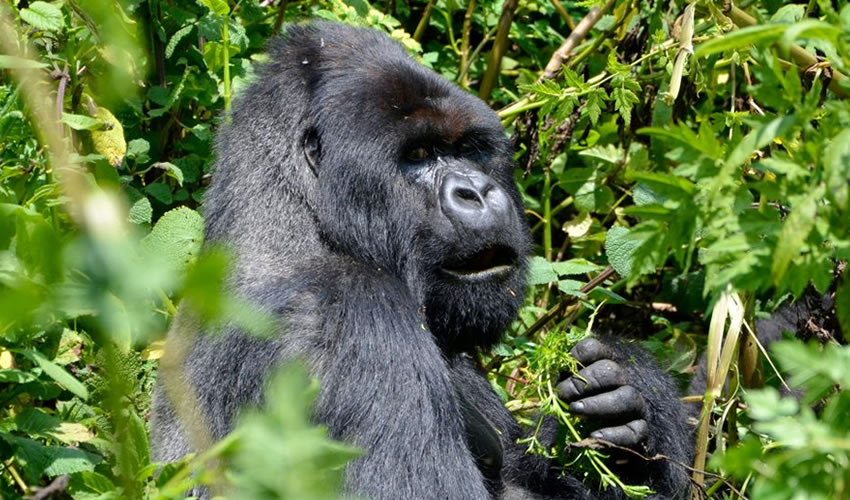 Uganda is known to many as the Pearl of Africa thanks to Winston S. Churchhill who in his book "My African Journey" explains in vivid detail how Uganda is a place like no other, an Eden of sorts. In fact, Churchhill states that Uganda is from end to end one beautiful garden where the staple food of the people grows almost without labour. Here are Gorilla Trekking Rules and Guidelines for your Gorilla Trekking Safari in Uganda. These Gorilla Trekking Tips will help you enjoy Gorilla Trekking.
There are plenty of reasons why Uganda is indeed the Pearl of Africa and key among them is the availability of some of the rarest gifts of nature. Case in point is the Mountain Gorillas. One encounter with these creatures and you will live to tell the tale. It is astonishing how human-like these gentle giants are and Uganda is a home to more than half the existing gorillas on Earth.
Like human beings, gorillas tend to be shy and gentle and if threatened, they can act out and be really aggressive. They live in groups of about 30 and have leaders among them usually male silverbacks whose purpose is to bring about order in the group and ensure safety of the rest.
Encountering them while on Gorilla Trekking safari in Uganda is a guarantee because there are very many of them, well protected by the Uganda Wildlife Authority. To be able to go on Gorilla Trekking, East African citizens are required to pay around UGX 250,000/=, Foreign Residents pay $600, and Foreigners pay $700.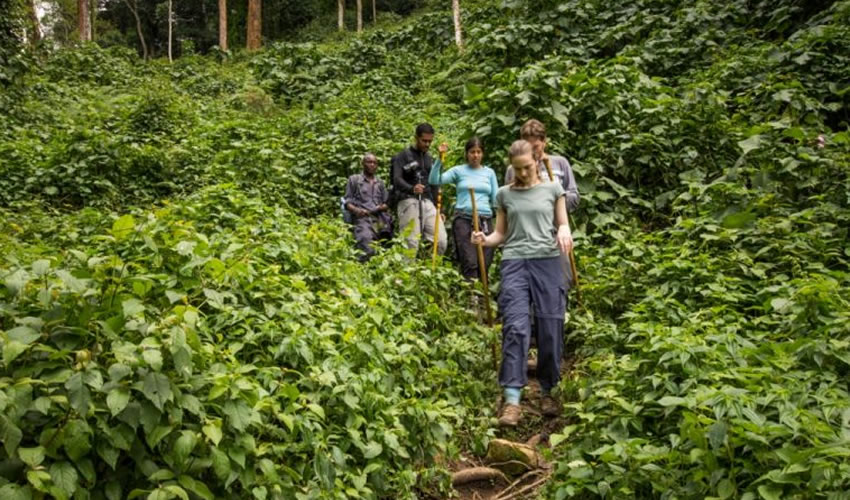 Gorilla Trekking Rules and Guidelines
Please note that anyone with flu or a cold is not permitted to trek and it is advisable that you talk to your guide if you are likely to have any symptoms.
Bring your passport for ID check.
Your group will be led by a head ranger and an assistant allocated to your group at the headquarters.
The warden generally knows how far the gorilla groups are from the park. They will be spread over different mountains so you will have to drive to the base to start the trek.
You will also receive a wooden walking stick for which you do not need to pay but you may buy it at the end of the trek as a memento or return it to the ranger.
We want you to enjoy this trek so do not rush and do take a rest while climbing as the slopes are steep and the altitude will make you tired. When you do find the gorillas you will have an hour to observe them. The head guide will instruct you on what to do and where to go while you observe the gorillas. Please listen to him/her as he/she is very experienced.
Your trek should be over by lunch time if the gorillas are not too far. At the finish, you will receive a certificate and will perhaps want to tip the guides and porters (tipping guidelines are provided).
To minimize possible transmission of human diseases, visitors are asked to maintain a distance of 7m (about 22 feet) from the gorillas. If you are sick with a cold, flu or other contagious illness, please do not visit the gorillas.
Viewing time is limited to one hour.
Maximum 8 visitors per group.
Spitting in the park is strictly prohibited.
Should you need to cough, cover your mouth and turn away from the gorillas.
When with the gorillas, keep your voice low.
Try not to make rapid movements that may frighten the gorillas.
If a gorilla should charge or vocalize at you, do not be alarmed, stand still, look away from the gorilla and follow your guide's directions.
Do not litter.
Do not use flash photography.
These are some of the Gorilla Trekking Rules and Guidelines for tracking mountain gorillas in Bwindi.
Important Information:
Your passport must be valid for at least six months after your return date.
You need a visa to enter Uganda.
Passports must also have two blank pages side by side for immigration.
Contact your local health clinic or doctor to determine if any inoculations are required.
Anti-malaria protection is required. Contact your doctor or health clinic.
Comprehensive travel insurance is essential.
Timing mentioned in itinerary.
Please note in Uganda credit card use is usually restricted to major banks and hotels and most shops will not accept other methods of payment other than cash. Gorilla Forest Camp accepts Visa, MasterCard, Amex and JCB credit cards.

Gorilla Trekking Tips
Porters do not earn any salary. If you do choose to take a porter the minimum tip we recommended for a porter is US$10. Guides (1 per group), Trackers (2-3 per group) and Security personnel (2-4 per group) do earn salaries. We recommended US$15 for the trackers/security personnel and US$25 for the head guide/assistant per guest per day of tracking.
What to pack for Gorilla Trekking
Please find herewith a list of suggested items which should be used as a guideline whilst planning your trip. Please bear in mind that as mentioned above, there are luggage restrictions of between 15kg (33lbs) and 20kg (44lbs) (in a soft bag with no wheels, frames or rigid structures) on some light aircraft transfers and 20kg (44lbs) on most scheduled airline flights.
What to wear for Gorilla Trekking
Sun hat/bush hat.
Headscarf/bandana – particularly for dusty dry regions.
Golf-shirts and/or T-shirts – preferably with a sleeve to protect your shoulders from the sun.
Long-sleeved cotton shirts.
Shorts and/or skirts – really short skirts are not practical for getting in and out of game drive vehicles.
Long trousers/slacks.
Track suit.
Pyjamas – lightweight for summer and warm/thermal for winter.
Underwear – on game drives the roads can be bumpy and uneven so a suitable bra may be required.
Socks – thermal options are recommended for the winter months.
Good closed walking shoes (running/tennis shoes are fine).
Sandals – preferably low heeled or flat if you are going on safari.
Swimming costume.
Lightweight jersey or fleece in summer.
Light rain gear or jacket for summer months.
Warm jersey or fleece plus anorak or parka in winter.
Additionally, a scarf, gloves and beanies/woolen hats for the cold winter months.
More formal attire for your stay at prestigious city hotels or on one of the luxury trains.
Equipment/Other:
Good quality sunglasses, UV protected, preferably polarized. Tinted fashion glasses are not good in
Strong light.
If you wear contact lenses, we recommend that you bring along a pair of glasses in case you get
irritation from the dust.
Torch.
Southern African bird guide if you are a keen birder, e.g. Newman's or Sasol.
Personal toiletries (basic amenities supplied by most establishments).
Malaria tablets (if applicable).
Antihistamine tablets if you suffer from any allergies.
Anti-nausea tablets if you suffer from motion sickness.
Moisturizing cream and suntan lotion – SPF 30 or higher recommended.
Insect repellent for body application, e.g. Tabard, Rid, Jungle Juice, etc.
Basic medical kit (aspirins, plasters, Imodium, antiseptic cream and antihistamine cream, etc.)
Tissues/Wet Wipes.
Visas, tickets, passports, money, credit card, insurance details, etc.
Camera equipment including spare batteries, chargers, film, flash cards, memory sticks, etc.
Waterproof/dustproof bag or cover for your camera.
BINOCULARS we highly recommended that you bring your own pair for viewing both wildlife and birds. 8×40 and 10×42 are the recommended general purpose binocular specifications.
NOTE: Bright colors and white are not advised whilst on safari. Camouflage clothing is not recommended for travel in southern African countries (camouflage or military-inspired clothing is prohibited when travelling in Zimbabwe).
Know about the Gorilla Trekking Rules and Guidelines and put this safari experience in your travel plans and you will be thrilled.