Visit Lake Bunyonyi on Your Uganda Safari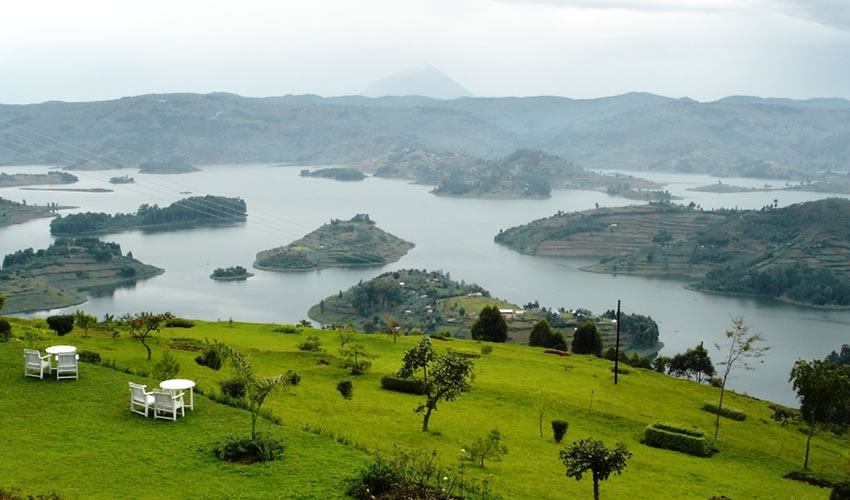 Visit Lake Bunyonyi on your Uganda Safari. A drive to the Southwestern part of Uganda can be quite eye-catching. Vast stretches of plantations, modern country homes, Mount Muhabura a smooth highway and an enormous expanse of green all combine to provide beautiful scenery as one travels to this part of the country.
Lake Bunyonyi.
Known as the Switzerland of Africa, Kigezi highlands are a leading holiday destination. One of the beautiful holiday stops is Lake Bunyonyi, lying between Kisoro and Kabale districts in Southwestern Uganda. It is the second deepest lake in Africa with a depth of 900 meters in some places. This picturesque lake, decked with beautiful green islands, hills and valleys is a haven for a number of foreign and domestic tourists.
Getting To Bunyonyi.
From Kampala, there are a number of regular buses to Kabale. Once at the Kisenyi bus terminal, the bus touts will swam a traveler, dart for your bag and literally drag you to their buses. Depending on your bargaining power, the journey will cost you between Shs 25,000 to Shs 35,000.
Once on the road, the beautiful scenery provides a soothing effect; you easily forget the trouble you went through. From Kabale, there is a short distance to Lake Bunyonyi via Rutinda by bodaboda or using a hired vehicle. The trip costs between Shs 50,000 and Shs 100,000. The journey to the shore of the lake from the town is eight kilometers. It is an up and down expedition on a dirt road and all you see are trees, terraces, hills and swamp cover. One minute you are uphill looking down a steep slope and the next you are making descent, the different heights making the trip even more exciting.
On getting the first glimpse of the lake with its fairy tale dark and charming calm, the journey to the shores continues downhill, leading to a number of exotic resorts and camping sites. Another uphill climb leads you to Lake Bunyonyi Overland Resort.
Tour Activities on Lake Bunyonyi
Besides camping, most guests love going for motorboat rides or canoeing to get a good view of the surrounding area. The prices vary depending on the time you are going to spend on the lake. With 29 islands on Lake Bunyonyi, guests can go island hopping.
Guests can also go swimming and bird watching. Lake Bunyonyi (which means, a place of many little birds) surrounded by steep sided, heavily cultivated mountainous scenery, has also attracted 200 species of birds that flap their wings endlessly. The lake is a great place to see colonies of weavers, as well as bigger birds such as, herons, egrets, the grey crowned crane, the crested crane among many others.
The Batwa, an indigenous tribe of the area can also be visited to learn about their culture and lifestyle. Lake Bunyonyi is a swimmers paradise, a bird-watchers dream come true and a great place to be outdoors.