Gorilla Trekking in Volcanoes National Park Rwanda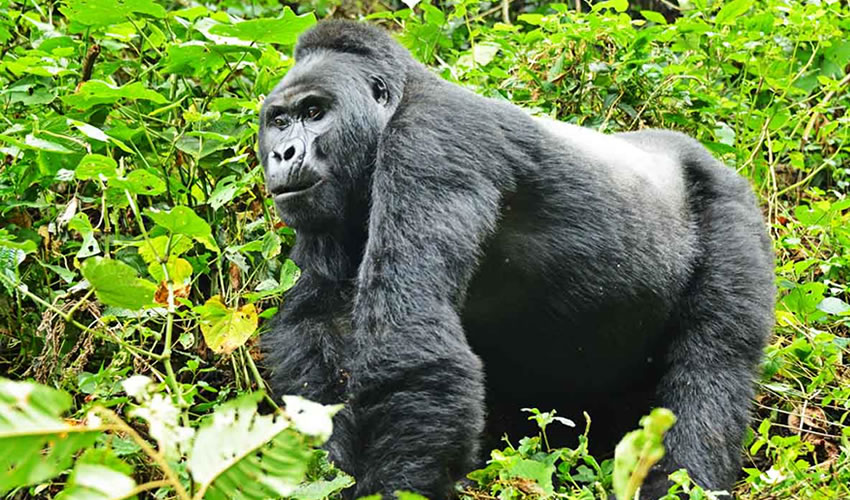 Volcanoes National Park which covers 160km2 that is mostly rainforest and bamboo lies in the north western Rwanda, borders Virunga National Park of DRC and Mgahinga National Park in Uganda. The park was gazzetted in 1925 by the Belgian colonialists to protect mountain gorillas on karisimbi, Bisoke and mikeno from poachers, it was later extended to Belgian Congo in 1929 and named Albert National Park. Gorilla Trekking in Volcanoes National Park is one of the most popular Rwanda tourist activities.
By 1960s as Rwanda and Congo gained their independence the park was divided and Rwanda got almost half of its original size which is the current Volcanoes National Park. The park was also a base for a zoologist Dian fossey who spent most of her time with the gorillas before she was murdered.
Rwanda faced hard times during the war which largely affected tourism thus in a bid to boost / revamp conservation and gorilla safaris in Volcanoes National Park, the annual naming ceremony for baby gorillas known as "Kwita Izina" was introduced in 2005.
The park is mainly popular for Gorilla Trekking Safaris in Rwanda is home to a number of endangered mountain gorillas, golden monkeys, large number of bird species, mammals.
Access to Volcanoes National Park:
The park is located in a small town called Musanze formerly known as Ruhengeri.
It is accessible from Kigali or Gisenyi by public transport.
The drive takes 2 hours.
 A Quick Look at Gorillas:
Mountain gorillas stay in families of about 6 to 30 gorillas per family headed by a male silver back.
At 15 years a male gorilla starts growing its silver tint at the back and that marks its adulthood.
Mountain gorillas are endangered species.
Gorillas have 98.5% DNA similar to that of human beings.
The total population of mountain gorillas in the world is estimated to be 850.
Mountain gorillas are the largest primates with male gorillas weighing up to 390 pounds and female gorillas weighing up to 250 pounds.
Their scientific name is Gorilla Beringei.
They live at elevations of 1500m – 4000m in the Virunga ranges.
At high the temperatures are cool enough, vegetation is rich and plenty enough to sustain their vegan diet.
Habituated gorillas are social beings and can use sign language to interact with human beings.
Gorillas can live up to 54 years of age.
Female gorillas experience breeding as early as 10 years.
Female gorillas give birth after 4-5 years with a gestation period of 8-9months.
Gorilla Trekking in Volcanoes National Park Rwanda
Volcanoes National Park is a home to 11 habituated mountain gorilla groups namely;
Titus family; Titus who is the head [silver back] of this family was born during the days of Dian Fossey, he lost all his family members to poachers but he survived.
SUSA group[ SUSA A]; This group was named after the Susa river, formerly they were 42 members but later split into two groups of SUSA A and SUSA B karisimbi, SUSA A is well known of its twins Byishimo and impano.
Karisimbi group [SUSA B]; a group that split from SUSA A in 2008 has 16 members including 2 silverbacks. It's the hardest to track since it lives in the upper slopes of mount karisimbi.
Amahoro group; amahoro means serenity and this clearly describes the group which is known for being peaceful. The group consists of 18 members including 2 silver backs and to see them you have to hike up mount Bisoke.
Umubano group; "umubano" means living together, this group broke away from amahoro after running continuous battles of the two leaders Charles and ubumwe over the supremacy. Charles succeeded and took some members with him, the group has 13 members and 2 silver backs.
Sabinyo group; this is the nearest and easiest to track on the slopes of mount Gahinga and sabinyo and popular for its giant silver back Guhonda that has chased away Ryango silverback out of the family. The group now consists of 13 members and 1 silver back.
Agashya group [group 13]; at the time of habituation, they were only 13 members led by nyakarima silver back which was later overthrown by Agashya and the family has now grown to 27 members.
Kwitonda group; the group migrated from DRC and is named after its dominant silverback kwitonda ''the humble one''. It has 23 members and 4 silverbacks, they live in the lower slopes of mount muhabura.
Hirwa group; this was formed in 2006 by some members from sabinyo and Agashya [group 13], more others joined in and now the group consists of 16 members. They have a unique feature of twins and live at foot hills of sabinyo and Gahinga.
Ugende group; ugende means mobile/ on the move, the group was named after its unique behavior of moving places thus it is hard to track since it has got no permanent home. It has 11 members and 2 silver backs.
Bwenge group; it was formed in 2007 and named after its dominant silver back Bwenge, they faced dark days when they lost 6 infants. This group lives in the slopes of karisimbi and Bisoke. The group has 11 members and 1 silver back and this is the group that featured in the movie 'Gorillas in the mist'.
Gorilla Permit Booking, Costs & Cancellation:
May book through Rwanda development board [RDB].
Or book through a reliable travel agency.
It is advisable that you book a permit earlier than your trekking date.
A permit for non-residents, Rwandan residents and citizens costs USD 1500.
For a private trekking group with tour guiding services costs USD 15000.
For a minimum of 3 visitors for 3 days [Behind the scenes] costs USD 30000.
30% discount [1,050] if visiting other parks in Rwanda.
15% discount [1,275] or conference guests who stay for pre and post MICE events to see gorillas.
For permit cancellation, RDB offers 50% refund for a person showing signs of illness.
Trekking is strictly one hour.
Be at the briefing center kinigi park headquarters at 7:00am or 7:30 am.
You must be over 15 years to obtain a gorilla trekking permit.
Other Tourist Activities apart from Gorilla Trekking in Volcanoes National Park Rwanda:
Golden monkey trekking
Bird watching
Diane Fossey hiking
Mountain hiking adventures
Guided walks
Caving [visit to Musanze caves]
Cultural tours especially to Ibyi'wacu cultural village
Visit to twin lakes of Bulera & Buhondo
Accommodation / Where to stay in Volcanoes National Park:
There are a number of accommodation facilities in Volcanoes National Park and these include;
Five volcanoes Boutique hotel.
Sabyinyo silverback lodge.
Hotel muhabura.
Kinigi Guest House.
Mountain Gorillas nest lodge.
Red rocks Rwanda.
La Palme hotel.