Bungee Jumping into the River Nile in Uganda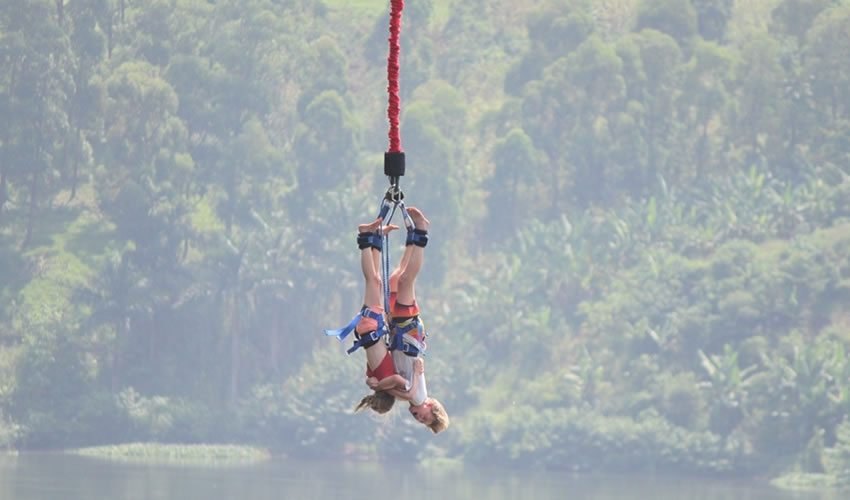 Bungee Jumping into the River Nile in Uganda is done in Jinja, the adventure Capital of East Africa where your adrenaline is put to full use. With a variety of adventure sports like White water rafting on the longest river in the world-Nile, Kayaking, Zip lining, jet boating, there is one activity that will leap you into a life-change from atop a bungee Jump bridge.
A 44 meter plunge towards the River Nile is a remarkable event that will leave you pondering on whether you should go for another jump.
African Pearl Safaris in partnership with Adrift rafting company's Nile High Camp takes adventure enthusiasts for an ankle-strapped plunge unleashing adrenaline in the Pearl of Africa. There is a vast ray of bungee jumps on the menu ranging from tandem jumps, water touches and full-moon jump.
Nile high bungee jump meets the safety standards operated by Award-winning 5-star jump crew, by far the most experienced on the continent. The Purpose-built bungee jump was constructed and operated to the highest Australasian standards. Only persons above 13 years of age are permitted to participate in the thrilling experience.
The view before you jump captures all the majesty and tranquility of the River Nile. Nile high camp is the only bungee jumping service provider and uses pendulum bungee technology to ensure the smoothest, most comfortable bungee jump possible. Jumpers are secured in a full-body harness combined with an ankle connection.
As African Pearl Safaris, we encourage you not to participate in the activity if you suffer from a heart condition, high blood pressure, diabetes, a neurological disorder, or any life threatening disorder. Kindly do not attempt the 44 metres jump, but rather book for horse-riding in Jinja.