Mountain Gorilla Families in Bwindi Impenetrable Forest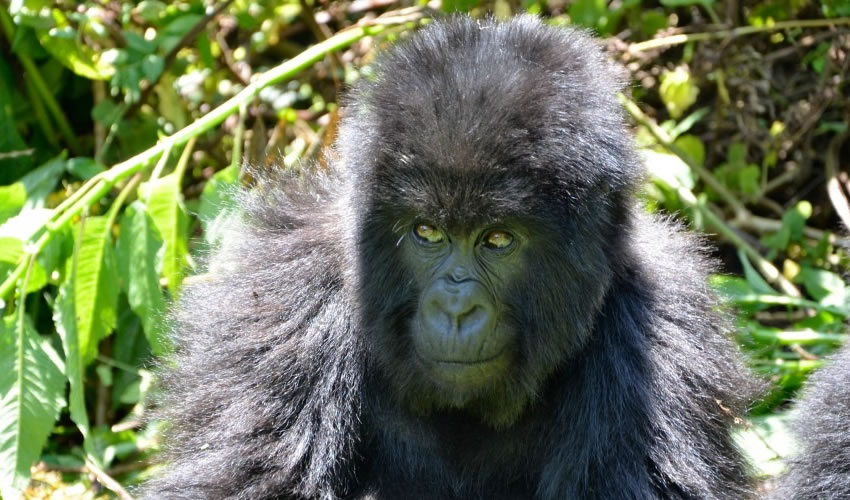 One of Uganda's major tourist attractions are the Mountain Gorilla Families in Bwindi Impenetrable Forest in southwestern Uganda on the edge of the western Rift Valley.
The forest has had a number of names in the past including Bwindi, and Kayonza. In the local language Bwindi means a place of darkness and the name refers to the thick vegetation. The other popular name is the Impenetrable Forest-living a perfect description. It lies along the Uganda-RD Congo border in Kabale.
Bwindi Impenetrable Forest was first gazetted to the status of a forest reserve in 1932, then in 1961 as an animal sanctuary. From 1961 it was under the joint management of the Forest and the Game Departments, until 1991, when it became a national park and was taken over by Uganda National Parks.
In Bwindi Impenetrable Forest, there are four Gorilla Tracking Families and among these are the habituated groups; those currently available for Gorilla Tracking. The Mountain Gorilla Families of Bwindi Impenetrable Forest are Buhoma, Rushaga, Nkuringo and Ruhija
Buhoma Area of Bwindi Impenetrable Forest is composed of 3 groups; Mubare, Rushegura and Habinyanja.
Mubare Group also called the M-Group is named after Mubare hills, the place or craddle for this group of gorillas.It is the first group to be habituated for gorilla tracking. The habituation was done in 1991, and two years later the group received its first visitors.
In 1997, the Habinyanja Group was habituated and in 1999, it received its tourists. Previously it was a large group, but thereafter it was split and a new group called Rushegura emmerged. However, there is a co-existence between the latter and the former.
In 2000, the largest group in Buhoma section was habituated. Two years later, it received its first visitors.
Rushaga region of Bwindi Forest in Southern Bwindi Forest is home to Nshongi, Mishaya. It lies between Kabale and Nkuringo coming from either Ruhija or Kampala.
Nshongi Group is arguably the biggest habituated gorilla family in Uganda with over 25 members. During the unveiling of this group for Visitor Experience after habituation, it had 25 persons. Following a standoff in Nshongi group, 10 gorillas moved to form the Mishaya Group.
Mishaya Group is a breakaway from Nshongi. However, the two groups still live in Rushaga.
Nkuringo Region is among the strenuous and challenging, but most rewarding places ideal for Gorilla tracking. The Group comprises of 19 members and is a favorite to people who have tracked over one group. Nkuringo has the latest additions of Bikingi and Bushaho which are undergoing habituation for research and tourism purporses. These two new groups are under the headship of the silverbacks known as Bikingi and Bahati from the Nkuringo group.
Ruhija is considered to be the remotest among the four sections. It the habitat of the Bitukura Gorilla Group.