Visit Ssezibwa Falls in Uganda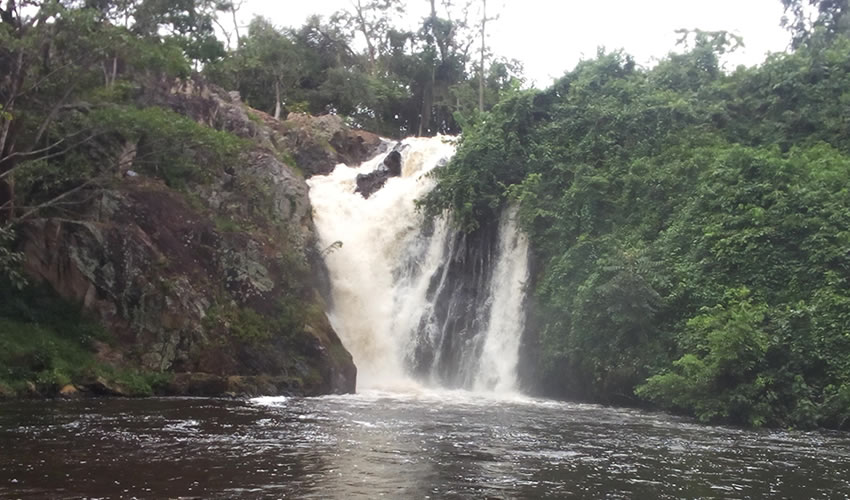 Situated 35 Kilometers east of the capital of Uganda, Kampala en route to the adventurous city Jinja is the beautiful and majestic Ssezibwa Falls. Besides focusing on the beauty and significance of this exceptional scenery, the water and landscape is ideal for those wanting to enjoy and experience the wonders of nature such as bird watching, hiking, rock climbing, camping, nature-guided walks, community walks, hiking.
The old Ssezibwa Falls are also important to the traditional and cultural beliefs of Buganda Kingdom. A long standing folklore about two rivers that emerged from Ssezibwa falls has it that Nakangu; the woman, who was to give birth to twins, gave birth to two rivers instead.
The locals still believe that the spirits of Nakangu's unborn twins inhabit the waters of the falls/ Twin Rivers. The locals still believe that the spirits of Nakangus unborn twins inhabit the waters of the rivers Ssezibwa and Mobeya. While Mobeya flows into the river Nile, Ssezibwa flows into Lake Kyoga. The falls are one of the most spiritual and cultural centers where many natives flock for blessings, wealth, and fortunes.
The seven meters high water falls with the romantic hissing sound creates the beautiful scenery. Visitors see and hear moving water which creates a real feel with a profound connection to the raw primal power of nature. This is complemented by the natural vegetation cover and the undulating and steep rocks over which the waters fall. The site has several bird species which present a wonderful opportunity for bird watching.
Since time immemorial the sacred Ssezibwa Falls have long been one of the favorite natural reserves for Bugandas Kings. Kabaka Danieri Basammula – Ekkere Mwanga II Mukasa planted the Nkalati tree. Later in 2002, the sitting Kabaka of Buganda, Kabaka Ronald Frederick Muwenda Mutebi II, officially opened this cultural site in 2002 and planted a tree as well as an act of reverence. The trees are regarded as sacred gifts from the Kings. Subjects flock the place for blessings in search for remedy to their social problems.