Murchison Treehouse in Murchison Falls National Park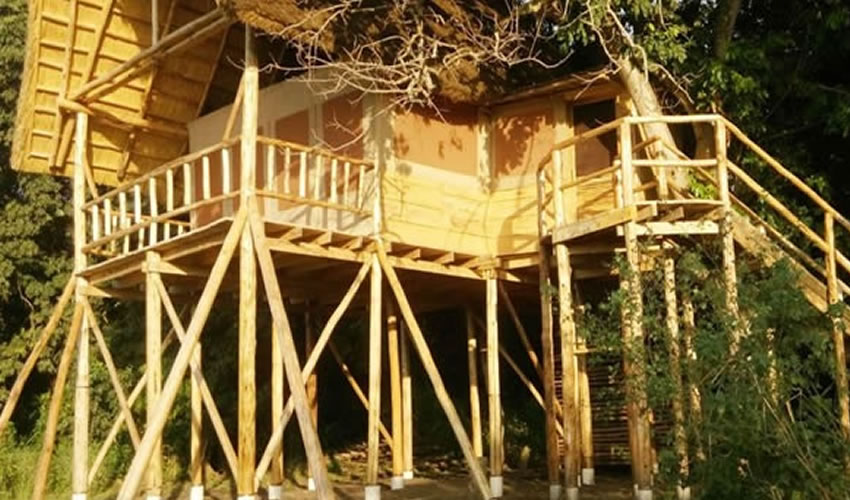 The Murchison Treehouse is 6Km from Mubako gate on Wanseko road Kilyango – Buliisa district. It is an eco-friendly lodge nestled in the riverine forest and Savannahs on the southern edges of Murchison Falls National Park, the largest National park in Uganda.
The lodge has various accommodation options ranging from the forest camp Safari tents to the exquisite thatched canvas suites and treehouses, all of which offer the twin virtues of privacy and seclusion in the vast wilderness. Guests wake up to a call of nature, quite literally.
The Murchison Treehouse was built by hand, with no heavy equipment. It is furnished with a double bed, an open air shower rising from the tree branches, a chemical toilet and an oversized balcony offering scenic vistas of the meanders of the Nile. Meanwhile, the spacious grass thatched suites are positioned in the secluded parts where savannah grasses blend into the forest canopy
Guests to Murchison Treehouse often enjoy sights of hippos in the Nile and black and white Colobus monkeys in the ancient fig trees. Slot of activities are available to make the entire visit memorable.
Guests have an opportunity of a boat cruise to the top of Murchison Falls, Chimpanzee tracking in Budongo Forest in the company of a wildlife ranger, birding with an impressive bird list of over 450 species and community walks to the neighbouring villages around the park.
The main area of the lodge comprises of a bar, restaurant and lounge. The bar offers a variety of drinks from beers, wines to spirits. The lounge has unrivalled views of the sunset over the river Nile.
The meals at Murchison Treehouse are inspired by African-based themes and locally sourced ingredients. Breakfasts are hearty. Lunches and dinner are served in buffet style putting guests diets into special consideration.
Consider staying at Murchison Tree house while on your Uganda Safaris.