Mount Gahinga Lodge, Mgahinga Gorilla National Park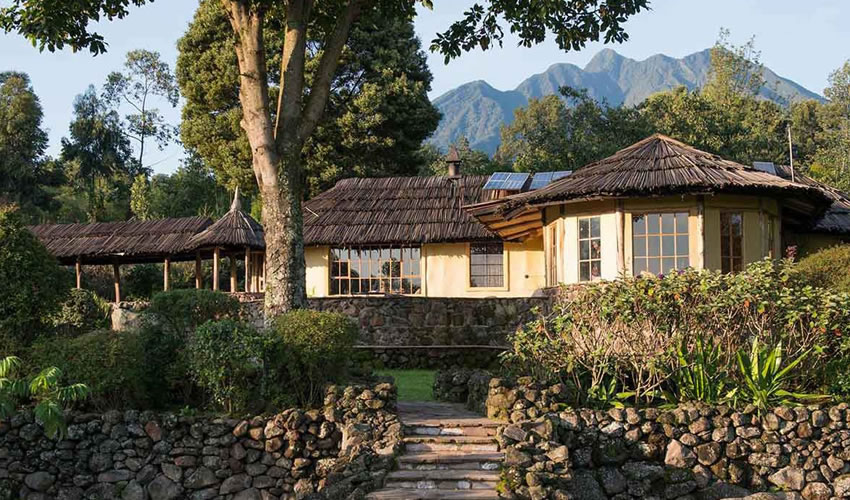 Stay at Mount Gahinga Lodge in Mgahinga Gorilla National Park. Mount Gahinga – small pile of stones- is a local name for one of the three extinct volcanoes that make up Mufumbiro mountain in Kisoro District. The name gives the smallest park in Uganda meaning. It is rather important to note that Mgahinga Gorilla National Park is one of the two parks with the endangered mountain gorillas.
Languishing outside the park, at the foothills of the Virunga volcanoes, nestles a serene modern lodge waiting to be discovered. The scenic haven recreates the exclusive ambience of eight stone bandas all named after each of the nearby volcanoes. The bandas at Mount Gahinga Lodge are inspired by traditional huts of the Batwa Pygmies. Each Banda has a fireplace and either twin or double beds. The en-suite bathrooms have flush toilets, double vanities and showers with hot and cold running water. The guests in the bandas are afforded views of volcanoes and lush garden which may take them away from the realisation that they are close to apes.
The tour activities offers by Mount Gahinga Lodge are designed for an adventurous traveler, offering Gorilla trekking opportunities through the misty Virunga mountains, hiking up the dormant volcanoes, trekking the elusive Golden Monkey or exploring the unique Batwa culture.
There is a dish for every palate at Mount Gahinga Lodge. Our visitors succumb to an endless supply of tantalising treats in the restaurant as they soak up the views from the geographic features. Indulge in the freshest dishes from Africa and beyond.
What could be better than having a massage with a view of the volcanoes, or sipping on wine whilst listening to legendary tales of the Batwa pygmies? Delight in the thrills of Mgahinga as perfect break with loved ones, family or friends. African Pearl Safaris believes that the Gahinga experience will shape your life therefore book now!!