Silverback Lodge Bwindi Impenetrable Forest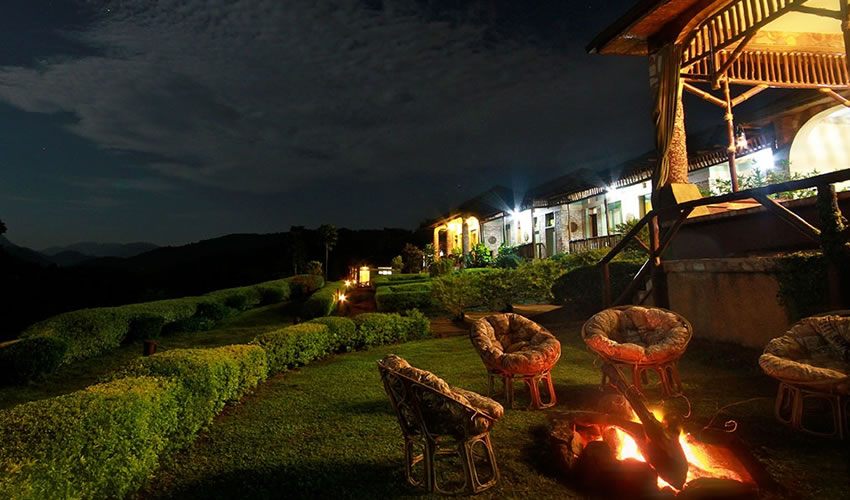 Silverback Lodge Bwindi Impenetrable Forest reflects the richness and diversity of Bwindi's heritage. Architecturally inspired by the area's natural beauty, the facility is designed using local material, such as forest vines, sisal rope and purple slate stone. The Silverback lodge captures the soul of Bwindi, rustic and welcoming.
There are 12 rooms with each having an en suite bathroom and comfortable chairs on the veranda for viewing the thick green forest and misty valley. There are 7 twin rooms, 4 double rooms and 1 single room. It is at this point that visitors appreciate nature's variety and landscape from forests, hills and bird life.
We can guarantee that you will escape into the timeless elegance and grace as you explore one of the most scenic areas in East Africa, home of the endangered mountain gorilla.
Tempt yourself with delicious buffet dishes where local dining influences will thrill your taste buds. The restaurant serves dishes ranging from local to International menus. The bar is stocked offering a warm ambience to share tales of your gorilla trekking experience. The gardens are ideal for relaxation.
Silverback Lodge Bwindi Impenetrable Forest is located in the Buhoma sector of Bwindi Impenetrable Forest. It offers walking trails from the lodge and visits to the local Batwa pygmy community. Access to this place is either by 1 hour and 40 minute domestic flight or full days drive from Kampala to Bwindi.