What to do and where to stay while in Kampala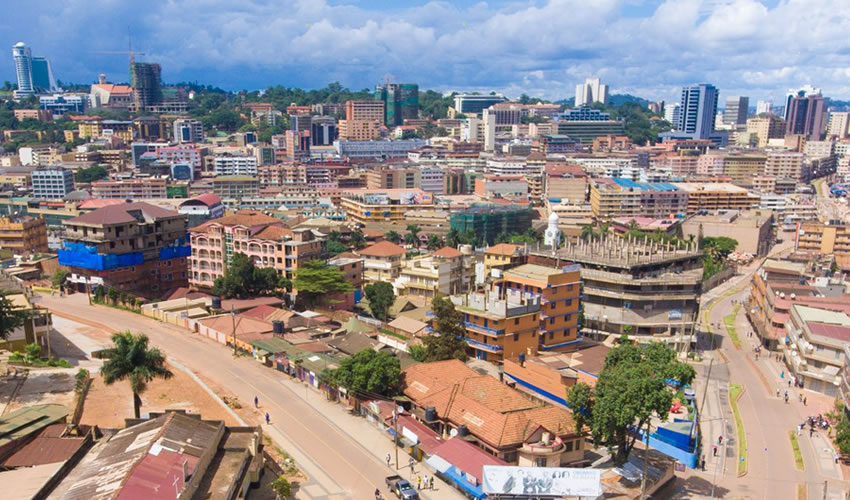 Here is information about what to do and where to stay while in Kampala to help you effectively plan for your safari in Uganda and Kampala City tour.
WHAT TO DO WHILE IN KAMPALA
Kampala was built on seven gloriously fertile hills that provide beautiful scenery and unique points of orientation and identity. Nakasero and Kololo hills are centres for the main administrative offices and diplomatic residential areas. Makerere hill hosts the great ivory tower, Ugandas oldest University. The biggest hospital in the country is found on Mulago hill. Namirembe, Kibuli, Rubaga hills are the historical hills of religion brought to Uganda in the colonial era.
Kampala is a hive of tourism activities and everyone is always granted an opportunity to enjoy the beauty and tourism potential of the city.
After work, all talk is about fun and more fun! Friends catching up with each other, visiting 'the latest hang out places. These could range from restaurants, a dozen coffee houses, night clubs, bars to the bufundas( most popular and cheapest of them all). Nobody can blame Ugandans for being high spirited and true to themselves, after all ,there is hardly a country that is not represented very effectively when it comes to drinking. Never get surprised when they say, Kampala is one of the few cities that never go to sleep!
How about a visit to the newly opened Kasubi tombs on the outskirts of Kampala town? This is where the Kabaka's are laid to rest. They are the burial place of the Kings and are constructed reflecting the typical Ganda architectural style of a large circular house, topped by a domed thatched roof. They are situated a few Kilometers out of town on Nabulagala Hill, off the Kampala-Hoima road. Many of the artefacts of the Kings , including spears, drums, furniture and stuffed pet leopard reported to have been owned by Muteesa 1, are on display. The site contains the tombs of Muteesa 1, Mwanga II, Sir Daudi Chwa and Edward Muteesa II. Mwanga was exiled to the Seychelles in 1899; he died there in 1903 and his body was returned to Uganda and buried at Kasubi in 1910.
It is a plethora of activities in Kampala. The option of visiting the Kampala museum in the outskirts of the city for a fine collection of historical items, and displays of traditional art.The museum was founded in 1908 on the site of the old Fort on Old Kampala hill, then moved to the present site in 1954. Many of the items were looted between 1970 and 1986 and the efforts are being made to return the museum to its former standard. Displays include a number of artefacts from archaeological sites from around the country, es of stone and iron age finds among others.
After a historical feel, proceed to Kikaya hill, off the Gayaza road about 4Km and appreciate the only temple of the Baha'i religion to be found in Africa. This religion believes that every religious manifestation forms a successive chapter in one great and continuous revelation of God. The stunning views of the Baha'i temple can be fully admired on Kira road after the Uganda museum.
Located close to the capital is the Kabakas constructed from about 1885 to 1888 by Kabaka Mwanga. The original plan was to link up with Lake Victoria but this was not to be, as Mwanga was desposed. The lake got into a fairy terrible state and became very stagnant. The lake is a pleasant scenic stretch, formed by damming two small streams from the north, with two small islands in the centre. It is possible to walk around most of the lake shore.
The name Hill of the Mpala was given specifically to the hill on which Captain Frederick Lugard, a British administrator, established his fort in December 1890. The fort at Kampala Hill, as it became known ( now known as Old Kampala hill), attracted several people including Arabs who proposed to Idi Amin, then President of Uganda to construct a mosque. Amin embarked on the foundation, but upon his ousting it came to a halt. Years later, Mummar Ghaddafi, former Libyan head of state fully funded the construction of the second largest mosque in Africa. On the top of the minaret, a 360 degrees view is unavoidable!
On 2 December 1959, Governor Sir Frederick Crawford opened a curious building and is faced with whole series of interconnected concrete circles. The National Theatre on DeWinton road street is the home of dances, drama and music for all ages, races and faces.
Far west in the downtown of Kampala around the taxi park, bus terminals and Nakivubo stadium is a place known as Owino market. It has outgrown its designated area and most of the pavements in the streets surrounding it are covered in all manner of trade goods. It's an absolute hive of activity as shoppers race to catch their Matatu clutching their purchases.
We could go on and on, but would never complete. All we can say is that indeed Kampala is wonderful; the food is palatable, nutritious too. The weather is out of this world and the women are something to write home about!
WHERE TO STAY IN KAMPALA
Kampala has all accommodation of the highest quality in prime locations, with extensive sightseeing opportunities to showcase the best of every destination.
In the heart of the city is a 245-rokm hotel, ideally set within 4 ha of the Sheraton gardens( which are beautifully maintained by the hotel and open to the public). It has complete recreation centre with a swimming pool, squash courts, tennis court and health club open to hotel guests and members only. The hotel has high internet access and all the rooms have balconies. The pubs have large TV screens showing satellite sports, pool tables, snack menus to mention but afew. However, expect some noise of night parties at weekends.
You are not lost for choice! Kampala Serena Hotel, Speke Resort Munyonyo, Hotel Africana will relatively offer you an East African 4-5 star experience.
There is Grand Imperial hotel which is very central and a pleasant conversion of a colonial building. It has restaurants serving International dishes, fully stocked bars, a swimming pool, ballroom for a dance and entertainment, Jacuzzis, steam and spa baths, a shopping mall and massage. What a better way to relax and get a sensational feeling!
Approximately 5 Km from city centre is a members club that has reciprocal membership arrangements with other clubs. Kabira Country Club offers en-suite bedroom cottages set in pleasant gardens. The Country Club has a lounge, bar, terrace restaurant, swimming pool, health club, tennis and games room to make your stay memorable.
For a group of visitors interested in hosteling and camping, Backpackers hostel and campsite previously known as Natete Backpackers is the ideal place. It is 3Km from the city centre on Kikandu hill just past Mengo. There is a choice of bandas, double rooms, dormitory, camping space, bar, restaurant. It has internet facilities. However, it gets noisy and crowded during peak seasons with overlanders trucks. There is a provision of laundry facilities and hot showers where as tents are available for hire.
An alternative for campers in Kampala is Red Chilli hideaway hostel and campsite situated in lovely surroundings of Bugolobi. The accommodation services range from camping, dormitory, small double room, large double rooms, ensuite and self catering cottages. They are very clean and have a nice atmosphere. The place has a bar, good restaurant, satellite TV services, internet facilities, pool table bookshop, hot showers, laundry facilities to give residents a comfortable feel.
Kampala has different ranges of accommodation to suit every visitors need!