Situated in eastern Uganda about 280Km from the capital Kampala, Sipi Falls is one of Africa's most beautiful waterfalls. Sipi Falls is a 3-hour drive to the district to Kapchorwa in the north east of Sironko and Mbale districts.
Sipi trading centre lies about 60 km from Mbale on the Kapchorwa-Suam road. From Mbale follow the Kumi road out of town for 5 km then turn right onto the Moroto road. The turning to Kapchorwa lies 33 km further on; the tarmac also turns right here, rather than heading to Moroto! The waterfall is clearly sign posted just after you pass through Sipi trading centre. Sipi is borrowed from Sep, an indigenous plant on the banks of the River. The plant is medicinal and is used to treat fever.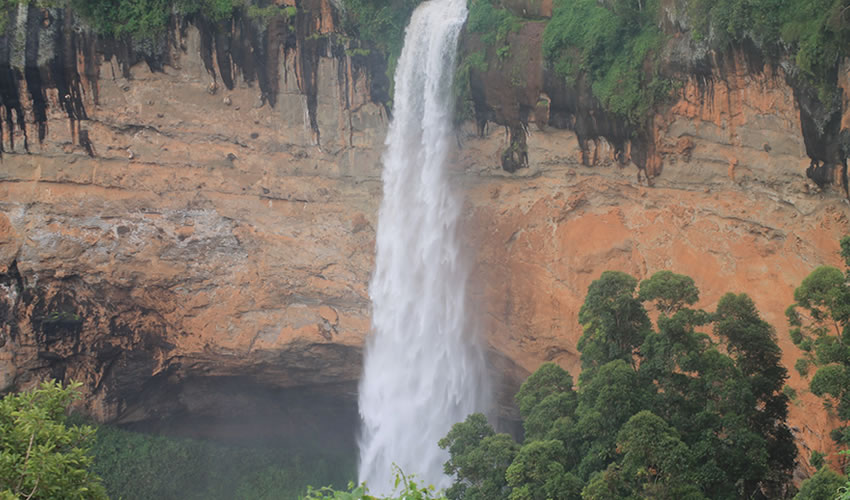 Sipi Falls is a series of three tall waterfalls all plunging along the lower slopes of Mount Elgon. Elgon is shared by Uganda and Kenya with the largest part located in Uganda. Sipi Falls is a cool place to unwind and relax .
The most prominent trail is about 20 minutes in each direction leads from Sipi trading centre to the base of the main waterfall. As one continues on this trail for another 20-30 minutes, our visitors will reach a cluster of caves on the cliff above the river. The largest of these caves extends for about 125m into the rock face and this contains rich mineral deposits.
From the main waterfall to the three small falls that lie upstream in which one has a beautiful pool at its base, you might get tempted to dive for a swim especially if the weather is hot & humid.
Sipi is a popular place for abseiling along the side of the main 100m Sipi waterfall as well as climbing on 14 bolted sport routes with a range of difficulty. Other activities include hiking around the local area and visiting the local waterfalls. The place offers spectacular views of the Kyoga Basin and the nearby Elgon peaks.