Ziwa Rhino Sanctuary Tour Activities go beyond watching the Rhinos. It is the only breeding place for the rhinos in Uganda. The 19 endangered species are located off the Kampala – Gulu highway in Nakasongola district about 180 kilometers north of Kampala. Ziwa Rhino Sanctuary creates opportunities for tourism while upholding best conservation practices and this has become a fast growing destination for tourists majority en route to Murchison Falls National Park.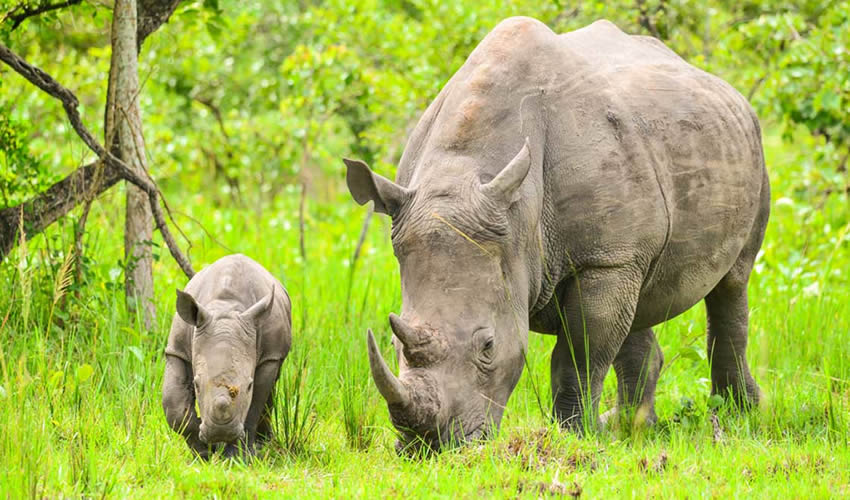 Rhino Trekking through the Savannah vegetation brings visitors closer to the horned animals. The rhino is among the Big-5 which include; Leopard, Lion, Buffalo and Elephant. Through the main gate, visitors are expected to report to the headquarters for registration and a briefing from the guide. The well trained and informed guide takes the visitors through the safety precautions on the 70 acres of land; Camera flashes are supposed to be turned off, clicking sounds muted. If rhinos charge at the visitors, they are advised to hide in the thickets or climb trees.
After the briefing, the African Pearl Safaris guide driver will drive the visitor to the starting point and the Sanctuary guide takes charge of the tour. The experience is enriching and chances of spotting the animals are high since rangers keep track of the mammals and communicate with the visitor guide on a Walkie talkie. Tourists spend about 1 to 2 hours with the endangered species and are advised to trek rhinos between 8am and 10am or 4pm to 6pm because the animals are lazy while it is hot.
It is a refreshing walk through the Savannah for a guided nature walk. The sights and sounds of the sanctuary, a home of mammals, birds and reptiles are enriching. The guide shares knowledge about flora and fauna on the 70 acres. The average time for a guided walk is 2 hours.
Uganda has over 1,062 recorded bird species. Ziwa Rhino Sanctuary has over 300 bird species. The bird trails in the sanctuary cover the swamps, savannah and woodlands. Bird watching is ideal if tourists spend at least 2 nights at Amuka lodge. The bird guides are excellent in ticking off the bird list. The activity on a day requires 2 hours.
While birding, tourists opt for the Shoebill Canoe Safari. During this Uganda Safari, visitors spot the most sought after bird in Uganda, the Shoebill stork. The shoebills are haboured in the swamp. The boat safari starts at 6am and takes 3-4 hours. Water birds are plentiful and this activity is a must for anyone who loves nature or is interested in birding is a must.
We hope you book your visit to take part in Ziwa Rhino Sanctuary Tour Activities with African Pearl Safaris. Kindly carry closed shoes, long pants and insect repellents.