The Zanzibar Safari Blue Tour brings you close to the most interesting and beautiful natural wonders of a tropical Indian Ocean Bay.
You will leave from Fumba with a traditional wooden dhow. The first stop is at the Kwale coral reef, offering an overwhelming abundance of corals and colorful fish.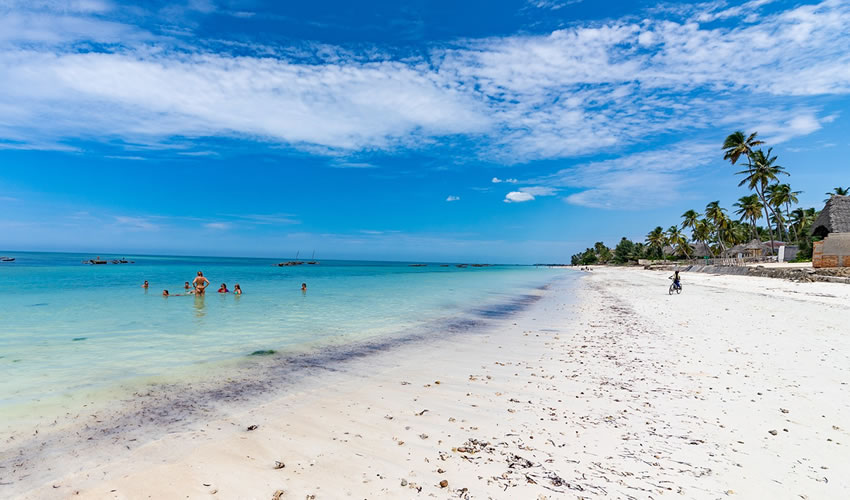 A guide will show and explain interesting marine species and will also teach beginners how to snorkel.
Then you can relax with a fruity snack on a paradise-like sandbank surrounded by turquoise blue waters.
At that area pods of humpback and bottle-nose dolphins are commonly seen hunting fish and squid at the surface of the water.
The dhow will then bring you to an island where a seafood buffet is served comprising grilled calamari, two types of grilled fish, slipper lobster and chicken. Chilled soft drinks and cold beer are of course also included in this Zanzibar Safari Blue Tour.
After the lunch a tropical fruit tasting will be presented with the chance to savor between 10-15 species of tropical fruits. A shot of African Amarula liqueur in coffee will finish this gastronomical sensation.
On a short walk into the island's tropical forest you can find a 500-year-old baobab tree that 70 years ago was bowled down by a storm. Now the former branches continue to grow like trees themselves on top of the huge laid-down former trunk.
Short sailing trips on a Ngalawa – a traditional outrigger canoe, carved of a single mango tree – and a swim in a mangrove lagoon are other activities offered at the island.
You can enjoy the sunset with a sun downer drink on the way back by sail to Fumba.
Contact us to book this Zanzibar Safari Blue Tour.