Mabamba Swamp Shoebill Tours take you to Mabamba Bay Wetlands which is an important bird area; a site of global conservation importance. It is home of the shoebill stork that is threatened with extinction in Uganda. This also makes it a RAMSAR site; a wetland site designated of international importance under the Ramsar Convention.
The shoebill locally known as Bbulwe derives its name from its massive shoe-shaped bill and lives in tropical East Africa in large swamps and it is endemic to Sub-saharan Africa and endemic to swamps. This bird is believed to be found in Democratic Republic of Congo, Tanzania, Zambia, Sudan and Uganda with about 6000 birds in existence.
Mabamba Bay lies on 16,500 ha of Lake Victoria's shores and forms part of Waiga bay south-west of Nakiwogo bay, west of Entebbe International Airport.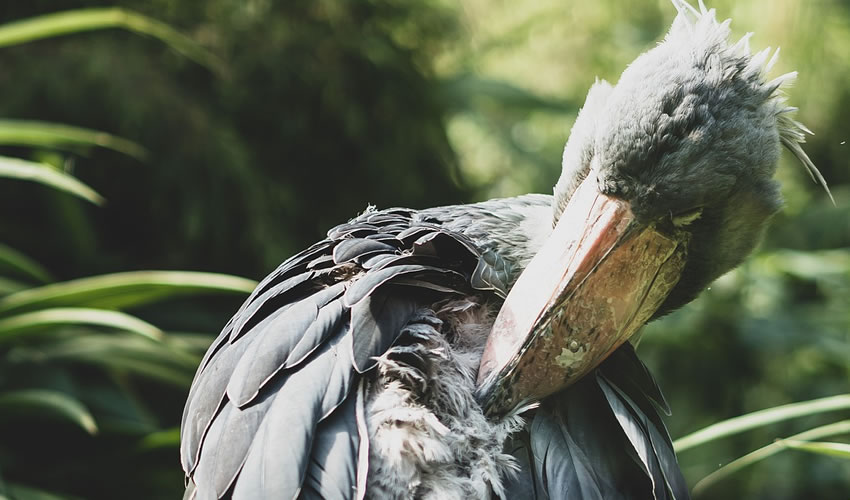 Located in Wakiso and Mpigi districts in the sub-counties of Kasanje and Kamengo, Mabamba swamp is accessed through Entebbe or Kampala. On Entebbe – Kampala highway at Kisubi, take a left turn to the road to Nakawuka, then another turn to Kasanje. Turn left at the Kasanje round about and drive for 11km. The Kampala route stretches to Masaka road for about 30km before Mpigi town. Then a left turn at the road to Buyege before you drive 20km through Kasanje to Mabamba Bay.
Mabamba which is protected by the community through bamba Wetland Eco-Tourism Association (MWETA) depends on small, engine-powered rudimentary canoes for the birding expeditions. It is a beautiful, scenic, unpolluted place, with spectacular views of the airport and State House on the other side of the lake.
At Mabamba bay, we guarantee our visitors extensive bird watching beyond the shoebills, because the area has a vast array of bird species such as hammer kops. The panoramic views bring forth the appreciation of nature coupled with the traditional sport fishing in the slow but steady boat rides. Contact us for the best Mabamba Swamp Shoebill Tours.