Your Kampala City Tour will begin shortly after your breakfast and you will start off with a visit to Kasubi Tombs a great World Cultural Heritage site in Uganda for the Buganda Kingdom. Proceed to Namugongo Martyrs Shrine where the 22 martyrs were killed between 1885 and 1887 by Kabaka (King) Mwanga of Buganda in Uganda; 13 of the martyrs were burnt to death at Namugongo. Inquire Now
Proceed to visit the Uganda museum on your Kampala City Day Tour. Lunch break at any Good restaurant in Kampala preferably your choice. Thereafter drive to Kabaka's Palace in Mengo and a visit to Kabaka's Lake is amazing.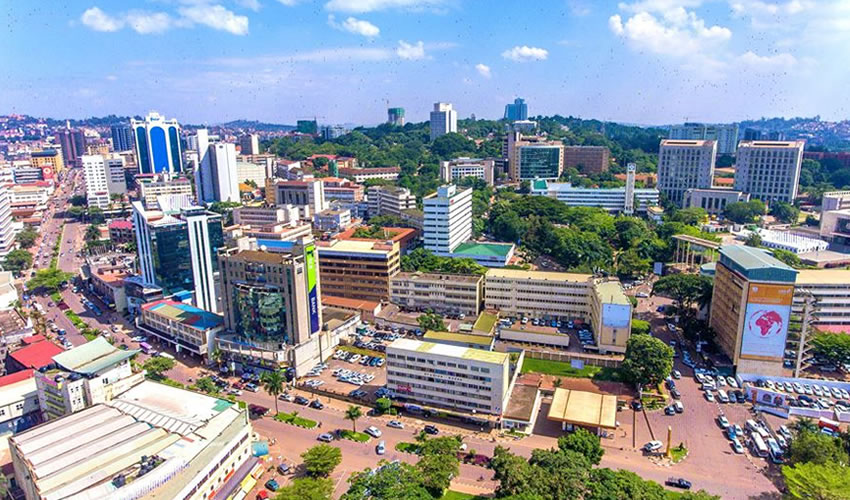 Time permitting visit the Rubaga Catholic Cathedrals and Namirembe Protestant Cathedrals. The evening will then be spent on leisure shopping at various craft markets in Kampala. Overnight at either Lake Victoria Serena or Kampala Serena or Sheraton Kampala Meal Plan Half Board.
Kampala City Tour package includes:
Transportation in a safari van
Entrance fees to various sites
Fuel expenses
Guides allowances
Lunch En route
Excludes: Any other activities not mentioned in the program.
Top 11 tourism places to visit on a Kampala City Tour.
1. Uganda National Museum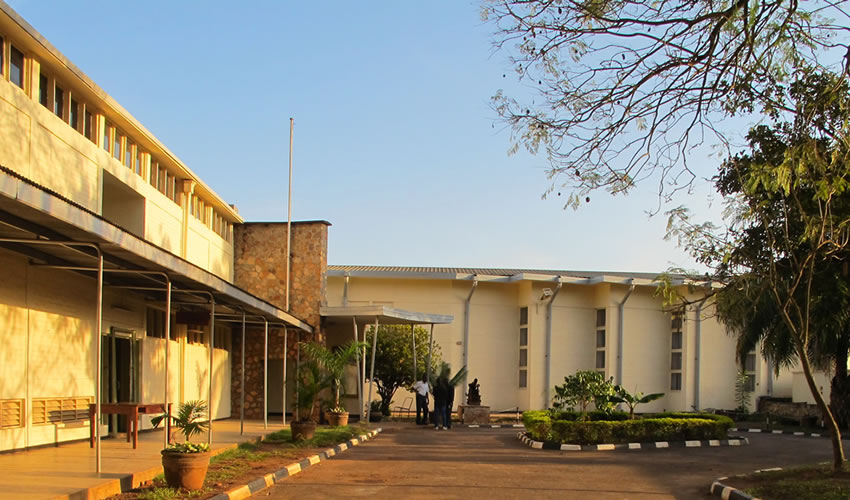 Uganda Museum is the oldest museum in East Africa which was started in 1908. It was first located in Lugard's fort on old Kampala Hill then transferred  to Makerere University at the school of industrial and fine arts and lastly to Kitante Hill where it stands today. It emerged when the Governor George Wilson called for "all articles of interest in Uganda". The museum is a collection of traditional culture and Ugandan Music with all kinds of musical instruments, archaeology, history, science, and natural history. The Museum is one of the top and best places today you can visit in your Kampala city tour because it gives you the real picture of Uganda and its people.
2. Kasubi Tombs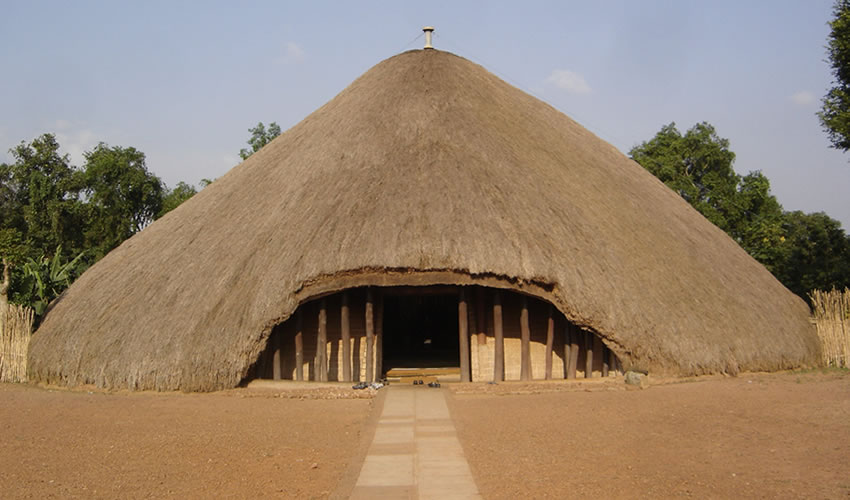 This is the burial grounds for the Kings of Buganda (Kabakas of Buganda) and it has been recognized by UNESCO in December 2001 as the World heritage site of local and international importance in the entire region of sub-Saharan Africa. This is because it was built purely by plant materials and so far four (4) kings of Buganda have been buried at this site on the house called Muzibu Azaala Mpanga, it was constructed in a circular shape in 1882 and also other members of the Buganda royal family have been and are always buried here. Kasubi tombs as the world heritage site comprise of 26 hectares of land and it is used for agricultural purpose by using traditional techniques by the royal family members. Today, Kasubi tomb is one of the interesting and top places to visit while on your Kampala city tour, you will explore the history and culture of the kings of Buganda Kingdom.
3. Uganda Martyrs Shrine Namugongo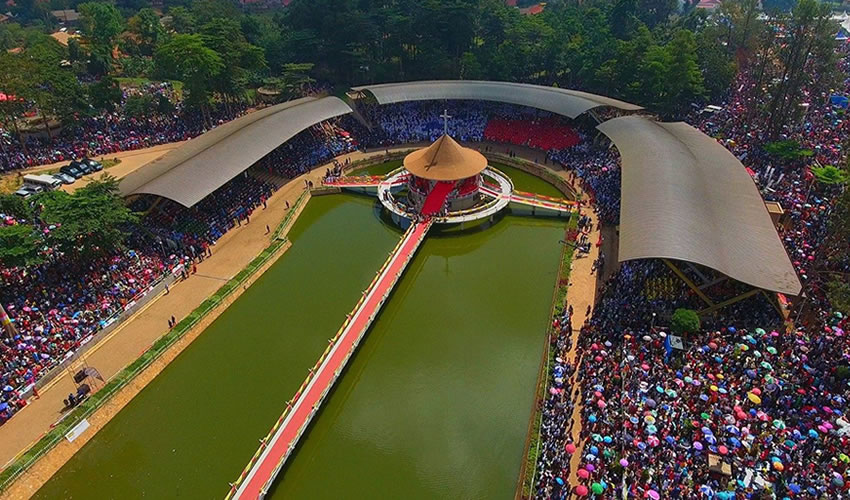 Between 1885 and 1887, 32 young men were killed to death for their refusal to renounce Christianity, 22 were killed as authorized by King Mwanga of Buganda and 13 of 22 were burnt to death, others killed in different ways and also other 2 martyrs were speared to death in Paimol, Gulu in the Northern part of Uganda in October 1918.
The current building of Uganda Martyrs Shrine was started in 1967 at Namugongo and it was finished after period of 8 years, on 3rd June 1975 and the shrine was officially opened by Papal envoy, His Eminence Sergio Cardinal pignedoli.
Due to the history and Since then Uganda receives a lot of martyrs pilgrims on 3rd June of every year to celebrate martyrs day in Namugongo Martyrs Shrine and this has attracted many visitors over years and not only during the martyrs day celebration but even other days. The unique lake on the gardens of Namugongo shrine is so beautiful and anyone on his / her tour to Uganda would not want to miss a visit to this place. The visitors, who always visit here, often fetch water from this miraculous lake because it is said to have blessing to the extent that some people come to give testimony that the water of lake can heal various diseases.
Organizers say that over 5,000 foreigners have attended the martyr's day celebration on 3rd June 2019. They moved to Namugongo Martyrs Shrine using plane, bus and foot outside of Kampala, so the Uganda safari company has eased this visit for everyone who would like to visit Namugongo martyrs shrine at anytime to explore the history and the culture of Ugandans.
4. Kampala Central Mosque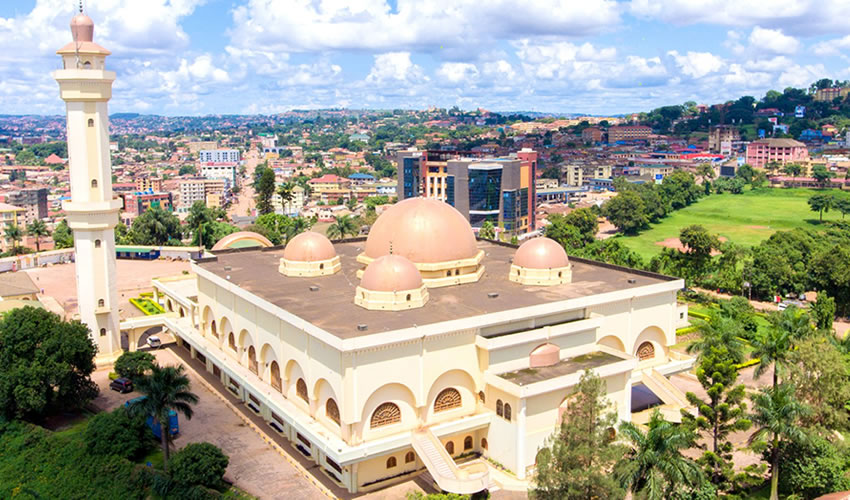 Kampala Centrals Mosque formerly known as Gaddafi National Mosque is located in the old Kampala hill in the central Kampala city, Uganda. It was a gift to the Muslim community in Uganda by Colonel Muammar Gaddafi of Libya. The construction of the mosque was completed in 2006 and it accommodates up to 15,000 worshipers and also can seat another 1,100 in the gallery, while the terrace caters for another 3,500.
It was officially opened in June 2007 after the construction was completed and it was named Gaddafi National Mosque since then until 2013 when it was renamed as Uganda National Mosque following the death of Colonel Muammar Gaddafi. This was as a result of the new administration of Libya was reluctant to rehabilitate this Mosque.
Today the Mosque acts as the head office of Uganda Muslim community and supreme council and it is among the most visited place in Kampala by various tourists. Do not miss to visit the Uganda National Mosque, your tour will start right away from the outside while seeing the nice structure of this Mosque, the inside is so good and comfortable with soft and nice looking carpets, women and men side are all nice looking however the men side is bigger than the women side and whenever you are here it is worthy to revisit again. A part from being excited of the outside and inside part of this mosque, you still have another wonderful experience rather than climbing the Minaret which is composed of 272 steps more of a skyscraper and it will take you almost 15 minutes to climb it. The minaret gives you chance to see the whole Kampala not excluding the seven hills of Kampala, roads, Kabaka's Lake and various tall and short buildings and if you have not seen your favorite place, please tell it to your guide will point it out for you while on the top of the Minaret.
5. Bahai Temple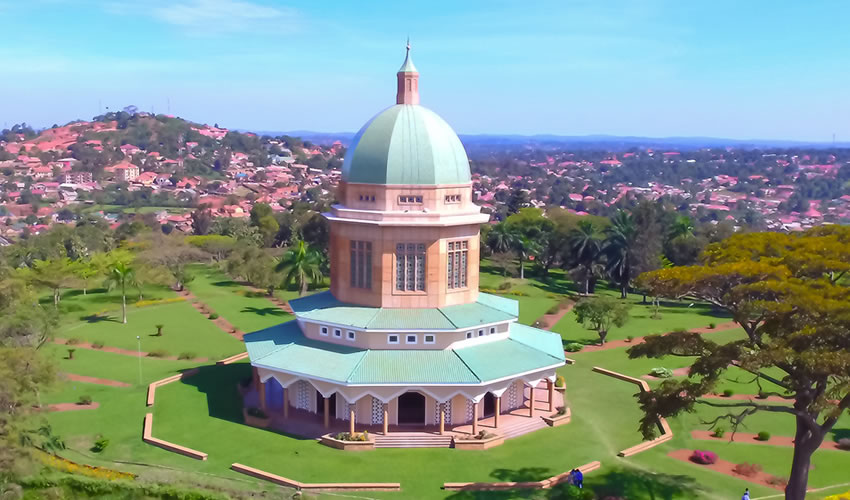 This is the oldest and the first mother temple to be built in African continent in 1958 and it was the tallest building in East Africa when it was completed in 1961. The Bahai faith started to increase in 1951, 500 Bahai's in 80 localities joined, including 13 Bahá'í Local Spiritual Assemblies and this number of people where represented by 30 tribes in Uganda.
Unlike other religions in the world, they have specific days in the week for gathering but the Bahai people do not have the specific days but they just decide the day when they should be meeting in every week and in Uganda they meet every Sunday of the week.
They have at least three prayer sessions every day, as it is written in their holy book of prayer, "the Kitáb-i-Aqdas".  Also the grounds and the surrounding is one of the beautiful places one would wish to enjoy as it is covered with the beautiful flowers and trees and this has attracted very many indigenous species of birds and it is worthy visiting.
The temple is visited by many people from Uganda and many other countries in the world to explore the beauty of this temple especially the architectural design, beautiful natural environment, and the history behind the temple.
6. Independence Monument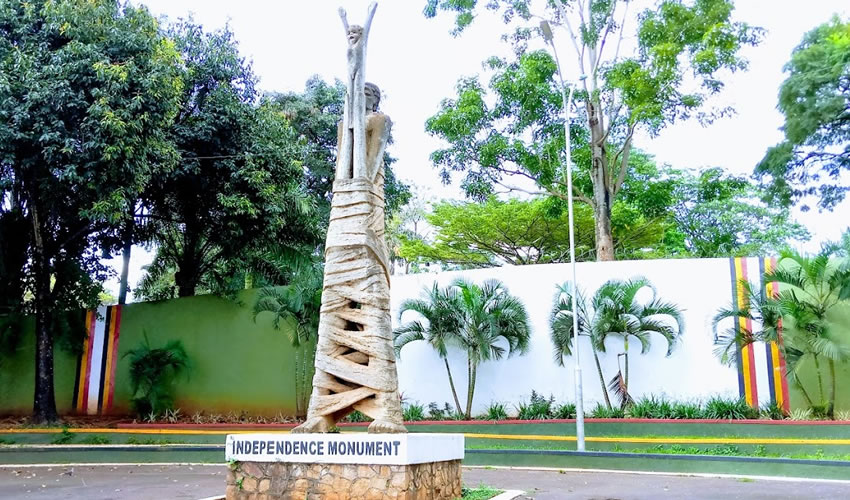 The independence monument was constructed during the days when Uganda was celebrating its first independence on 9th October 1962 and it was funded by the British Colonial government. The monument is located on Speke road and Nile Avenue in Kampala city bordering the fences of Sheraton Hotel gardens, overlooking Grand Imperial Hotel in the right and opposite Standard Chartered bank. With the beauty of this monument and around this place, you will require a camera to take memorable pictures. During your Kampala City Tour, please remember to tell your driver guide to take you on this top and most accessible attraction within Kampala city.
7. Ndere Cultural Centre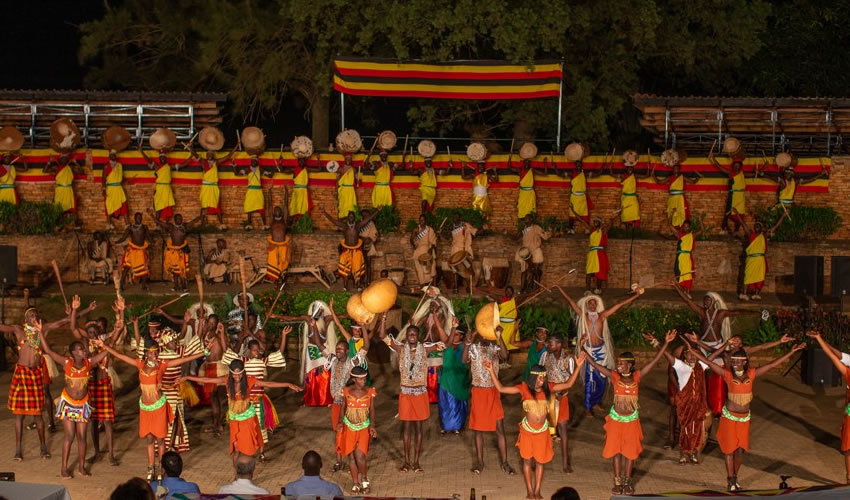 Uganda which is known as the pearl of Africa is the country with the most cultural diversity in the world as noted by the current UN report in 2019. Ndere cultural centre was founded in 1986 with objective of promoting cultural activities in Uganda among which they include performing arts, music, dance, storytelling and poetry which has been translated into happiness and love during this wonderful performance.
Today Ndere centre with its troupes represents over 60 groups of people and over 30 indigenous languages (a summary of Uganda Culture and tribes) however English and Kiswahili are the official languages being used by most people.
The performance take place every Wednesday and Friday at 7:00pm as well as on a Sunday at 6:00pm ready to enjoy and watch the music and dance of the Ugandan tribes with Ndere troupes performing at Ndere centre.
8. Namirembe Cathedral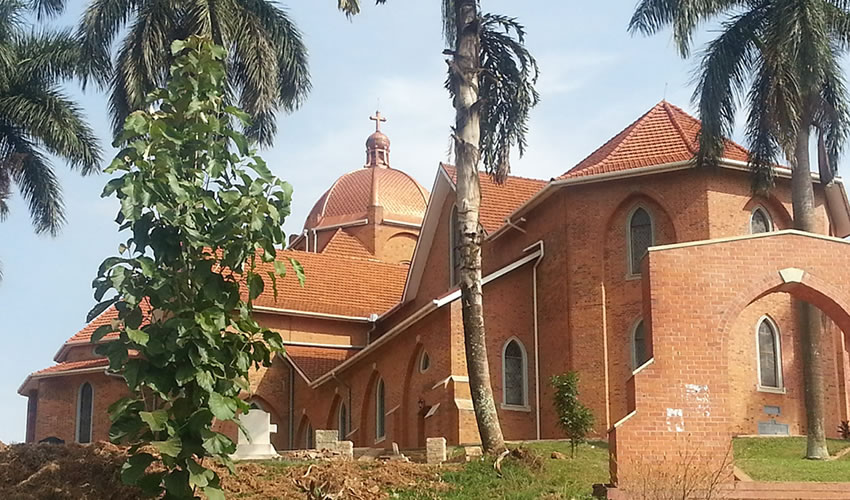 This is the oldest cathedral in Uganda located in Namirembe hill since March 1890. It is also known as Saint Paul's Cathedral Namirembe which serves as the provincial cathedral of the Church of Uganda and the diocesan cathedral for Namirembe Diocese. The church of Uganda was moved to Nakasero in All Saints Church and taken back again to Namirembe hill where it is located today.
The church of Uganda has been built several times and the fifth structure which accommodates over 10, 000 people stands today at Namirembe hill. This has been as a result of various circumstances like Swampy area, Strong winds, termites and fire hence it being constructed for five times.
It is open to all kind of visitors while on your Uganda Safari and the guide will take you through this interesting church and its Museum to see and learn the history of this church.
9. Kabaka's Palace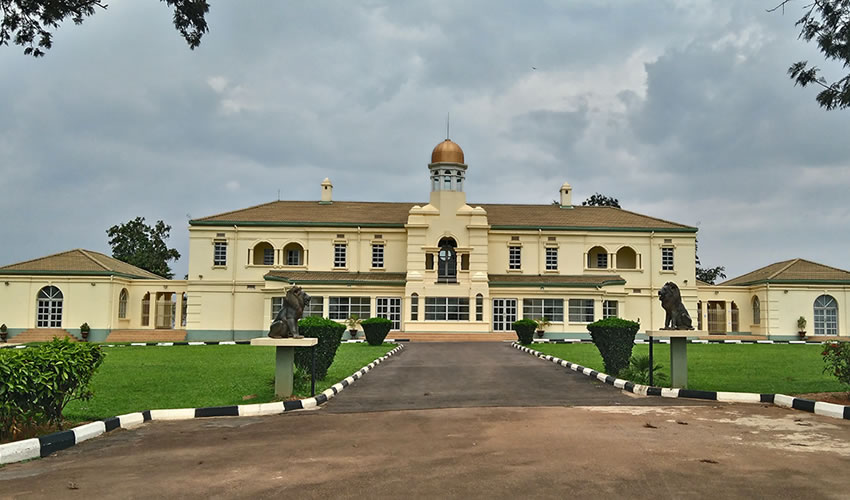 The palace was constructed in 1885 by Ssekabaka Mwanga11. This was when he took over the dominion in 1884 at age of 18 years old.  It is a rule in Buganda Kingdom for the new king to choose a hill where to build his palace, so Mwanga 11 constructed his first palace at Masaja and after some time he thought of shifting his palace away from Masaja.  He had always appreciated  Emmengo which was also by then called Nkaawo hill where members of the Nvubu clan stored their grinding stones for herbal medicine. So the king decided to construct his palace at Nkaawo hill (Emmengo) and the name Mengo was adopted. Today the palace became Mengo Palace and the hill became Mengo hill. The king was much scared when the palace caught fire after the construction was completed and this fire destroyed the all important documents for the Kingdom, it scared the king and he escaped away to Nalukolongo were he was hosted by Roman Catholic Missionaries. After some time, the king left the missionaries and went to live with Mukasa who was the Katikiiro to his father Ssekabaka Muteesa II. When he was still staying at Mukasa`s place, lightning struck and destroyed everything at Mukasa`s home in 1886. He again ran away from Mukasa`s home and went to Munyonyo where he constructed another palace at Mulungu hill next to Lake Victoria.
The prime Minister of Uganda (Milton Obote) ordered a strong attack to remove out Kabaka Mutesa 11 in 1966. It was by the commands of Idi Amin forces, they attacked angrily the palace and after many times of attacks and fighting, the King was forced to flee and live in exile in the United Kingdom's.
The palace was completely turned into army barracks and it became a dangerous underground prison and torture chamber for Idi Amin in the 1970s. This underground torture chamber built by Idi Amin was a dark concrete tunnel with numerous darkness, damp cells which were separated by an electrified passage of water to prevent escape of prisoners, also you can see charcoal messages written by former prisoners on the walls: one reads 'Obote, you have killed me, but what about my children and on the grounds are also the scrap metal remains of Mutesa's Rolls Royce destroyed by Idi Amin.
10. Kabaka's Lake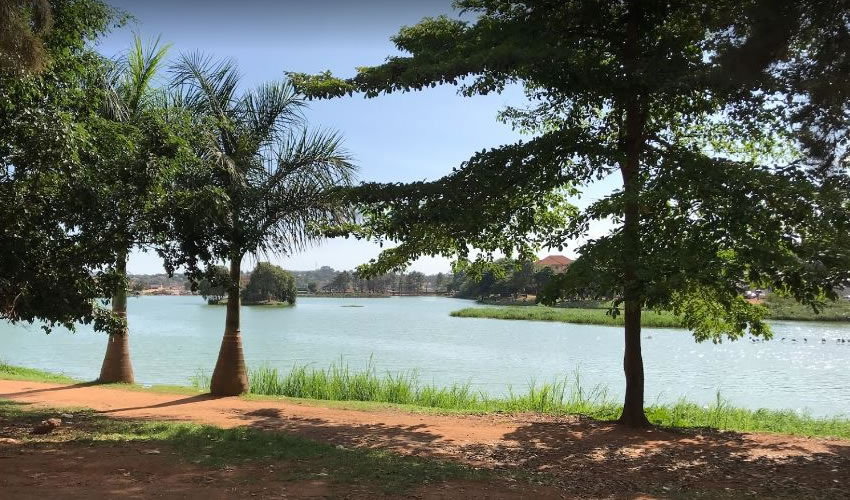 This is the largest manmade lake in Uganda located between Ring Road and Nabunya Road in Ndeeba Rubaga Division, It is 5 km away from the Kampala City center. It was constructed between 1885 and 1888 by fifty two (52) clans of Buganda Kingdom during the regime of Ssekabaka Mwanga 11.
The Kabaka (King) had planned to construct a wide channel so that he can cruise by boat to reach Lake Victoria for swimming, fishing purposes and also to enable him stay at his palace which he had constructed at Mulungu hill in Munyonyo next to Lake Victoria, it was also to serve as an escape route in the event of armed conflict with the British. Unfortunately all of his plans were veins distorted by religious war which broke out in Buganda Kingdom on 2nd August 1888.
The lake occupies an area of around 2 square kilometers and about 200 feet deep and water level is constant throughout the year yet it has no any water outlet which supplies it with water but only the underground springs since 1885, the environment surrounding this manmade lake is so beautiful with tall trees and green grasses and the two islands makes it more beautiful, walking on shores is an experience and you will also see local people  and learn about their behaviors and culture in relation to this lake, it is also home of various bird species like Great White Egrets, Hadada Ibis, Black Headed Weaver, Open-billed Stork, and African Darter among other bird species.
11. Nakasero Market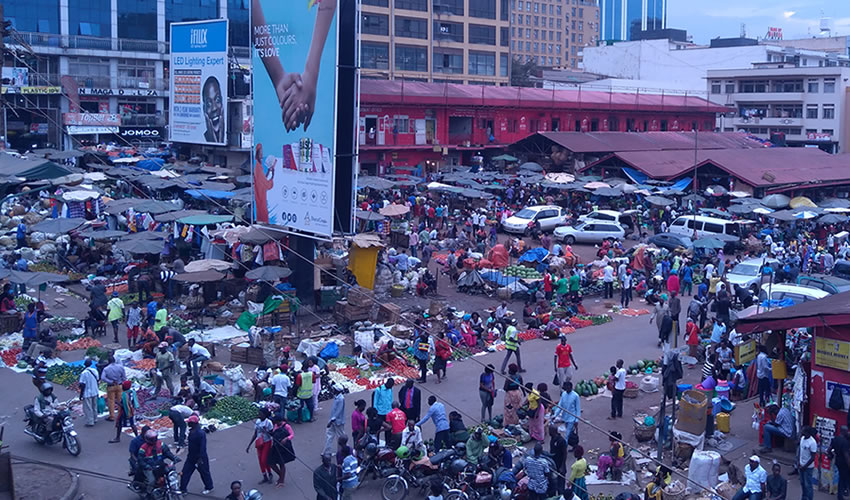 It is located in the heart of Kampala in the foot of Nakasero hill, it is among the famous, biggest and largest markets in Kampala city just 50meters away from Entebbe road. It was set up in 1895 when the King of Buganda was advised to set up the first market in the palace. Later after 10 years, the market was moved to Kagugube which is currently between Sir Apollo Kagwa Road and Gaddafi Road and lastly it was moved to its current location Nakasero hill when the temporary structure of the market was built by then.
The market was divided into two areas; the first area is the open part which is temporarily covered and this is the area where people buy fresh produces.  The closed area which is shown by an old building is a place which contains hardware, clothes and other tourism items being sold.
Contact us to visit any these places and much more on a Kampala City Tour. Inquire Now