The famous "Central Circuit" 9 Days Rwenzori Mountains Hiking Safari consists of a hike lasting seven days and six nights plus two extra days for the drive from Kampala / Kasese and back. The level of difficulty of the circuit is not very high; therefore everybody can undertake this wonderful and exciting experience. Inquire NowThe possibility is open for whoever wishes to climb the peaks which involves an extension of one day per peak throughout this Rwenzori Mountains Climbing Safari.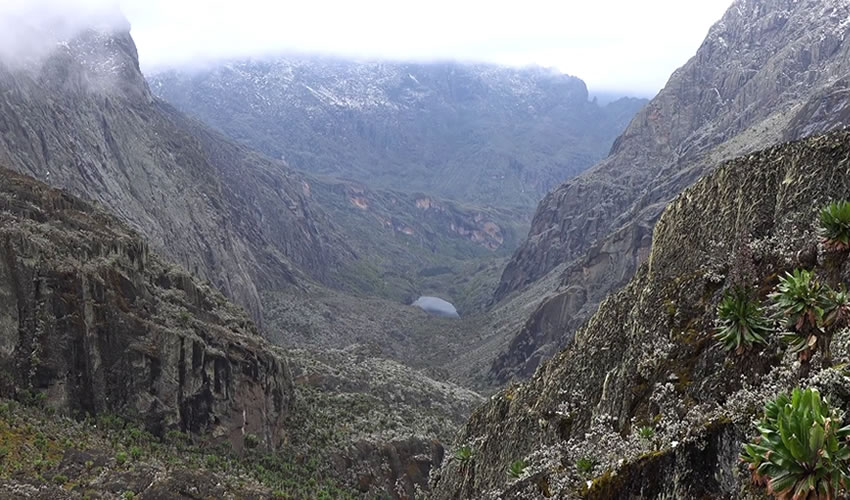 9 Days Rwenzori Mountains Hiking Safari
Day 1: Kampala – Kasese
The Rwenzori Mountains Hiking Safari begins with your early morning departure for western Uganda. The ride is comfortable with a stop over at the Mpambire drum makers, coffee plantation and the Equator. You may go through Lake Mburo at an extra cost (attached). Proceed to Mbarara for lunch and then continue through Queen Elizabeth National Park, which is set in the western rift valley at the base of Mountain Rwenzori. Arrive Kasese and check in at Margherita Hotel / Rwenzori International Hotel or proceed to Rwenzori Base Camp from where you will also make preparations for your hiking equipment that will be used the next morning. Have dinner and overnight.
Day 2: Nyakalengija – Nyabitaba Hut, 2.652 m.
Drive from Margherita hotel or transfer from Rwenzori Base Camp – Ibanda, to the park headquarters at Nyakalengija in the early morning from where you will receive a briefing from the guides, rent equipment and select porters. The hike begins by leaving the park headquarters 1,646m). Walk past typical watt and mud daub Bakonjo homes, through elephant grasses then arrive at the park boundary in about 40 minutes. The trail follows the Mubuku River crossing recent landslide areas. Reach the Makoma River after 2hrs.
After crossing the river you will have a very steep climb through open bracken fern slopes and podocarpus forest up to Nyabitaba Hut, 2,652 m., which is the arrival point for the day. This will take from 5 to 6 hours. Have dinner and overnight.
Day 3: Nyabitaba – John Matte Uganda Safari Hut, 3,414 m.
Leave Nyabitaba Hut on the trail leading westwards for half a kilometer then drop north steeply to Kurf Shafer Bridge. Can overnight at Nyamileju Hut or proceed. The Hut marks the start of the giant leather, lobelia and groundsel zone; the remarkable vegetation types found only on high altitude tropical African Mountains. If you decide to proceed, arrive at John Matte for dinner and overnight. From Nyabitaba Hut to John Matte, it can take approximately 6 hours. Tired hikers consider this as a reasonable stopping point.
Day 4: John Matte – Bujuku Hut, 3,962 m.
Leave John Matte and cross the Bujuku River from where you will enter the lower two Bigo – Bogs where your first real experience jumping from tussock to tussock in a grassy bog begins. The trail is muddy to the south until the Bigo Hut. This is the favorable spot for parties climbing Mt.Speke (with special equipment). And is very cold for hikers. Proceed to Bujuku Hut (3, 962m) for dinner and overnight. This day's hike can take up to 5 hours.
Day 5: Bujuku – Elena – Kitandara
To continue the circuit you leave directly west of Bujuku Hut on newer trails, which rises and falls twice before finally climbing steeply through magical moss-draped Groundsel Gully towards Scott Eliot Pass (4,372m)., the highest point of the loop trail. After the Gully head to Elena Hut (4,372m). This is the base camp for climbing Margherita Peak (5,109m), and will require special hiking gear).
Day 6: Elena – Kitandara Hut, 4,023 m.
Do not delay your descent towards Kitandara lakes below. Having dropped a few hundred feet in elevation from Scott Eliot pass you cut below massive rock walls at the base of Mt. Baker. Here "dramatic craters" have been caused by large rocks fallen from above and your guide may caution you against loud noises. Pass by upper Kitandara Lake through bad mud to the lower lake and Kitandara Hut where you will have dinner and overnight. From Kitandara Hut you can proceed for climbing Mount Baker or Mount Luigi di Savoia and the peak Vittorio Sella.
Day 7: Kitandara – Guy Yeoman Hut, 3,261 m.
Advisable to start early to avoid overheating on the steep- long climb from the lake to fresh field pass (4,282m). Fresh field is along flat traverse through beautiful high alpine mossy glades (more mud). This is also considered as difficult as day two due to the seeming endless mud. May overnight at Bujongolo and Kabamba rock shelters but it is better to push on to Guy Yeomen Hut (3,261m) which can take up to 6 hours. The hut is surrounded by beautiful landscape of mountains and rivers.

Day 8: Guy Yeomen – Nyakalengija – Rwenzori Base Camp or Margherita Hotel.
In order to make it to the park Headquarters begin your trek very early in the morning. The path from Guy Yeomen is very dangerous a spot. Reach Kachuchu where the trail parallels and twice crosses the Mobuku River mostly in deep mud until the last few kilometers to Nyabitaba. May overnight Nyabitaba Hut if you wish or proceed to Nyakalengija park headquarters from where you will transfer to Rwenzori Base Camp for a warm shower and comfortable bed. You may also drive to Margherita Hotel or Rwenzori International Hotel in Kasese.
Day 9: Kasese – Kampala
After late breakfast depart for Kampala with a lunch stop on the way. Make a brief stop over at Mpambire Drum makers or any crafts display centre along the road, in case you need to buy souvenirs.
End of the 9 Days Rwenzori Mountains Hiking Safari. Inquire Now
Note: This Rwenzori Mountains Hiking Safari like all our Uganda Safaris begins and ends in Kampala. Airport pickups or drop offs are provided at $50 per journey. Accommodation of your choice will be arranged on arrival and if necessary prior to your departure. Executive, mid-range and budget facilities are all available in Kampala and Entebbe.
We are more than happy to prepare tailor made itineraries for clients with specific interests or needs. Those that wish to combine certain aspects of our existing tours or wish to spend additional time in certain locations on any of these Uganda tours may correspond with us through our online reservations form on this site.
Our Uganda Safari Prices for any of our programs will be communicated on request.