This 7 Days Mount Elgon Hiking Safari takes you to Mount Elgon which has the largest surface area any extinct Volcano has ever had in the world. The mountain rises through a series of gradual slopes punctuated by steep cliffs to a height of 4,321 m above sea level. The volcanic foothills, cliffs, caves gorges and waterfalls combine with panoramic views across wide plains to create some of the most spectacular scenery in Uganda. Inquire NowMount Elgon Hiking Safari is one of the most popular mountain hiking safaris in Uganda.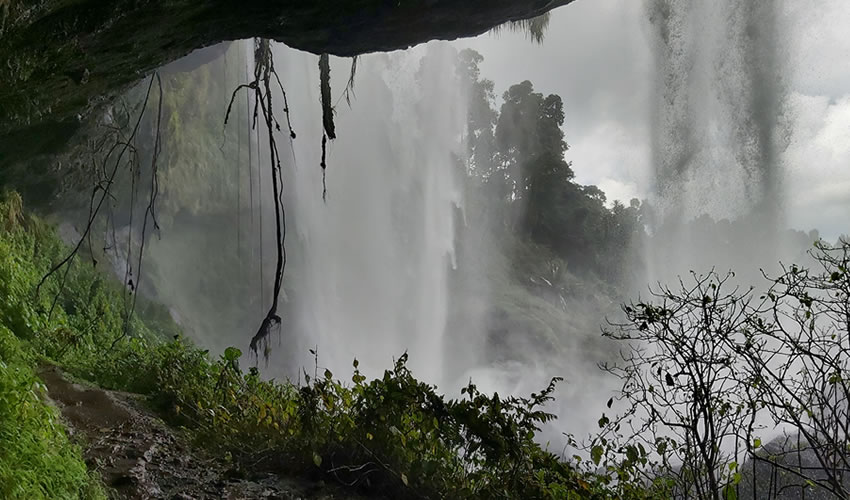 On this 7 Days Mount Elgon Hiking Safari, it's not recommendable to climb during long rains, which are in April and May. Climbers should first head for the village of Budadiri where the climb begins. The Mount Elgon National Park office can arrange the climb for you-guides, porters, food etc. Climbers who wish to get to the top are expected to climb for four days.
There are two main trails: the Sasa trail, accessed from Budadiri which is quite steep with a climb of 1600 m on the first day; the Piswa trail which starts from Kapkwata near Siam is gentler. For the less ambitious persons, there are alternative walks, ranging from easy hikes to hard climbs.
Numagabwe cave is within walking distance of Budadiri. The tourism office in Mbale or Budadiri can avail maps or suggestions to suit ones requirements. The climb is straightforward and can be accomplished easily by non-mountaineers. The trail is steep in places but it is possible to reach the Calder and return to the road head within three days of setting off walking at a comfortable pace. With an extra two days one could also reach Jackson's Summit on the highest point, Wagagai, or visit the hot springs at the head of the Suam Gorge.

Mount Elgon Hiking Safari
Day One
Early in the morning drive to Jinja. Visit the source of the Nile and Bujagali Falls. Have lunch and proceed to Sipi falls/ Mbale/ Kapchorwa/ Kapkwata depending on where you will begin mountain climbing. Dinner and overnight.
Day Two
After breakfast park clearance and begin climbing lunch and dinner plus overnight on trail hut or own tent.
Day Three
Breakfast and continue hiking. Have lunch, dinner and overnight trail hut or own tent.
Day Four
Breakfast and continue hiking. Have lunch, dinner and overnight trail hut or own tent.
Day Five
Begin descending on trail. Lunch, dinner and overnight trail hut or own tent.
Day Six
This is the last day on the mountain. After breakfast, descending on trail with lunch along trail. Overnight Sipi falls/ Mbale/ Kapchorwa/ Kapkwata (depending on return trail) or even can drive to Jinja if return from hiking is in the early afternoon.
Day Seven
After breakfast, drive to Kampala with lunch enroute.
End of the 7 Days Mount Elgon Hiking Safari.
All our Uganda Safaris begin and end in Kampala. Airport pickups or drop offs are provided at US$50 per journey. Accommodation of your choice will be arranged on arrival and if necessary prior to your departure. Executive, mid-range and budget facilities are all available in Kampala and Entebbe.
We are more than happy to prepare tailor made itineraries for clients with specific interests or needs. Those that wish to combine certain aspects of our existing tours or wish to spend additional time in certain locations on any of these tours may correspond with us through our online reservations form on this site. Inquire Now
Our Uganda Safari Prices for any of our programs will be communicated on request.